Found October 19, 2012 on Waiting For Next Year:
The Chargers were embarrassed by Peyton Manning and the Denver Broncos with an historic comeback after the Chargers led 24-0 at half and went on to lose 35-24. Well, apparently the embarrassment turned to anger and restlessness, which is hardly unexpected of any fanbase after a collapse like that. Chargers P.R. director Bill Johnston took to the team's website with a post entitled "Take a Chill Pill." (Posting in its entirety just in case they decide to take it down.) What's with you people? Yes, Monday night's loss was bad. Horrible. Embarrassing. Ok…enough already. No mas. I get it. Now get over it. It was a loss. One loss. Listening to some of you out there, you'd think Monday night was "win or go home" and the Chargers are now packing their bags. "The Chargers are finished. Done," said one scribe. Another wrote, "Bye, bye Chargers. Put a fork in them." Sometimes I think Twitter was invented to give people a chance to puff out their chests and talk big, saying things they never would say to someone's face. And talk radio … don't get me started. The old adage your mom used to preach – "If you don't have anything good say, don't say anything" – seems to have evolved to "if you don't have anything good to say, call sports talk radio." Some of those folks are probably the same ones who called for former Head Coach Bobby Ross' job when his first Chargers team started the 1992 season 0-4.  I still remember the self-proclaimed experts saying Bobby was "in over his head". The Chargers went on to win 11 of the next 12 games that year, along with a 17-0 victory in the first round of the playoffs. A few of the more recent Chargers teams have been declared dead by quacks, only to awaken in good health.  The 3-3 Chargers of 2004 won nine of their final 10 games.  The '06 Chargers won their final 10.  The '07 Chargers started 1-3 before winning 10 of their last 12.  The '08 Chargers won their final four in a row and the '09 team won its last 11 games. Time to take a chill pill.  No one knows what will happen this season, yet alone the next game. That's the beauty of the National Football League.  I don't know, you don't know, no one knows what's going to happen. If you want these players and coaches to succeed, then support them.  Don't tear them down.  What you want and what we all want, including your team, is to know people believe in them. Look at it this way.  We want our loved ones to succeed, and we'll do whatever it takes to help them.  But when they make mistakes, like we all do, we would never criticize or belittle them publicly. Your team is 3-3, tied at the top of the division, and has 10 games to play.  If the Chargers are your team, get behind them and stay behind them.  We're all at our best when we know others believe in us. I am guessing this will go over like a lead balloon for some fans. For others it will be a mixed bag. I agree with some of it, but it probably isn't a message that should be delivered by someone on the team payroll. Bill Johnston has been in the business 24 years and with the Chargers since 1979. [Related: New Browns CEO Joe Banner: "We Need the Best People"]
Original Story:
http://www.waitingfornextyear.com/201...
THE BACKYARD
BEST OF MAXIM
RELATED ARTICLES
Peyton Manning, a 14-year-old boy Denver, CO boy, (on the left) was born three days before Peyton Manning, the Super Bowl champion, Denver Broncos quarterback, made his first NFL star.According to the Denver Post, the young boy claims that he can't get on Facebook, because of the fact that he's name is Peyton Manning, the same name of the NFL QB.The young boy says that his...
We are nearly two weeks away from the NFL's halfway mark. There have already been several teams and players that have certainly turned in disappointing returns based on what we knew of them or what was expected of them. Certain situations such as the Dallas Cowboys were not included because they are expected to let their fans down. Therefore, being a disappointment is not disappointing...
1) Peyton Manning: Manning is looking for his fifth MVP award this season, and he's off to a great start once again, despite Denver's struggles to keep pace with top-tier teams in the league. The Broncos currently rank 4th in passing yards per game, up from 31st a season ago under Tim Tebow. To cap it all off, Manning trails only Aaron Rodgers in touchdown passes at 14 this...
It's been a long day. Sorry everything is late. Yeah… the NHL is never coming back. Peyton Manning can't get on Facebook. This is why you never bet against an SEC team. Even if they are playing an SEC team. SCOREBOARD NFL San Francisco 13, Seattle 6 – One of the uglier games of the year NHL Dallas, Minnesota – STILL NOTHING
It's bound to happen, the naming of children after professional athletes. Grantland writer and Red Sox enthusiast Bill Simmons just about named his child after Josh Beckett, something he said he was thankful didn't happen after this season. Plenty of other fans have cheered a hero in a moment of athletic dominance, then praised the player -- or tried to...
Join Colts Authority Radio as Scott Kacsmar and Kyle Rodriguez discuss Week 6 in the NFL, rookie sensations, Peyton Manning and Denver's historic comeback, and a down day for Andrew Luck. Listen to internet radio with Colts Authority Radio on Blog Talk Radio Or follow along on your mobile device with Stitcher: The number to call in is (619) 996-1632...
It's a passing league - no secret to anyone. But the Broncos may have been onto something last year.  While teams shift to passing offenses, the Broncos could have doubled down on being a power run team and been competitive.  Defenses are being built to stop passing attacks, not the University of Nebraska rushing attack of the 80s. While I think some team will eventually...
When you write sports at a website like WFNY for a while you get to know your own kinds of fans. As many of you know my house is divided from a football perspective because my wife grew up in Indianapolis. I spared you my wife being on the podcast, but my brother-in-law is very much a similar kind of football fan to what I think we cater to at WFNY, so I talked to him for about ten...
Good old Mike Chappell of The Indianapolis Star delves into the difficulties and benefits of entrusting the offense to a rookie quarterback.  While his completion percentage seems out of character, that's not necessarily the case. In his final two seasons at Stanford, Luck completed 70.7 and 71.3 percent of his passes. But he was a 56.3 passer in his first year as a starter...
A.B. Growing up as a sports fan in America, I find it impossible not to gamble on games. And while I wouldn't bet an NHL or MLB game to save my life, something about betting on the NFL just soothes the soul. Watching Thursday night football without money on the line doesn't interest me, unless the Patriots are playing. But put $50 on the over of a game between the Browns &amp...
Rob and Amy check out Yardbarker.com and chat about Tim Tebow's move to running back, Lamar Odom's divorce and the other Peyton Manning in Colorado.
NFL News

Delivered to your inbox

You'll also receive Yardbarker's daily Top 10, featuring the best sports stories from around the web. Customize your newsletter to get articles on your favorite sports and teams. And the best part? It's free!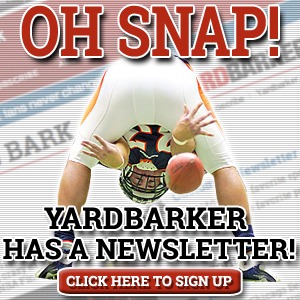 Latest Rumors
Best of Yardbarker

Today's Best Stuff

For Bloggers

Join the Yardbarker Network for more promotion, traffic, and money.

Company Info

Help

What is Yardbarker?

Yardbarker is the largest network of sports blogs and pro athlete blogs on the web. This site is the hub of the Yardbarker Network, where our editors and algorithms curate the best sports content from our network and beyond.