Found October 04, 2012 on Midway Illustrated:
Heading into their week 4 match up against the Dallas Cowboys the Chicago Bears had one thing sticking out in their mind above all others, how do you stop  DeMarcus Ware.  The Cowboys came into the game rated as the number one defense overall in terms of total yards allowed per game. On offense the Bears were on the opposite end of the spectrum rating 24 in total offense in the NFL.  Most people likely didn't expect the Bears to move the ball as efficiently as they did on offense in this game.  Instead the Bears found a way to get it done, or did they? Is there more to the story behind why Jay Cutler performed at such a high level and the Bears protected Cutler so well?  I checked out the All-22 coaches tape to find out what type of pressures the Cowboys brought and how the Bears blocked it. Watching the Cowboys on tape against the Tampa Bay Buccaneers I came to one conclusion, Jay Cutler was likely going to get his head torn off in this game against the Cowboys.  The defense in that game brought pressure from many angles across many multiple man fronts with a lot stunts to confuse and disrupt. The game play for Rob Ryan's defense would be simple blitz and confuse and pressure Cutler and the Bears offense into oblivion.  This strategy has worked extremely well the last three seasons for most defenses that have faced the Bears' offense.  The Packers did well in game two, and the Rams imitated it, although to a lesser extent with decent results. The Cowboys however, all but completely backed away from this strategy in the Monday night game.  It was almost as if Rob Ryan had become gun shy and decided NOT to attack the Bears offense the way teams typically do so successfully. Ryan and the Cowboys relied on the four-man rush to generate pressure on Cutler and rarely did they succeed.  Even more confusing was the lack of creativity with the pressure the Cowboys did bring.  Not much in the way of stunting linemen or blitzers, instead a blitz here to this gap that was usually picked up by Forte or Matt Spaeth. The Cowboys lack of a creative pass rush scheme cost them dearly, as Cutler found a rhythm and torched them going 12 for 13 for 219 yards and two touchdowns in the second half.  A head scratching strategy that no doubt will leave Rob Ryan wondering if he could have done more to slow down Cutler. Now I do have to continue to give credit to Mike Tice for the game plan he brought to the table to slow down the expected Cowboys blitz.  Tice kept in Matt Spaeth to help block as well as Forte to help pick up any blitzers that may have come late. He also used quick short patterns to the receivers and a lot of motion to free up Brandon Marshall in coverage.  Marshall lined up a lot of time in the slot or would motion inside the numbers to lessen the coverage pressure from the two deep safeties.  This allowed Cutler to find Marshall in space and for him to do a lot of yards after catch damage. Tice even sprung Marshall open on the same underneath crossing pattern for 56 yards on two receptions.  The first example of  this play is here:                           The play has a simple concept, Kellen Davis runs off the coverage with a deep corner route and Marshall breaks inside on the cross and Cutler  hits him with a quick pass that Marshall takes for big YAC. Tice runs the same play again in the fourth quarter that Marshall takes in for a 31-yard touchdown.                        The short passing routes really devastated the Cowboys secondary and allowed Cutler to find the rhythm with Brandon Marshall lost since the opener. Cutler had arguably his best game in a Bears uniform and Tice showed teams another aspect of the offense that teams will have to game plan for moving forward.
Original Story:
http://midwayillustrated.com/2012-art...
THE BACKYARD
BEST OF MAXIM
RELATED ARTICLES
Denver, CO. The NFL in 2012, without a doubt, is a QB-driven league more than ever before. To be a successful team in this day and age, a high quality signal caller is essential to be considered a viable contender each and every year. The rules have been altered over the years to benefit offenses, so a quarterback with precise accuracy or a rocket arm often times vaults certain...
Nearly like clockwork, evidence of Chicago Bears quarterback Jay Cutler behaving like a douchebag and treating others around him as if they are beneath his contempt and with total derision has once again reared its ugly head. For the second time in as many Bears appearances in a nationally televised game, Cutler was captured treating [...]
Chicago Bears QB Jay Cutler is becoming known as a quarterback who wears his emotions on his sleeves. He's comfortable expressing himself, and getting a little more colorful this season; or so it seems. During last night's blow out of the Dallas Cowboys, Cutler had some disgust with offensive coordinator Mike Tice, and walked away when Tice was trying to discuss strategy with...
While the Chicago Bears may be 3-1 and tied for first in their division, I'm not ready to call them the best in the NFC North yet. COming off a blowout win on Monday Night Football against the Dallas Cowboys there is plenty of reason for optimism, but also for doubt as well. Now I can't be too harsh on the Bears offense, as their top RB Matt Forte has been dealing with an ankle...
After looking lethargic in a 23-6 win over the St. Louis Rams in Week 3, the Chicago Bears had six days to hear criticism on whether or not they can notch a win over a quality team.Monday night the Bears answered the question by waltzing into Cowboys Stadium and throttling the Dallas Cowboys 34-18, to improve to 3-1 on the season.The offense needed a half to get going, but the defense...
Jay Cutler can't win. Well, he actually can win football games. A lot of them. He just can't win with America. If Peyton Manning screams at an offensive tackle, he's lauded for being an incredible leader and a "coach on the field." If Tom Brady gets into it with his offensive coordinator, it's OK. He's just "fired up." If Ben Roethlisberger...
Monday night in "Big D" proved to be rather unpleasant for the host Dallas Cowboys as they welcomed in the NFC North's Chicago Bears. Billed as the battle of the two "almost elite" quarterbacks, the Monday night matchup featured Chicago's controversial Jay Cutler and his revamped receiving corps against the Cowboys' charismatic Tony Romo and his promising...
Connor Shaw > Tony Romo & Jay Cutler? South Carolina starting quarterback Connor Shaw has become "an accidental star quarterback," as described by The Charleston Post and Courier's Gene Sapkoff. Since taking over the starting QB role following Stephen Garcia's rather messy departure from the Gamecock program, Shaw has lead the team to a 12-1 record...
Coming off a dominating performance in prime time, the Chicago Bears defense could be in for another big effort against a team that might have the worst offense in the NFL. The visiting Bears look for a third consecutive victory as they face the offensively challenged Jacksonville Jaguars on Sunday. Though Chicago's offense has been inconsistent in 2012, its defense has a league...
NFL News

Delivered to your inbox

You'll also receive Yardbarker's daily Top 10, featuring the best sports stories from around the web. Customize your newsletter to get articles on your favorite sports and teams. And the best part? It's free!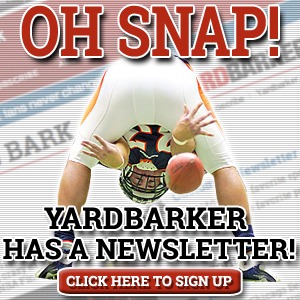 Latest Rumors
Best of Yardbarker

Today's Best Stuff

For Bloggers

Join the Yardbarker Network for more promotion, traffic, and money.

Company Info

Help

What is Yardbarker?

Yardbarker is the largest network of sports blogs and pro athlete blogs on the web. This site is the hub of the Yardbarker Network, where our editors and algorithms curate the best sports content from our network and beyond.