Found January 28, 2013 on Midway Illustrated:
PLAYERS:
Pierre Thomas
,
Ben Grubbs
,
Jahri Evans
,
Mark Ingram
,
Darren Sproles
,
Mike Martz
,
Lovie Smith
,
Tank Johnson
,
Matt Forte
,
Roberto Garza
,
Lance Louis
,
Chris Spencer
,
Gabe Carimi
,
Edwin Williams
,
Michael Bush
,
Chance Warmack
,
Larry Warford
TEAMS:
Chicago Bears
,
New Orleans Saints
,
Washington Redskins
,
Houston Texans
,
Cincinnati Bengals
,
Kentucky Wildcats
New Chicago Bears offensive coordinator/offensive line coach Aaron Kromer held two positions with the Saints, offensive line coach/running game coordinator.  Based on Marc Trestman's QB coach offensive coordinator background in the west coast offense it's probably safe to assume that Kromer will be in charge of the running game in Chicago.  With that in mind I went inside the film room to analyze what type of running team the Saints are with their stable of three runningbacks.  Marc Ingram, and Pierre Thomas are two very similar backs, they would be considered inside runner types both go 5-foot-10 215-pounds.  Sproles is a scat back outside runner who goes 5-foot-6 181-pounds with speed to burn.  The Saints use the three in different ways but primarily give their carries to Thomas and Ingram.  When you fire up the All-22 tape it doesn't take long to establish what type of running team the Saints primarily are.  The Saints are primarily an inside zone/inside trap running team that utilizes very little stretch plays or sweep plays to the outside.  With guards Ben Grubbs and Jahri Evans the Saints prefer to bang inside far more than they will pull either Evans or Grubbs to the outside.  The Saints were 29th overall in rushing attempts, but were third overall in attempts behind right guard Jahri Evans.  The Saints ran the ball a total of 370 times on the season, and of those 98 of those carries went over the right guard spot behind Evans.  That's a pretty strong percentage of of over 26-percent of the time they ran behind their right guard.  The first diagrammed play is a simple inside zone run from Mark Ingram.  The Saints run right behind Jahri Evans, nothing fancy or complicated a simple Iso-play that nets 9 yards on the carry.  The next running play is an inside counter with the full back pulling back to the strong-side of the formation after being aligned to the weak side.  The defense aligns to the weak side while the offense shows motion from the running back while cutting him back to the strong side of the formation.  Left guard Ben Grubbs pulls back around to the play side, but doesn't block out, he blocks inside.  Grubbs attacks the two-hole right behind RG Jahri Evans' POA block.  The next carry is a Darren Sproles carry that is meant to go inside, that Sproles cuts backside.  Again an inside run from the Saints, which seems to be their bread and better.  You don't see a lot of the outside zone or stretch plays that you see from a team like the Washington Redskins or Houston Texans.  The Saints are very much an inside zone blocking/running team.  By now you may be asking yourself, what does this have to do with the Chicago Bears?  Well the answer to that is the personnel the Bears have on the field, and do they fit into this type of scheme.  Kromer can yes adjust his scheme to fit the personnel, but so often you don't see coaches changing their systems but rather finding the players to fit into their systems.  Shannahan and Kubiak are two good examples, they have found offensive linemen and running backs who fit into their schemes and have had their offenses produce accordingly.  Whatever you think a coach is willing to do to adjust his scheme to the personnel, think again because so many times coaches stick with what they know works.  Mike Martz did it with his offense, Lovie Smith did it with his defense when they went out and drafted two defensive tackles upon his arrival in 2004 with Tommie  Harris and Tank Johnson.  Now when you examine the Kromer's rushing attack in New Orleans you come to realize that the Bears don't really have the players in place to run this type of inside run type of scheme.  Matt Forte is not a bang it inside over the guards type of inside zone running back.  Forte has been one of the worst inside zone running backs in the NFL, short yardage or otherwise.  Forte is a stretch play type of running back, use his speed to the outside, get the defense in pursuit and then cut back or  hit the hole hard depending on the back side pursuit.  Forte runs well out of the power game, or the sweep game to go with the stretch plays.  Inside zone isn't Forte's game and likely never will be.  You're going to limit his effectiveness if that's the type of rushing attack you implement.  The offensive line and the players that are projected to likely be there next season, also don't fit well into this zone scheme.  Roberto Garza is not a mauler at center, Garza is a zone blocker who moves well and is a good angle blocker.  Garza isn't a phone booth type of center he's best when he's on the move and the Bears do use him on pulling plays from his center  spot.  Lance Louis and Chris Spencer are the same type of guards   they're not big inside road graders, their strength is when they're on the move.  The Bears two projected starting guards are athletic, quick and had their best success when they were on the move.  Forte had his best success when he was on the move.  Examining the personnel who may fit into the inside zone scheme we come to Gabe Carimi and Edwin Williams who would likely both benefit from playing this inside zone scheme.  Carimi struggled at tackle, because he is a phone booth guy and he ran a heavy inside zone scheme at Wisconsin.  Inside zone from the guard or tackle spot is what Carimi  knows and does well.  The same can be said for Williams who was cut from Washington because he  wasn't a very good inside zone blocker.  Williams showed time and again that he struggles when asked to get out in space, but can play better when he attacks short areas as a road grader.  Michael Bush on the other hand is a perfect inside zone runner because he's big and strong as a running back.  Bush also has nimble feet so that when he needs to bounce it outside or get outside he can.  He's an ideal fit for the scheme and would excel running behind big time maulers that the Bears might draft at #20.  Two offensive guards the Bears might consider in the NFL draft that fit that profile, are Alabama's Chance Warmack and Kentucky's Larry Warford.  Warmack played in a very run heavy inside zone scheme at Alabama and Warford is ideally built for that scheme in the NFL. Both are small area quickness road graders that get out and punish people in the inside zone game.  They're the type of players that fit well into what Kromer did in New Orleans.  Now is that the direction the Bears will go with this offense and the players on the roster? 
Original Story:
http://www.midwayillustrated.com/2013...
THE BACKYARD
BEST OF MAXIM
RELATED ARTICLES
Chicago Bears general manager Phil Emery is a man with a plan, and has a way of communicating that plan to the media and fans that Jerry Angelo never had.  Emery knows what the teams weaknesses are and is going to do his best to fix those weaknesses.  The question remains does he have the eye and the philosophy to go out and find the players that in fact fix those weaknesses...
Bears ILB Brian Urlacher told ESPN 1000 on Tuesday that he hasn't heard fr0m either GM Phil Emery or new head coach Marc Trestman yet. "The Bears have been busy," Uralcher said, via ESPN Chicago. "They have more important things to take care of right now. I'll let that fall into place and see what happens." Urlacher mentioned that he would like to finish his career...
Kristen Callari, the fiancee of Chicago Bears quarterback Jay Cutler, said that she doesn't want her 5-month old son to play football, like his father. She cites safety concerns as the main reason. "I will try to steer Cam in a different direction, maybe a sport that isn't so aggressive," Cavallari told DNAinfo.com Chicago. "Maybe baseball -- something where...
  10 wins in the NFL just doesn't hold the same type of value as it did before apparently. After finishing 10-6 with the Chicago bears, Lovie Smith was fired as the head coach this off-season. While there have been numerous openings around the league from head coaching jobs to defensive coordinator jobs, Lovie Smith has remained unemployed. Apparently he intends to stay that way...
The Chicago Bears have hired former Purdue defensive coordinator Tim Tibesar as their linebackers coach. The Bears announced the move on Tuesday. Tibesar replaces Bob Babich, who was let go after the season and is now Jacksonville's defensive coordinator. Tibesar served as Purdue's defensive coordinator and linebackers coach last season after working for three years under...
If Kristin Cavallari has her choice, her 5-month-old son Camden will not grow up to be just like his father. Cavallari, who is engaged to Chicago Bears quarterback Jay Cutler, recently shared her thoughts on concussions in the NFL. "I will try to steer Cam in a different direction, maybe a sport that isn't so aggressive," she told DNAinfo.com Chicago on Monday. "Maybe baseball...
In the seventh of our 10-part series looking back at the 2012 Chicago Bears, we break down the play of the team's wide receivers, a group that regressed despite adding Brandon Marshall.
  As reported by USAToday  Bears quarterback Jay Cutler's fiance, former reality star Krstin Cavallari has come out in opposition for football being a part of their 5 month old son's future. This comes just off the heels of President Obama weighing in similarly on the matter of having a son play football. "I will try to steer Cam in a different direction, maybe a sport...
George Blanda – Blanda played football in a seemingly impossible four different decades, starting way back in 1949 as a backup quarterback, kicker and linebacker with the Chicago Bears. Blanda hitched on with the Oilers in the AFL's inaugural season after having retired from the NFL in 1958. Blanda was one of the most prolific AFL passers, throwing for a then pro football record...
- Stars in attendance for last night's WWE RAW from Las Vegas included comedian George Wallace, professional bodybuilder Jay Cutler plus tennis legends Andre Agassi and Steffi Graff. Here is Kaitlyn backstage with Cutler: - WWE Hall of Famer Edge will be appearing on Diamond Dallas Page's radio show today. The interview airs at 9pm EST on DDPRadio.com. Fans can call 347...
The Chicago Bears signed safety Tom Nelson to a reserve / future contract Tuesday. The 5-11, 200-pound Nelson has appeared in 24 games with three starts over three seasons with the Cincinnati Bengals (2009-10) and Philadelphia Eagles (2011), recording 28 tackles, one interception and two passes defensed. A native of Arlington Heights, Illinois, Nelson played collegiately at Illinois...
Kristin Cavallari, the fiancee of Chicago Bears quarterback Jay Cutler, said Monday that she does not want her son playing football. Cavallari and Cutler have a 5-month-old son named Camden. "I will try to steer Cam in a different direction, maybe a sport that isn't so aggressive," Cavallari told DNAinfo.com Chicago. "Maybe baseball — something where he doesn't have to...
NFL News

Delivered to your inbox

You'll also receive Yardbarker's daily Top 10, featuring the best sports stories from around the web. Customize your newsletter to get articles on your favorite sports and teams. And the best part? It's free!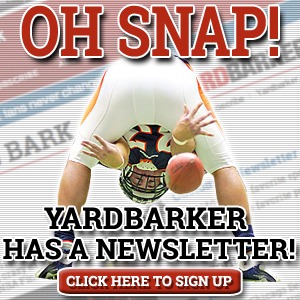 Latest Rumors
Best of Yardbarker

Today's Best Stuff

For Bloggers

Join the Yardbarker Network for more promotion, traffic, and money.

Company Info

Help

What is Yardbarker?

Yardbarker is the largest network of sports blogs and pro athlete blogs on the web. This site is the hub of the Yardbarker Network, where our editors and algorithms curate the best sports content from our network and beyond.