Found December 09, 2012 on Midway Illustrated:
Perhaps this loss to the Minnesota Vikings is endemic of Lovie Smith's career as a Chicago Bears head coach.  The defense played well, but gave up just enough to lose the game.  The offense showed promise, but never put up enough points to win the football game.   In this loss the full ugliness of Smith's tenure was on display with the defense giving up over 100 yards in the first quarter to Adrian Peterson.  The defense eventually  played better, but the offense was not good enough to score points in key situations.  The offensive line at times protected Jay Cutler, but ultimately failed in helping the Bears run the football.   Before you could blink it was 14-0 Minnesota after a Jay Cutler interception was returned inside Bears territory where Peterson punched it in for his second touchdown of the quarter.  The lethargic effort in the first quarter put the Bears in a hole they could not pull themselves out of based on dropped passes and poor play calling.   Questions have to be answered after this game, and after this season.  Why in so many third and one situations have the Bears put Cutler in the shot gun and telegraphed that they were throwing the football?  Earlier in the season the Bears faced a third and one and didn't run the football to pick up the first down.  The exact same scenario faced the Bears in this game against the Vikings, in a critical juncture of the game.  Third and one the Bears need a first down, Cutler is in the shot gun and overthrows his receiver.  Bears come up empty and have to punt it away.   That type of play calling lost the Bears two games if not more this season.  Momentum is everything in the NFL and the Bears gave momentum back to the Vikings.  There was absolutely no reason the Bears should not have put up over 30 points in this game.  Instead they struggled to put up 14 points.   Why was the defense so unmotivated on the first drive of the game?  First carry Adrian Peters runs for 51 yards, Vikings march 80 yards for a touchdown.  Bears are overwhelmed from the start and down 7-0.   From there the offense was fighting an uphill battle, but not an unwinnable fight, for normal offenses.  For the Chicago Bears offense it was too much to ask for this team to overcome a quick 14-point deficit.   What has become clear is that Devin Hester should no longer play for the Bears after this season.  Same goes for Kellen Davis, he should no longer play after this season.  The Bears needs weapons and blockers on offense, a complete overhaul is in order.   The question is, is Phil Emery the man to rebuild this franchise?  Can you rebuild this franchise around Jay Cutler while rebuilding the defense?   Emery is not without fault on this teams' failures this season.  Look no further than the failure to improve the offensive line, look no further than the failures in the draft.   A lot has to happen for this team to be competitive for a potential Super Bowl championship, more than Bears fans may be able to stomach or have patience for over the next three years.
Original Story:
http://www.midwayillustrated.com/2012...
THE BACKYARD
BEST OF MAXIM
RELATED ARTICLES
Lovie Smith realizes the Chicago Bears no longer control their fate in the NFC North. Their playoff hopes still are in their hands, though. That's something Smith emphasized Monday after an ugly loss at Minnesota that knocked the Bears (8-5) out of first place in the division. They've dropped four of five with Green Bay coming to Soldier Field this week. If the Packers...
The Chicago Bears have announced that quarterback Jay Cutler is day-to-day after suffering a neck injury late in yesterday's 21-14 loss to the Minnesota Vikings, reports Adam L. Jahns of the Chicago Sun-Times. "Everything is stiff," Cutler said. "It started stiffening up more and more as the game progressed, getting some spasms on the left side. I just have...
The idea behind this post has nothing to do with the loss to the  Minnesota Vikings on Sunday and everything we've seen from this team.  Honestly, this has more to do with tenure than this year's team, this opinion is simply a reflection that the Bears should end the madness.   While ultimately the decision to fire Lovie Smith will be made based on wins and losses...
  So today the Bears lost to a really ordinary Vikings team and.. Yeah, there's a new GM in Phil Emery and thank GOD Jerry Angelo is gone, but I do not understand what is up with guys WAAAAAY smarter than me not understanding that your offense won't work without guys who can block. I literally squirm when Jay Cutler drops back. When I imagine what he might do if he was...
Bears quarterback Jay Cutler, who left Sunday's game with a stiff neck says he'll be ready for Week 15 against Green Bay, according to a Chicago Sun-Times report.Fantasy Spin:Jason Campbell finished last Sunday's game. We've already seen that the Bears have no offensive production when Cutler is out of the lineup so fantasy owners of Brandon Marshall and Matt Forte...
Bears quarterback Jay Cutler said after the game that he was dealing with a stiff neck and considered himself day-to-day.Fantasy Spin:Jason Campbell finished the game, going 6-of-9 for 64 yards and a touchdown. We've already seen that the Bears have no offensive production when Cutler is out of the lineup and fantasy owners of Brandon Marshall and Matt Forte hope he'll Cutler...
Jay Cutler, who left Sunday's ugly loss at Minnesota with a neck injury expects to play on Sunday for Chicago, which no longer controls its fate in the NFC North.
Tweet   Denver Broncos fans have seen this movie before. Wide receiver Brandon Marshall put up three consecutive 100-catch seasons (102 in 2007, 104 in 2008, 101 in 2009) with the mile high team, two of them with Jay Cutler as quarterback. Reunited this season in Chicago the duo have once again formed one of [...]
NFL News

Delivered to your inbox

You'll also receive Yardbarker's daily Top 10, featuring the best sports stories from around the web. Customize your newsletter to get articles on your favorite sports and teams. And the best part? It's free!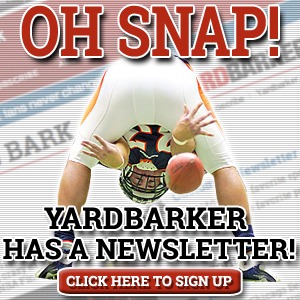 Latest Rumors
Best of Yardbarker

Today's Best Stuff

For Bloggers

Join the Yardbarker Network for more promotion, traffic, and money.

Company Info

Help

What is Yardbarker?

Yardbarker is the largest network of sports blogs and pro athlete blogs on the web. This site is the hub of the Yardbarker Network, where our editors and algorithms curate the best sports content from our network and beyond.