Found November 07, 2012 on Midway Illustrated:
The Chicago Bears have completed the first eight games of the season and it's time to take a look at the team and grade each position group.  There were high expectations for the Bears offense heading into the 2012 season with the addition of Brandon Marshall and Alshon Jeffery, the long term extension of Matt Forte and the addition of Michael Bush.  The offense was expected to take a significant step forward this season with all the weapons at Jay Cutler's disposal, instead the Bears are struggling to find the expected chemistry and rhythm on offense that has raised some early season concern.   QB:  Jay Cutler I'm going to continue to be Jay Cutler's biggest critic, until he plays up to the level that was expected of him which is that of a Pro Bowl QB or at this point I'd take a Top-10 NFL QB.  Cutler is having one of his worst seasons in a Chicago Bears uniform even with an improved offensive line and better receiving weapons around him.  Matt Forte's production is slightly down over last year, but he is still among the top running backs in the NFL.   Cutler has his best friend in Brandon Marshall to throw to and yet the offense is struggling.  There is plenty of blame to go around between Cutler's inadequacy and Mike Tice's lack of in game adjustments or a real consistent level of play calling.  Cutler is struggling with his accuracy, his fundamentals, his yards his interceptions, his decision making you name you can see it on film. Cutler struggled with a lethargic start against the Colts, and then imploded against the Packers.  Four interceptions barely tell the tale of how bad Cutler was against Green Bay.  He followed up that disaster with a weak effort against the Rams, his best effort of the season against the Cowboys followed by more mediocre play until showing subtle life late against the Panthers and late against the Titans.  To sum up Cutler he's been horrible for 3/4 of the season and good for the other 1/4 with flashes of brilliance.   Going forward he has to play at a higher more consistent level and get more receivers involved in the offense.  Kellen Davis is a weapon, no not the best weapon but a weapon nonetheless that can contribute to this offense.  The return of Alshon Jeffery should help balance out the offense, so long as Cutler and Tice decide to target Jeffery more than 1/4 of the ratio they target Marshall.    The Bears are 7-1 in spite of Jay Cutler, but should start cruising towards home-field advantage because of Cutler.  The defense is elite, but the offense has the ability to carry this team.  The carrying of this team should start during the second half of the season.
Original Story:
http://www.midwayillustrated.com/2012...
THE BACKYARD
BEST OF MAXIM
RELATED ARTICLES
For those of you who have yet to experience it, Smokin' Jay Cutler is one of the funniest bits to hit the internet this year. There's something about the looks Jay Cutler gives that makes it hilarious to photoshop a cigarette into his mouth. In fact, Cutler himself even agrees. "I know a few of those guys," Cutler said on Showtime's Inside the NFL this week according to...
Chicago Bears quarterback Jay Cutler told The Jay Cutler Show" on ESPN 1000 that he wants to wait until the offseason to start talking about a new contract. "I don't want to do (an extension) during the year," Cutler said. "I did it during the year when I first got here, and it didn't work out that well, and I said I'd never do it again. After the year if they want...
While there are many undecided voters making a last-second decision on the way to polls on Tuesday, Jay Cutler won't be one of them. Cutler was hesitant to answer who he was voting for on his weekly appearance on WMVP-AM 1000 in Chicago on Monday, but he did relinquish the information. "That's a touchy subject," Cutler said. "Yeah, I have...
QB CONTROVERSY
Bears QB Jay Cutler continues his polarizing ways by endorsing Mitt Romney on his weekly radio segment and not Chicago's own Barack Obama.
Chicago Bears QB Jay Cutler mentioned he is not interested in discussing a contract extension during the season, via ESPN Chicago. "I don't want to do (an extension) during the year," Cutler said during "The Jay Cutler Show" on ESPN 1000. "I did it during the year when I first got here, and it didn't work out that well, and I said I'd never do it again. After the...
  John Gress/Getty Images North America Chicago Bears quarterback, Jay Cutler was asked on his weekly segment on  WMVP-AM 1000, who he would be voting for this  election. "That's a touchy subject," Cutler said initially. "Yeah, I have been following the debates and everything. I do live in Tennessee. I'm voting for Mitt (Romney) this election season." Cutler then quickly...
No one needs a reminder of how poor the quarterback position in Chicago has been before the arrival of Jay Cutler. Any primetime game that has featured the Bears that I can recall in the last decade has shown the graphic. We all know the graphic. The long list of quarterbacks that Bears have ran
The Chicago Bears blasted the Tennessee Titans, 51-20, in Nashville over the weekend. Many of the fans at LP Field were decked out in orange and blue as scores of Bears fans made the trip from the Windy City to the Music City on Sunday. Those same Bears fans also reportedly drank the city dry after the game.How do fans celebrate a big road victory? By hitting up the local bars, of...
They've been criticized for playing a soft schedule, which so far has included only one opponent with a winning record at the time of their game. Their quarterback was demonized for shoving an offensive lineman during a nationally televised loss to Green Bay. But since that week two loss, the Bears are 6-0 and they looked like the real deal Sunday in putting a 50-spot up against...
Last week: 3 (+2) Record: 7-1 Back to this. I really broke my own rule by overreacting to the Bears' near lose to the lowly Panthers and dropping them down even though I've never been sold on Atlanta. The Bears' huge blowout win helped me see the light. Jay Cutler is now 12-1 in his last 13 games, which would be 12 in a row if you exclude their Thursday Night loss in Green...
I am not one to read to much into what a coach says, as far as game plans are concerned, during the week, but it is hard to ignore these comments from the Texans defensive coordinator Wade Phillips. "We (will) double cover him every play. That's our plan. We're going to double cover him every play" While it seems odd that Phillips would disclose his approach against an elite...
The results are in and Ndamukong Suh is still considered the dirtiest player in the NFL. Suh received the top votes in a players poll conducted by The Sporting News for the second consecutive year. He received 32 votes from 103 players, slightly down from 36 votes from 111 players last year. The Nebraska lineman has become known for his nasty side since coming into the league...
Bears News

Delivered to your inbox

You'll also receive Yardbarker's daily Top 10, featuring the best sports stories from around the web. Customize your newsletter to get articles on your favorite sports and teams. And the best part? It's free!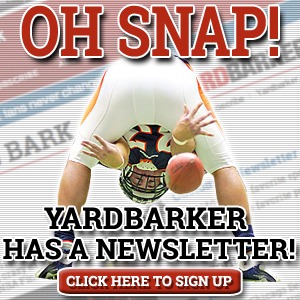 Latest Rumors
Best of Yardbarker

Today's Best Stuff

For Bloggers

Join the Yardbarker Network for more promotion, traffic, and money.

Company Info

Help

What is Yardbarker?

Yardbarker is the largest network of sports blogs and pro athlete blogs on the web. This site is the hub of the Yardbarker Network, where our editors and algorithms curate the best sports content from our network and beyond.