Found November 05, 2012 on Midway Illustrated:
Jay Cutler took to the podium after one of his best performances of the season, three touchdowns to Brandon Marshall.  Cutler talked about how the Titans defended Marshall and how the Bears were able to take advantage of the mismatches to put big points on the board on offense.  BEARS QB JAY CUTLER   (opening statement)   Yeah, the first quarter — I haven't seen that very often defensively and special teams.  We got off to a little bit of a slow start, had some trouble in the red zone that we have to improve on and made some plays, we had some opportunities, so stuff to build on offensively.   (on why they were able to be successful throwing the ball today)   The defense sets us up.  Whenever we get up 21-2, or whatever it was, we're going to start to see some single high because they have to get the ball back.  When we see the single high we're going to try and go to work with Brandon Marshall.   (on if it was an emphasis to get off to a fast start today after last week's performance)   Yeah, offensively we didn't.  We stumbled a little bit offensively.  In the red zone, we stumbled a little bit down there, the turnover was my fault — I was trying to do too much.  Definitely some things to work on offensively, we're headed in the right direction.  We just have to put together a four quarter game at some point.   (on their ability to run the football today)   We ran it well.  The offensive line did another good job creating run gaps and pass protecting.  We're getting better and better and better, we're just not where we need to be.   (on if he went to Vanderbilt or saw any old friends while he was back)   I didn't — I went up to my house, saw some family, but it's still a business trip.   (on if there was any emotions being back in Nashville)   Yeah, it was fun.  Just to be back in Nashville, I love this city; it's always felt like home even during my freshman year.  To come back and just being able to see people at the stadium that I remember seeing around Vandy, it's nice and to get a win like this in this state makes it even better.   (on if he's happy he doesn't have to play against the Chicago defense)   Yeah, the way that they're stripping the ball, creating turnovers—picks, fumbles and it starts with the front four.  Pepp (Julius Peppers) and those guys force so much pressure.  As a quarterback you have an internal clock and the thing goes haywire whenever you're getting pressured and when the pocket collapses.  The guys have been in the system for a long time and they're playing it to perfection, it's really a thing of beauty.   (on how he was able to get into a rhythm in today's game)   It took a little bit of time.  I think we shortened up some of our routes, just tried to get the ball out quicker, get it in the receivers hands and get some rhythm that way.  Then when they came up we hit that bomb with B (Brandon Marshall), so it came throughout the game.   (on hitting Brandon Marshall for some big plays)   It was just one-on-one because they were loading the box, and our philosophy is if we get Brandon Marshall one-on-one we're going to go at him until they stop it.    (on his three touchdown passes to Brandon Marshall)   The first one, it wasn't designed that way. Brandon made a great adjustment at the top of the route, he was supposed to break in and he kind of floated out, and then I put it up high.  I didn't know if I was going to overshoot him or not, but he jumped up and made a great catch.  The second one was a straight go.  It was press-man and it's hard to go against a guy that size when he can get the back-shoulder balls and he has the ability to out run you too.  The third one was a crossing pattern and he found a great zone, sat down right there, so he's hard to cover.   (on his conversation with quarterbacks coach Jeremy Bates after his fumble)   It was a good exchange.  You know, I just tried to do too much and I think he was just trying to emphasize that point — to play within the play, trying to get B (Brandon Marshall) the ball.  We had single coverage with him, but timing wise that play didn't allow for the time I needed.  We just have to play within the play, and we just have to limit that stuff, especially down in the red zone.   (on the amount of Bears fans and support on the road this year)   They've travelled well.  Hats off to our fans, it's been a fun year — Dallas, Jacksonville, here it's been crazy to watch the Bears fans take over.  You know you have a ton of fans when you're in an away stadium in the red zone and I'm trying to get the crowd to hush up and they're responding.  They got quiet in a hurry, so it makes it fun.   (on RB Matt Forte showing he can be an every-down back)   Yeah, I mean they stopped him at the three-or four-yard line and he pushed his way in there.  He's a versatile guy, caught a screen and went 50-60 with it, off tackle he's breaking them.  The guy can do anything, I am glad he's on our team.
Original Story:
http://www.midwayillustrated.com/2012...
THE BACKYARD
BEST OF MAXIM
RELATED ARTICLES
Jay Cutler has struggled throughout much of the 2012 season, but has been at his best in the fourth quarter.  Cutler has the best QB rating in the fourth quarter of any QB in the NFL with a 132.0 rating.  Granted Cutler has been the beneficiary of his team holding a lead in the fourth quarter due to the play of the defense, but he found his rhythm against Carolina in the final...
Chicago Bears quarterback Jay Cutler told The Jay Cutler Show" on ESPN 1000 that he wants to wait until the offseason to start talking about a new contract. "I don't want to do (an extension) during the year," Cutler said. "I did it during the year when I first got here, and it didn't work out that well, and I said I'd never do it again. After the year if they want...
While there are many undecided voters making a last-second decision on the way to polls on Tuesday, Jay Cutler won't be one of them. Cutler was hesitant to answer who he was voting for on his weekly appearance on WMVP-AM 1000 in Chicago on Monday, but he did relinquish the information. "That's a touchy subject," Cutler said. "Yeah, I have...
QB CONTROVERSY
Bears QB Jay Cutler continues his polarizing ways by endorsing Mitt Romney on his weekly radio segment and not Chicago's own Barack Obama.
Chicago Bears QB Jay Cutler mentioned he is not interested in discussing a contract extension during the season, via ESPN Chicago. "I don't want to do (an extension) during the year," Cutler said during "The Jay Cutler Show" on ESPN 1000. "I did it during the year when I first got here, and it didn't work out that well, and I said I'd never do it again. After the...
Jay Cutler and the Chicago Bears were up 7-0 against the Tennessee Titans backed up in their own end zone. Cutler dropped back into the end zone where he threw an amazing pass that happened to be tipped by a Titan defensive back. The defensive back tipped it right to Matt Forte, the Chicago Bear running back, who than made the first town. Everything seemed to be all right for the...
  John Gress/Getty Images North America Chicago Bears quarterback, Jay Cutler was asked on his weekly segment on  WMVP-AM 1000, who he would be voting for this  election. "That's a touchy subject," Cutler said initially. "Yeah, I have been following the debates and everything. I do live in Tennessee. I'm voting for Mitt (Romney) this election season." Cutler then quickly...
After a crushing victory over the Tennessee Titans, Chicago Bears fans took to Nashville to celebrate and nearly drank all of the town's beers (Credit: AP Photo) The Chicago Bears dismantled the Tennessee Titans yesterday beating them 51-20. What might be more embarrassing for the fans of Tennessee is what happened within their stadium Sunday and then their town following Sunday's...
The Chicago Bears blasted the Tennessee Titans, 51-20, in Nashville over the weekend. Many of the fans at LP Field were decked out in orange and blue as scores of Bears fans made the trip from the Windy City to the Music City on Sunday. Those same Bears fans also reportedly drank the city dry after the game.How do fans celebrate a big road victory? By hitting up the local bars, of...
They've been criticized for playing a soft schedule, which so far has included only one opponent with a winning record at the time of their game. Their quarterback was demonized for shoving an offensive lineman during a nationally televised loss to Green Bay. But since that week two loss, the Bears are 6-0 and they looked like the real deal Sunday in putting a 50-spot up against...
Brian Urlacher became the latest Chicago defender to return an interception for a touchdown and Jay Cutler threw three TD passes to Brandon Marshall as the Bears routed the Tennessee Titans 51-20 on Sunday. Cornerback Charles Tillman forced four fumbles and Chicago created five turnovers while winning its sixth in a row. The Bears (7-1) scored a franchise-record 28 points in the...
The Chicago Bears Hang Half a Hundred on the TitansThe Chicago Bears put on a show on Sunday hanging half a hundred on the Tennessee Titans including an interception return for a touchdown, a blocked punt for a touchdown and three TD passes from Jay Cutler to Brandon Marshall just to prove that the offense is finally beginning to click as well.The Bears dismantled the Titans with...
NFL News

Delivered to your inbox

You'll also receive Yardbarker's daily Top 10, featuring the best sports stories from around the web. Customize your newsletter to get articles on your favorite sports and teams. And the best part? It's free!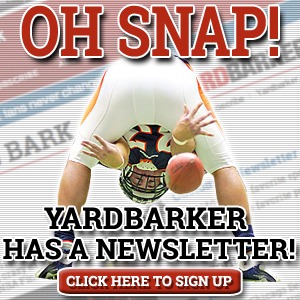 Latest Rumors
Best of Yardbarker

Today's Best Stuff

For Bloggers

Join the Yardbarker Network for more promotion, traffic, and money.

Company Info

Help

What is Yardbarker?

Yardbarker is the largest network of sports blogs and pro athlete blogs on the web. This site is the hub of the Yardbarker Network, where our editors and algorithms curate the best sports content from our network and beyond.