Found August 27, 2013 on Midway Illustrated:
Chicago Bears rookie defensive end Cornelius Washington has put Shea McClellin on notice, improve your game or he will pass him up on the depth chart.  Washington grabbed everyone's attention in the third preseason game in the fourth quarter against the Oakland Raiders and did so in resounding fashion.  Racking up two QB pressures a sack and grading out well against the run.  Washington is a sixth round draft choice out of Georgia who is an ideal fit as a 4-3 base defensive end and has gotten better each and every day in practice. It may be one of the most cliche statements in football, but it's a statement that certainly applies to the Bears' draft class.  Each player seems to have gotten better at each and every turn in each preseason game.  In the first game it was Kyle Long, Khaseem Greene and Jon Bostic who caught everyone's attention.   In the second game it was Jordan Mills' turn and in third game Marquess Wilson took reps with the 1s and caught a 14-yard pass from Cutler.  Then late in the fourth quarter it was Washington's turn to show off his talents.  The action started on Washington's first snap where he used excellent hand fighting to gain separation to use his speed to get the edge on a pass rush around the right tackle.  In this photo you can see Washington's arms extended into the blocker creating the separation he needs to turn the corner and flush the QB from the pocket.  The play nearly resulted in a QB hit and an interception for linebacker Blake Constanzo.  Then on the very next play we see from Washington how strong he is as he sets the edge and walks the offensive tackle  nearly four yards into the backfield on the run play.  You can clearly see the line of scrimmage marker and where Washington has his blocker in this image.  A little later in the game Washington gets a big pass deflection on a play that again shows off his strength, strength that we have yet to see from Shea McClellin in a Bears uniform.  The Raiders make a mistake of trying to pass block Washington one on one with a tight end, and Washington bull rushes the TE deep into the backfield, before gaining separation closing on the QB who tries to throw it over Washington.  He leaps into the air and tips the pass up for an incomplete pass.  When Washington notches his sack he does so by utilizing pure speed to the outside.  I can't say for certain, but it seems as though Washington has caught on to Raiders QB Matt McGloin's tendency to take a very deep drop every type he gets into a pass set.  Knowing this, Washington sets up aligned just slight outside of the OTs shoulder, not too far to give away his intention to take a hard up the field rush.  But at the snap of the ball Washington's mind is made up he's going to be the tackle up the field and get to the QBs landmark and drop him for a sack there.  Washington does so with ease keeping separation to beat the blocker up the field and notch the sack.  Washington is already equal to McClellin in terms of speed, athleticism and bend off the edge, but now he's showing things that make him superior to McClellin.  Washington shows an ability to hand fight to gain separation so he can then more easily turn the corner.  He shows functional strength to either bull rush or win the leverage battle in the run game and he uses these in combination to get pressure or disrupt the running lanes.  Granted Washington did this against third and likely fourth string players, but these are still functional abilities being applied by Washington that we have yet to see from McClellin.  With the release of Kyle Moore it seems all the more certain that Washington will remain on the 53-man roster.  The harder he works and if he continues to make progress it may not be long until he's being counted on to be a game day rotational player.  More than anything Washington's play will make the fourth and final preseason game all the more exciting for the fans to watch.  Washington will likely start and get the most game day reps of any DE on the roster.  The questions will be can Washington build upon his solid performance that he showed against the Raiders?  Will more game reps wear him down or will his conditioning hold up?  One thing is clear, Washington is already growing as a player and has an exceptionally high ceiling.  The question is how far will his work ethic and potential take him during the 2013 season?
Original Story:
http://www.midwayillustrated.com/2013...
THE BACKYARD
BEST OF MAXIM
RELATED ARTICLES
Chicago Bears wide receiver Brandon Marshall was given an excused four-day absence from the team, head coach Marc Trestman said after practice. "This was a planned-out miss today for personal reasons," Trestman said, via the Chicago Tribune. "I let him go for personal 
Brandon Marshall is taking a four-day absence from the Chicago Bears. The absence of Marshall was per-approved by head coach Marc Trestman. "This was a planned-out miss today for personal reasons," Trestman said via the Chicago Tribune. "I let him go for personal reasons. But something that has been part of the off season plan since started training camp." The first-year...
We reported earlier that Brandon Marshall isn't happy with the way the Bears have reacted to his hip still bothering him. It turns out though, that Marshall took a leave of absence to have his hip examined after undergoing offseason surgery about seven months ago. Why is Brandon Marshall taking 4 days away from the #Bears? It's his previously scheduled follow-up appointment...
The Chicago Bears weren't afraid to think outside the box when they hired coach Marc Trestman. They stretched boundaries. They hopped the border. They lured him back to the NFL from Canada with the hope that he could connect with quarterback Jay Cutler and inject some life into a stagnant offense while leading the Bears to the playoffs after they missed out for the fifth time...
The Bears have cut their roster down to 76 players after releasing 14 players on Monday via the team's website.  
Brandon Marshall has been slow to return from a hip injury, and the Bears wide receiver is reportedly upset with the Chicago Bears because "the organization is not taking his hip injury seriously." Adam Schefter is reporting that Marshall is upset that the Bears are not listening to his concerns. WR Brandon Marshall is upset Bears have not taken his concerns about his hip injury...
The Chicago Bears got the balance they sought on offense last week. Now, their starters are getting a breather. Don't expect to see Chicago's top stars on the field during Thursday night's final preseason game against Cleveland. Their dress rehearsal for the opener against Cincinnati on Sept. 8 came last week, when they dominated Oakland in the first half. Now, Jay...
The Bears are reportedly trying to trade wide receiver Earl Bennett, who could be on his way out after suffering his second concussion since December, from which he still has not recovered.
Chicago Bears defensive tackle Henry Melton is expected to be medically cleared next week from a concussion and be ready for the regular season opener against the Cincinnati Bengals on Sept. 8. Melton who suffered the concussion on Aug. 9 wore a helmet and participated in the individual open portion of practice on Wednesday but he is remains off-limits to the media per NFL rules...
Jonathan Bostic and Lance Briggs have garnered most of the attention so far this year, yet James Anderson has been extremely impressive and could end up being the Bears' best linebacker this season.
NFL News

Delivered to your inbox

You'll also receive Yardbarker's daily Top 10, featuring the best sports stories from around the web. Customize your newsletter to get articles on your favorite sports and teams. And the best part? It's free!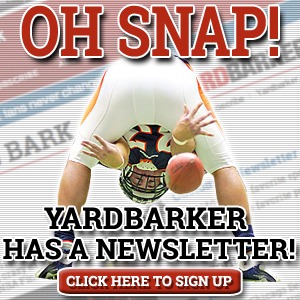 Latest Rumors
Best of Yardbarker

Today's Best Stuff

For Bloggers

Join the Yardbarker Network for more promotion, traffic, and money.

Company Info

Help

What is Yardbarker?

Yardbarker is the largest network of sports blogs and pro athlete blogs on the web. This site is the hub of the Yardbarker Network, where our editors and algorithms curate the best sports content from our network and beyond.