Found August 09, 2012 on Midway Illustrated:
PLAYERS:
Alshon Jeffery
,
Shea McClellin
,
Corey Wootton
,
Chauncey Davis
,
Devin Hester
,
Earl Bennett
,
Jordy Nelson
,
Michael Floyd
,
Julio Jones
,
Roddy White
TEAMS:
Chicago Bears
,
Green Bay Packers
,
Arizona Cardinals
,
Atlanta Falcons
,
Denver Broncos
The Chicago Bears are trying to contend for a Super Bowl championship in 2012 and in order for that to happen they need a boost to their offense.  That offense needs to be efficient and balanced and needs multiple receiving  threats in the passing game. Those factors weigh in heavily as to why rookie wide receiver Alshon Jeffery is the most important Bears draft pick in recent memory. With apologies to Shea McClellin and regardless of his development, Jeffery has the most pressure on him to come in and produce right away.  McClellin has struggled early to find his footing, but he has improved during the second week of camp.  Fortunately for McClellin there are two solid veteran starters ahead of him who can be counted on, and Corey Wootton and Chauncey Davis can be counted on primary backups while McClellin develops. Jeffery is not afforded any such luxury with the veterans ahead of him in Devin Hester and Earl Bennett.  While Bennett is a solid receiver who makes a lot of tough catches and is a consistent player, Bennett is nothing special. Bennett may never be anything special because of his limited play making ability.  He has good hands and can run tough routes, but he's not going to be the play maker on the other side of Marshall that can off set the coverage that will be rolled Marshall's way. Bennett is a slot receiver, PERIOD.  Jeffery has to be that outside receiver on the other side of Marshall that can be that play making threat.  While Bears fans have been rightfully concerned about the Bears having a number one receiver, in today's NFL it's already been proven that there's a need for a second receiver who plays at the same level as a number one. Even a brief examination of NFL rosters confirms how important Jerfery is to the Bears chances this season. Look at the Packers with Jennings Driver and now Jordy Nelson, look at the Cardinals who at first had Boldin then added Fitzgerald.  The Cardinals now have added Michael Floyd to take heat off of Fitzgerald after trading Boldin.  The Falcons traded up into the top half of the first round to add Julio Jones last year to off set the pressure on Roddy White.   There's Nicks and Cruz with the Giants who helped bring a title to the NYC last year. Jeffery must step up and contribute almost immediately, regardless of how well the coaching staff talks up Devin Hester.  There are no more false illusions surrounding Hester's potential as an outside receiver and there shouldn't be. Regardless of how everyone waxes on about how great Hester can be, the bottom line is Hester has been horrible with a few brief flashes of play making ability.  Jeffery needs to take Hester's job much sooner rather than later. The journey to supplant Hester as a Z receiver starts tonight against the  Denver Broncos in the first preseason game.  There is absolutely no excuse for Jeffery not to step up and be the starting receiver by week one against the Colts. He will have veteran NFL QBs throwing the ball to him each and every drive on the field. Veterans' reps in preseason games are extremely limited and the level of competition Jeffery should be fellow rookies and players that may not even make the roster. There has to be a major sense of urgency shown by this rookie and he needs to know just how important he is in the Bears offense.  Winning the rookie of the year honors for Jeffery may be more hype than good, but Jeffery's production needs to be at that level. Perhaps no other player in the NFL needs to come in and produce immediately like Jeffery is expected to.  He needs to dominate this preseason, there is no reason for him not, to.  That is the expectation, dominance-playing at a high level these next four weeks and taking hold of the starting spot and not relinquishing it for the next decade.
Original Story:
http://www.midwayillustrated.com/2012...
THE BACKYARD
BEST OF MAXIM
RELATED ARTICLES
After missing practice time for the sixth straight day and amid a barrage of injury rumors, the Bears have announced the linebacker Brian Urlacher will not play in this Thursday's preseason opener against the Denver Broncos.  The Bears are stressing however, that Urlacher's absence has nothing to do with the injury rumors being pumped out of Bourbannias. Head coach Lovie...
Bears rookie wideout Alshon Jeffery led the team last night in receptions and reciving yards. Bear Report talked with him after the game about his first live action in the NFL.
The Chicago Bears held out quarterback Jay Cutler, defensive end Julius Peppers and linebacker Brian Urlacher from Monday's preseason opener against the Denver Broncos. Urlacher was not expected to play after missing time in six practices because of his injured left knee and for personal reasons. Cutler and Peppers were in uniform, but the Bears decided to hold them out on a...
With tight ends such as Rob Gronkowski and Jimmy Graham changing the way the position is played even more so than Tony Gonzalez and Antonio Gates it has become imperative that teams wanting to compete have an advantage at this position.   The Bears top two tight ends in 2011 had a combined total of 25 catches. Gronkowski alone had 17 touchdown catches in 2011. The Bears must get...
The real preseason story about the Chicago Bears defense is all the young talent that will be on display during these four games.  No one will be paying much attention to these preseason games, but the players mentioned in the follow on blog all could legitimately represent the future of this franchise post Briggs, Peppers, Tillman and Urlacher. What is the talent like that each...
Former defensive end Alex Brown is officially retiring as a member of the Chicago Bears. The team says Brown has signed a one-day contract and will be recognized in a ceremony on the field before the preseason opener against Denver on Thursday. A fourth-round draft pick by the Bears in 2002, he played eight seasons in Chicago and was a key player on the 2006 team that reached the...
In the latest version of Bear Report radio we talked about the roster battles to watch for in the opening preseason game against the Denver Broncos.  Who will step up in the battle between Greg McCoy and Isaiah Frey?  Can Brandon Hardin shake off the rust and develop into a safety?  We also talked about the emergence of  Harvey  Unga who suddenly looks like he may be making...
The Chicago Bears thinned their ranks at the tight end position, cutting second-year tight end Draylen Ross. With Ross leaving, Chicago has five tight ends remaining, and its entirely possible they'll carry four (Kellen Davis, Matt Spaeth, Kyle Adams, and rookie fourth rounder Evan Rodriguez) once the 53 man roster is reached. As for Ross, the former North Texas product [...]
I see a bunch of sleepless nights ahead.
The Chicago Bears square off against the Denver Broncos tonight in the team's first preseason game of 2012. Join BR publisher Jeremy Stoltz from the Solider Field press box throughout the contest.
NFL News

Delivered to your inbox

You'll also receive Yardbarker's daily Top 10, featuring the best sports stories from around the web. Customize your newsletter to get articles on your favorite sports and teams. And the best part? It's free!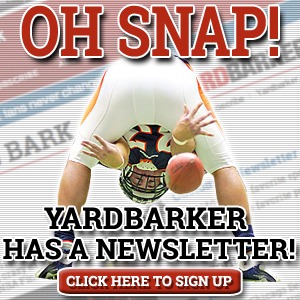 Latest Rumors
Best of Yardbarker

Today's Best Stuff

For Bloggers

Join the Yardbarker Network for more promotion, traffic, and money.

Company Info

Help

What is Yardbarker?

Yardbarker is the largest network of sports blogs and pro athlete blogs on the web. This site is the hub of the Yardbarker Network, where our editors and algorithms curate the best sports content from our network and beyond.