Found November 11, 2012 on Midway Illustrated:
PLAYERS:
Major Wright
,
Andre Johnson
,
Owen Daniels
,
Charles Tillman
,
Arian Foster
,
Brian Urlacher
,
Wade Phillips
,
Brandon Marshall
,
Matt Forte
,
Alshon Jeffery
,
Devin Hester
,
Earl Bennett
,
Kellen Davis
,
Johnny Knox
,
Amobi Okoye
,
Anthony Walters
,
Eric Weems
,
Blake Costanzo
,
Sherrick McManis
,
Shea McClellin
,
Nick Roach
,
Kelvin Hayden
,
Nate Collins
,
Jay Cutler
,
Kyle Orton
,
Drew Brees
,
Michael Vick
TEAMS:
Chicago Bears
,
Houston Texans
,
New Orleans Saints
,
Philadelphia Eagles
This week Jeremy Stoltz of BearReport.com joined me to answer some questions about the Bears vs. Texans game.  Six questions, six answers answering keys to a Bears victory over the 7-1 Houston Texans.  Jeremy cohosts Bear Report Radio which usually appears on Friday mornings on both sites.  1. With the Texans such a strong running team and Major Wright a strong in the box run-stopping safety do the Bears play more single high safety to stop the run and trust Tillman and Jennings to slow down the passing game? JS: Yes. Outside of Andre Johnson, the Texans don't pose much of a threat at wide receiver. Tight end Owen Daniels is second on the team in targets, catches and receiving yards, yet he's a game-time decision with a back injury. So the Bears should be able to leave one safety deep and use Charles Tillman one-on-one with Johnson on the outside. Houston's offense starts with running back Arian Foster. When he gets going on the ground, that opens up their deadly play-action attack. With Chicago's aggressive defense, that could spell doom. Sliding Wright into the box will be absolutely necessary, especially in a game where there is a 100-percent chance of rain. BS: With Andre Johnson not being the same type of wide receiver this late in his career as he was a couple of years ago the Bears' best bet would be to bring Wright down into the box. Let Tillman and Jennings make the plays they're capable of in coverage and focus on stopping Arian Foster and the run game. Add to it Brian Urlacher's struggles this season in run defense and the Bears would be best to do whatever they can to stop the run first. 2. Wade Phillips said that wherever Brandon Marshall goes he'll be double-teamed the entire game. Which Bears wide receiver do you trust to step up and take the heat off of Marshall in this game? JS: Matt Forte. In the three games Alshon Jeffery has missed, neither Devin Hester nor Earl Bennett has stepped up to claim the No. 2 role in Chicago's passing attack. Hester is far too inconsistent and Bennett has struggled to get open. Tight end Kellen Davis, while explosive at times, has been a disappointment as well. My bet is on Forte, who should be a weapon out of the backfield on a windy, rainy night, which could limit the deep pass. If Forte gets the ball in open space, the slick turf should help him get plenty of yards after the catch. BS: At this point I have no idea which player is going to step up in the absence of Alshon Jeffery to take the heat off of Marshall. Earl Bennett has been and continues to be a major disappointment this season and the Bears are likely better off adding a better receiver in the off-season. Hester isn't any good either and it's apparent that the Bears miss Johnny Knox's ability to stretch the field. 3. Should the Bears have active four defensive tackles in this game to deal with the Texans running game? JS: It makes sense to activate an extra DT to help plug up holes in the middle. That means the Bears keep eight defensive linemen, which would likely force the team to sit a special teams player. In cold, sloppy conditions, field position, created in large part by special teams, will be at a premium. Playing Amobi Okoye means someone like Anthony Walters, Eric Weems, Blake Costanzo or Sherrick McManis, all core special teams players, will have to sit. I think it's worth it to start four defensive tackles but it'll weaken another area of the team. BS: I think the Bears would be better off playing a fourth DT in this game, even though Amobi Okoye has been less than stellar this season. Peppers' production overall has declined and I think part of that decline in production is having to deal with the mess inside. Shea McClellin has been severely inconsistent this season and struggles against the run. I know it's hard to imagine putting McClellin on the bench as an inactive, but I'm just not as high on his abilities as a lot of the other analysts are. Bench McClellin to strengthen the run game because Wotton is the more complete player for the game against the Texans. 4. Which role player or back up needs to step up and have a big game among Wootton, McClellin, Collins etc. JS: I would like to see Collins be stout on the inside, helping to keep Foster swallowed up. But I think Nick Roach is very important in this game in run situations. His ability to disrupt at the point of attack will be key in forcing Foster to cut back into the teeth of Chicago's defense. If Roach gets pummeled and Foster is able to turn the corner on Houston's very effective zone stretch runs, he'll eat up Chicago's defense on the ground. BS: I'd like to see Kelvin Hayden or Nate Collins have a big impact in this game. Hayden because he's big and physical and can match up well with the Texans' best receivers all of who go 6-foot-3 or bigger. Collins because he is so stout against the run and would keep the DT rotation fresh to slow down Foster. 5. With the Texans such a strong run stopping defense, what should the Bears do to try get the run game going? Should they pass first to open up the run or try and run to establish the pass? JS: A pass-first approach with Jay Cutler at the helm, a consistently slow starter this season, scares me. It could lead to an early deficit. I think the Bears just need to be better along the line of scrimmage. Run Forte and Bush early and often, and continue to do so even if yards are hard to come by at first. Eventually, the sloppy conditions will help create some big gainers on the ground. Then you use your play action, as well as a heavy dose of screen passes, to get chunks through the air. BS: The fact that the Bears haven't allowed Matt Forte to find the rhythm on offense he needs to have a big game makes me wonder why the re-signed him this year to such a big contract. What are they waiting for? You have a franchise RB who you paid extremely well that is the most well rounded RB in the NFL, yet Mike Tice refuses to make him an integral part of the offense. This is the most important game of the season to this point so hopefully based on how few carries Forte has had this season they can turn him loose for the stretch run and ride that horse to the finish. Get off the bus running because it's what this offense does best, and it's the best way to slow down the Texans' pass rush. 6. Lastly what type of game do you expect Jay Cutler to have? JS: Cutler has played some of his worst games in prime time, which includes the Week 2 stinker this year against the Packers (11 of 27, 126 yards, 4 INTs). If the weather is as bad as predicted, I don't see him having a strong game through the air. In a contest like this one, he needs to be more Kyle Orton than Drew Brees. If Cutler can just manage the game and not turn the ball over, as well as use his legs to gain yards on the ground when Houston's front seven starts getting too aggressive, that should be enough for the Bears to earn the victory. BS: This game reminds of the game against the Philadelphia Eagles game of two years ago. Both teams were playoff caliber, with Michael Vick getting MVP talk and everyone talking about how explosive they were on offense and how the Bears didn't stand a chance. Everything centered on how good the Eagles were how they were clicking on all cylinders and so forth. They came strolling into Soldier Field and Cutler threw four touchdowns, and the Bears absolutely romped. Now on the flip side the Eagles didn't have the defense that the Texans have, but I expect Cutler to go out and have his best game of the season. I don't see him throwing for four touchdowns, but I could see him leading the Bears to victory in this game. Jeremy Stoltz is Publisher of BearReport.com and a member of the Pro Football Writers of America. Brett Solesky is publisher of MidwayIllustrated.com.
Original Story:
http://www.midwayillustrated.com/2012...
THE BACKYARD
BEST OF MAXIM
RELATED ARTICLES
The (7-1) Chicago Bears face (7-1) Houston Texans in what should be a defensive battle. Here is the injury report: Chicago Bears Pos Player Injury  Status DE Israel Idonije ANKLE PROBABLE WR Alshon Jeffery HAND DOUBTFUL DT Henry Melton BACK PROBABLE DT Matt Toeaina CALF DOUBTFUL...
Houston at Chicago (54%) There are reasons to like Chicago on their home field in a cold weather game. Cutler's 4th quarter stats compare much more favourably to Schaub's, but the Texans haven't really been pressed, this week they will be. According to coldhardfootballfacts.com Chicago has the most 'bendable' defense … 
HUSH UP
After being criticized for congratulating Texans' safety Daniel Manning while on the field Sunday night, the Bears linebacker told reporters he doesn't care what people think.
Coach Lovie Smith says the Chicago Bears properly handled quarterback Jay Cutler's concussion on Sunday night. Smith says trainers immediately examined Cutler during a replay review after he took a helmet-to-helmet hit from Houston's Tim Dobbins late in the second quarter of a 13-6 loss to the Texans. He says Cutler showed no symptoms of a concussion immediately after the...
This was system failure, maybe system overload for the NFL. You get a big game like Sunday night, Houston at Chicago, and hope to see statements made, questions answered. We got statements, all right. When Houston linebacker Tim Dobbins cheap-shotted Jay Cutler -- in the officials' opinion -- by going helmet-to-helmet after Cutler had thrown a pass, Dobbins was allowed to stay...
CHICAGO (AP) -- Bears star cornerback Charles Tillman is active for Sunday's game against Houston, while Texans tight end Owen Daniels is out because of a back injury. There was some question about Tillman's status after he told a Chicago radio station he might not be available because his wife, Jackie, is due to give birth to a girl -- the couple's fourth child. He...
Two of the NFL's best teams will clash on Sunday Night Football, when the Chicago Bears host the Houston Texans at 8:20 p.m. EST on NBC. Lovie...
The Bears lost twice Sunday night, the game to the Texans and Jay Cutler to a concussion while the Vikings pulled out of free-fall mode against the Lions.
HOUSTON (AP) -- Houston Texans defensive line coach Bill Kollar did not travel home from Chicago with the team because of a possible blood clot. Kollar missed Sunday night's game against the Bears because of the issue. He was experiencing shortness of breath before the game and a team trainer sent him to the hospital for tests. He wasn't allowed to return to the field. ...
The Houston Texans kept taking the ball away from the Chicago Bears. Then, they took their quarterback out of the game. Arian Foster finished with 102 yards rushing and a touchdown catch, and the Houston Texans intercepted Jay Cutler twice before knocking him out of the game with a concussion on their way to a 13-6 victory over the Chicago Bears on Sunday night. In a showdown between...
In tonight's contest between the Chicago Bears (7-2) and Houston Texans (8-1), two of the best teams in the NFL squared off. Yet injuries and poor play de-railed the home team in a 13-6 loss.
Our Bears experts discuss a six-pack of keys for Chicago on both sides of the football in tonight's huge matchup against the Houston Texans.
NFL News

Delivered to your inbox

You'll also receive Yardbarker's daily Top 10, featuring the best sports stories from around the web. Customize your newsletter to get articles on your favorite sports and teams. And the best part? It's free!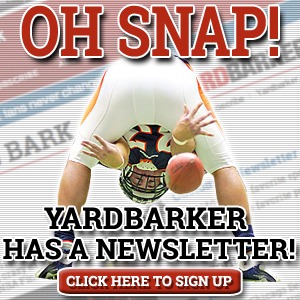 Latest Rumors
Best of Yardbarker

Today's Best Stuff

For Bloggers

Join the Yardbarker Network for more promotion, traffic, and money.

Company Info

Help

What is Yardbarker?

Yardbarker is the largest network of sports blogs and pro athlete blogs on the web. This site is the hub of the Yardbarker Network, where our editors and algorithms curate the best sports content from our network and beyond.