Found November 09, 2012 on isportsweb.com:
After a rout of the Tennessee Titans this past Sunday, the Chicago Bears now turn their attention to a much more formidable opponent, the Houston Texans.  The Houston Texans boast the same 7-1 record as the Chicago Bears, which has some people already calling this game a Super Bowl preview. While it's not quite the Super Bowl, this Sunday's game will feature two of the NFL's top teams.  Chicago Bears coach Lovie Smith is among those who are excited for the high powered match-up. Smith said, "We're playing a 7-1 team, so that's saying we're playing a heck of a football team. We're excited to get an opportunity to match up against them, especially at home." Success starts with defense for both teams.  The Houston Texans give up the second fewest rushing yards per game in the NFL, while the Chicago Bears rank sixth in that same category.  The strengths of both defensive units are their ability to play together, but there is no shortage of star power on either squad, as both defenses boast defensive player of the year candidates. The Houston defense is led by J.J. Watt, who has burst onto the scene in 2012 to the tune of 10.5 sacks and 10 pass deflections through the teams first eight games.  Watt's ability to bat down passes has been well documented this year, especially by the Houston fans who have started to call him J.J. "Swatt".  While he appreciates the attention, Watt notes that deflecting passes is not something that he just started doing one day. "It's something I've been working on since college," Watt said. "I think it's something that comes with time and comes with a lot of practice." The man leading the defensive charge for the Chicago Bears so far this season has been Charles Tillman.  Tillman has been a lockdown corner so far this year for Chicago.  His best performance came against Calvin Johnson of the Detroit Lions who he limited to 3 catches for a mere 34 yards. Tillman has also excelled at punching footballs out of ball carriers hands, a skill which he showcased last Sunday against Tennessee when he forced a career high four fumbles.  Tillman's teammates have taken notice of his extraordinary play, and Lance Briggs is already making a case for Tillman as defensive player of the year. "We are all seeing history being made," Briggs said. "I've never seen anybody who's been able to do the things he's able to do, and to do it so consistently. Right now I can tell you he is the defensive player of the year. Hands down right now there is no one playing better than him." While the defenses are clearly the strength of both these teams, their offenses are each capable of putting up big points. The Texans like to use their zone blocking scheme in order to establish a running game with Arian Foster.  This will allow them to use play action in order to try and get some big plays down the field to their playmakers Andre Johnson and Owen Daniels.  The Bears defense will need to focus on shutting down the Houston run game early if they want to disrupt Houston's game plan. On the flip side, the Chicago Bears offense will have to do something which they have struggled to do so far this year, which is to get off to a hot start.  Lovie Smith has acknowledged the fact that the Chicago offense needs to be more effective early in games. "Starting fast has been a focus each week with all three phases," Smith said. While the Bears will also look to establish a run game early, the most important player for the Chicago offense Sunday night will be Brandon Marshall.  Most of Marshall's production this season has come in the second half of blowout games.  Marshall will need to make plays early and often Sunday night, especially if the Texans get out to an early lead and Chicago is forced to throw the ball more often than they would like. This game will have a playoff feel to it, and it will most likely come down to the last few possessions.  The Chicago Bears will need to continue their defensive scoring barrage if they want to win this game.  If the Bears get into the end zone on defense or special teams they will come out on top, otherwise it will be an uphill battle against a team as well rounded as the Houston Texans.
Original Story:
http://feedproxy.google.com/~r/isport...
THE BACKYARD
BEST OF MAXIM
RELATED ARTICLES
For those of you who have yet to experience it, Smokin' Jay Cutler is one of the funniest bits to hit the internet this year. There's something about the looks Jay Cutler gives that makes it hilarious to photoshop a cigarette into his mouth. In fact, Cutler himself even agrees. "I know a few of those guys," Cutler said on Showtime's Inside the NFL this week according to...
Charles Tillman was asleep when President Obama gave him a big shout out on ESPN. It's one of the few times he wasn't locked in. The star cornerback has been turning heads everywhere with his play, even in the White House, and so have his teammates on the Chicago Bears' defense. A group that came into the season with some question marks is supplying plenty of answers...
The wife of Chicago Bears cornerback Charles Tillman is expecting another girl on Monday, allowing Tillman to play Sunday night against the Houston Texans. Tillman tweeted this news Thursday to the account of ESPN Radio's "Mike & Mike In The Morning": "god, family, football... Baby is coming Monday don't worry I'll be there Sunday." He created...
Charles Tillman said that if his wife goes into labor Sunday, he won't play in the Chicago Bears game against Houston. You know what that makes him? Good. Very, very good. I'd give the idea one Facebook-like right now. Thumbs up. Mike Florio, of NBC and Pro Football Talk wouldn't. He said that football players should plan their "nine-month family expansion activities...
Defensive players get fined every week in the NFL for hits the league deems illegal, yet Bears linebacker Brian Urlacher wonders why offensive linemen aren't fined equally for cut blocks.
There are some moments in a man's life that are cherished. Believe it or not, however, some might say that playing the Houston Texans in Week 10 of the NFL schedule is not one of those moments, at least not compared to say, seeing the birth of a child. With that obviously in mind, Bears cornerback Charles Tillman has already said that if his wife goes into labor this weekend, Tillman...
Houston Texans defensive coordinator Wade Phillips told the media today that they plan on double teaming Bears wide receiver Brandon Marshall on every play. I think this is a wise decision by Phillips and the Texans since Marshall is one of the Bears' dangerous players. In the NFL the best receivers can beat a double team.  We'll see if Marshall is up to the challenge on Sunday...
Even with his daughter due any day now, Bears cornerback Charles Tillman is expected to play this weekend, meaning Chicago's defense will be at full strength against the Houston Texans.
When the Chicago Bears (7-1) and Houston Texans (7-1) meet in Soldier Field on Sunday Night Football, it will be a meeting between two of the top teams in the NFL. The Bears and Texans will undoubtedly be the top matchup in Week 10.These teams mirror each other in the fact that they both have very stout defenses that are backed by solid running games.  In a strange but true fact...
Two of the top NFL Defensive Players of the Year candidates collide at Soldier Field Sunday night when the Chicago Bears (7-1) play host to the Houston Texans (7-1). The Bears' Charles Tillman and the Texans' J.J. Watt are each enjoying standout seasons. Through eight games, Tillman has spearheaded an aggressive Chicago attack unit that not shuts down opponents, but [...]
Right now the Chicago Bears are the best team in the NFC. The Atlanta Falcons and San Francisco 49ers fans will disagree but right now they are wrong!  Both of those teams have been very impressive in the first half of the season, but they do not have the X-factors that the Bears do.  Not to mention when the Bears and 49ers play a week from this coming Monday the Bears will show...
Bears News

Delivered to your inbox

You'll also receive Yardbarker's daily Top 10, featuring the best sports stories from around the web. Customize your newsletter to get articles on your favorite sports and teams. And the best part? It's free!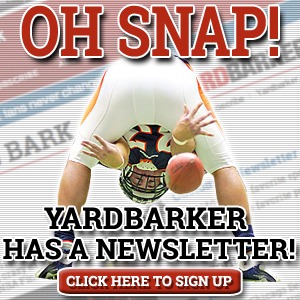 Latest Rumors
Best of Yardbarker

Today's Best Stuff

For Bloggers

Join the Yardbarker Network for more promotion, traffic, and money.

Company Info

Help

What is Yardbarker?

Yardbarker is the largest network of sports blogs and pro athlete blogs on the web. This site is the hub of the Yardbarker Network, where our editors and algorithms curate the best sports content from our network and beyond.