Found November 18, 2012 on Fox Sports Kansas City:
KANSAS CITY, Mo. The Chiefs, and their fans, seemingly have nothing left to get mad about. Instead, an eerie silence cast over the in-house crowd of about 50,000 fans at Arrowhead Stadium for most of Sunday afternoon's Chiefs-Bengals game, won handily and rather uneventfully by the Bengals, 28-6. Obviously, Chiefs fans had virtually nothing to cheer about, just two short Ryan Succup field goals and no real threats to score a touchdown. That wasn't a surprise, as the worst team in the NFL dropped to 1-9. But for the first time this season, Chiefs fans couldn't even muster enough energy to really rip out a few boos. Sure, there were a few scatterings of boos, mostly directed toward quarterback Matt Cassel, who was just eight of 16 for 93 yards, and toward the pitiful Chiefs' offense, which managed just 148 yards overall in the first half as the Chiefs trailed 21-6. But for the most part, Chiefs fans sat numb. Or uninterested. And there was a light and mostly polite applause when Chiefs coach Romeo Crennel benched Cassel in favor of Brady Quinn to start the second half. Quinn (nine of 14, 95 yards) didn't fare much better than Cassel and perhaps was slightly worse in the only statistic that matters points. Quinn was shut out. But Chiefs fans didn't seemed to notice, at least not enough to even respond harshly. To be fair, most of them had their backs to the field for much of the second half, making the third-quarter walk to the parking lot that has become a tradition at Arrowhead in 2012. Chiefs fans perhaps were in mourning and therefore, being respectful. After all, a good portion of them showed up wearing black the "blackout" mandate came courtesy of a grass-roots movement in Kansas City from fans who organized and launched a website called SaveOurChiefs.com. The blackout was a symbolic protest of the actions of lack of action by the Chiefs' front office namely general manager Scott Pioli, who assembled the NFL's worst team this year. But the protest seemed mostly a silent one at Arrowhead, which has long held the reputation as one of the loudest and toughest venues to play in. Not anymore. Asked if he noticed the sounds of silence, Crennel said no. "I was focused on the game and didn't get into the crowd," Crennel said. "I thought that the (fans) wer trying to help us on third down. I heard the noise on third down so every time I can get that I appreciate it." Of course, Crennel likely was more concerned with another annoying silence that from his offense, which had just two trips to the red zone and fizzled both times, aside from the Succup chip shots. The Chiefs also were a woeful 1-for-11 in third-down conversions. "I expected us to do better, especially coming off the Monday night effort (overtime loss to Pittsburgh)," Crennel said. "We ended up giving up yardage, giving up points, couldn't move the ball offensively. So, I changed quarterbacks and tried to generate some offense that way. "It really wasn't enough, so that's why the score is what it is. I'm not feeling very good at this point." And with good reason. Crennel's defense also put up little resistance. The Chiefs gave up 409 yards to the Bengals, who had lost four straight until beating the Giants last week. The Bengals were more physical, grinding out 189 yards on the ground. And wideout A. J. Green had his way with the Chiefs' secondary, snaring six passes for 91 yards, including a 40-yarder. The Chiefs, perhaps in tune with the crowd, fell completely asleep twice one on quarterback Andy Dalton's 1-yard bootleg touchdown run in the first half, and again on a fake punt that the Bengals converted to keep a drive alive. Crennel's explanation? "A lot of times you think they're going to run from the 1 (yard line)," Crennel said, "and you forget to remember that he (the quarterback) could keep it." Can't argue with that. "As for the fake punt, they beat us," he said. "We weren't alert enough to make the play, and that gave them some juice and that hurt out team." Yep, can't argue with that, either. The problem is, Crennel's post-game tone was as flat as his team's performance, and as lethargic as the environment was at Arrowhead all day. Some Chiefs noticed the deadness within the stadium. "We can't worry about what the fans say or do, though," Chiefs defensive end Shaun Smith said. "We can't worry about any of that. We just have to continue to play and execute the game plan." The Chiefs hardly instill confidence that they can manage that, however. Sunday's loss was their seventh straight. The Chiefs are spiraling toward their worst season in franchise history, on pace to best (or worst) the 2-14 2008 team and the 2-12 1977 team. This season's version is particularly perplexing, though, considering they were the preseason pick of many observers to win the AFC West. But equally as perplexing is Crennel's head-scratching press conferences this year. Earlier this year, Crennel virtually pleaded ignorance when asked after a game why his star running back Jamaal Charles carried the ball only five times. Too often he has seemed puzzled by his coordinators' game plans, and by reporters' questions afterward as well. Sunday, when asked if his team had shown even the slightest improvement lately, Crennel said this: "Well, it just depends whether you want wins or not. If wins are the thing, then we don't have any wins, so we aren't improving enough." Huh? Sometimes it's just better to be silent.
Original Story:
http://www.foxsportskansascity.com/11...
THE BACKYARD
BEST OF MAXIM
RELATED ARTICLES
RIP
A Kansas City Chiefs fan's obituary claimed his death was caused by the team. Read the funny entry here.
KANSAS CITY, Mo. The Chiefs, and their fans, seemingly have nothing left to get mad about. Instead, an eerie silence cast over the in-house crowd of about 50,000 fans at Arrowhead Stadium for most of Sunday afternoon's Chiefs-Bengals game, won handily and rather uneventfully by the Bengals, 28-6. Obviously, Chiefs fans had virtually nothing to cheer about, just two short Ryan...
KANSAS CITY, Mo. (AP) Chiefs coach Romeo Crennel laid out for his team Monday exactly what it will take to end their seven-game losing streak and then questioned whether the solution is even possible. "We know we have to fight. We have to do everything in our power to be the best we can be, to be perfect," he said during a break in meetings. "That's what I told...
I knew at 1-9 the Kansas City Chiefs were bad, but I didn't know they were deadly. The Chiefs are undoubtedly the worst team in football. It took until Week 11 against the Bengals for them to hold a lead in any game this season, which lasted all of six minutes or so before Cincy came back to take the lead, and the game 28-6.  The whole damn franchise is a mess, the team is a train...
The Kansas City Chiefs are in midst of one of the worst seasons in the organizations history, and it may have been all that a local man could take. Loren G "Sam" Lickteig, passed away at the age of 81, due to complications of MS. Well, that and the Chiefs, at least according to his [...]
Chiefs receiver Dwayne Bowe left Sunday's game in the second quarter with a head injury. His return is doubtful.Fantasy Spin:Bowe landed on his head and went to the locker room. When he returned he didn't have his helmet with him, a pretty sure sign that he's not retuning anytime soon.
The Kansas City Chiefs' play on the field leaves much to be desired but who knew that rooting for the team was deadly? That was the case for one Loren "Sam" Lickteig whose recent obitiuary cast some of the blame for his death at the Chiefs' feet.  I always say, "If you're gonna go, might as well take some people out with ya," and it looks...
Kansas City Chiefs wide receiver Dwayne Bowe left yesterday's game against the Cincinnati Bengals with a neck injury, reports the Associated Press. Bowe sustained the injury when he landed hard on the turf after leaping to make a catch. He was checked by trainers on the sidelines, hit the locker room for further evaluation and ultimately returned to the bench without his helmet...
After another embarrassing home loss by the Kansas City Chiefs that featured a lackluster crowd wearing more black than red in the stands, I'm ready to give in to the fact that all the blame for the teams 1-9 record can't be placed at the feet of General Manager, Scott Pioli.
KANSAS CITY, Mo. -- Loren "Sam" Lickteig led a fulfilling life -- a loving wife and family, a stint in the Air Force, a career as a real estate broker and a spell on the city council. But in passing, he's now become a part of Kansas City Chiefs lore. "Oh, he would've loved it," Lickteig's son, Jake, told FOXSportsKansasCity.com when asked about his...
The Chiefs are without center Ryan Lilja and right guard Jon Asamoah along with wide receiver Jon Baldwin for their game against the Cincinnati Bengals. Safety Reggie Nelson was inactive for Cincinnati with a hamstring injury Sunday. Taylor Mays is expected to start in his place alongside Nate Clements. Lilja is inactive with a knee injury and Asamoah had surgery on his right thumb...
KANSAS CITY, Mo. (AP) -- The Cincinnati Bengals are back to eyeing the playoffs. The Kansas City Chiefs are looking forward to the end of the season. Andy Dalton threw for 230 yards and accounted for three touchdowns, A.J. Green caught a touchdown pass in his ninth straight game and the Bengals beat the woeful Chiefs 28-6 on Sunday. Green finished with six catches for 91 yards...
NFL News

Delivered to your inbox

You'll also receive Yardbarker's daily Top 10, featuring the best sports stories from around the web. Customize your newsletter to get articles on your favorite sports and teams. And the best part? It's free!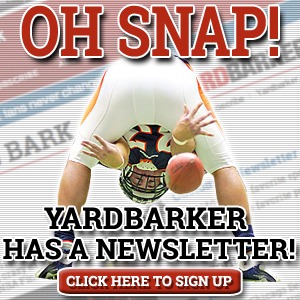 Latest Rumors
The Backyard

Today's Best Stuff

For Bloggers

Join the Yardbarker Network for more promotion, traffic, and money.

Company Info

Help

What is Yardbarker?

Yardbarker is the largest network of sports blogs and pro athlete blogs on the web. This site is the hub of the Yardbarker Network, where our editors and algorithms curate the best sports content from our network and beyond.