Found January 01, 2013 on Fox Sports Kansas City:
PLAYERS:
Clark Hunt
,
Romeo Crennel
,
Scott Pioli
,
Dirk Koetter
,
Jon Gruden
,
Andy Reid
,
Bill Cowher
,
Chip Kelly
,
Todd Haley
,
Marty Schottenheimer
TEAMS:
Kansas City Chiefs
,
Philadelphia Eagles
,
New England Patriots
,
Penn State Nittany Lions
,
Oregon Ducks
KANSAS CITY, Mo. (AP) Clark Hunt is regarded as an intensely private man, someone who prefers to operate behind the scenes and away from the spotlight that comes with owning an NFL franchise. In some ways, that's about to change. Hunt fired coach Romeo Crennel on Monday as part of a shakeup of the entire structure of a franchise that his father, the late Lamar Hunt, founded 53 years ago. The younger Hunt said he plans to hire the next coach and that the individual will report to him, rather than through the general manager - a change in the way the team has operated since its inception. In fact, Hunt has refused to say whether GM Scott Pioli will be retained. "You know, historically, I've interacted with the general manager on everything that relates to the football team," Hunt told The Associated Press on Monday. "I've had conversations with the head coach, but they're few and far between, in terms of really strategic stuff." Hunt said he anticipates having more discussions with the coach "in terms of him telling me, Hey, here's what we need to be successful." The list is long, but first comes finding a new coach for his team. Hunt was expected to meet with Falcons offensive coordinator Dirk Koetter and special teams coach Keith Armstrong this week, and there are surely more interviews in the near future. All the usual names are expected to be on the wish list - former NFL coaches Jon Gruden, Andy Reid and Bill Cowher, college coaches such as Penn State's Bill O'Brien and Oregon's Chip Kelly, and top NFL assistants, including the Colts' Bruce Arians and the Broncos' Mike McCoy. Hunt said he wouldn't target a coach who was necessarily "offense or defense," but he did have a specific list of attributes that he seeks in Crennel's replacement. "If I had to boil it down to a few things, I'd say a proven leader," Hunt said. "Somebody who has demonstrated the ability to build a successful program, or been part of building a success program. Somebody of high integrity, somebody who is a successful teacher and communicator, who has a high football IQ but at the same time likes to roll up their sleeves and work hard - and somebody who likes to hold the team and themselves accountable." Identifying the qualities that make up the ideal coach is the easy part. Identifying the coach who has them is more difficult. Pioli was tasked with previous coaching hires after he replaced former general manager Carl Peterson in 2009. The former New England Patriots executive quickly fired Herm Edwards and hired Todd Haley, but their relationship was strained and Haley was dismissed last December. Crennel was made interim coach and Pioli gave him the job permanently in January, only for the Chiefs to finish 2-14 this season, matching the worst record in franchise history. So rather than allow Pioli to make his third coaching hire in five seasons, Hunt has decided to step in and assume greater responsibility for a franchise once considered among the NFL's most stable. "It's hard for me to say I'm going to spend more time, because I already spend a whole lot of time. It's just not visible time spent standing on the football field, you know, watching practice or whatever," Hunt said. "I spend a lot of time on it. It will be a different responsibility having the head coach report directly to me, though." Hunt recalled the era of Peterson and coach Marty Schottenheimer in the 1990s, when the Chiefs were playoff regulars. They were strong-willed personalities, but they managed to work well enough together that they helped the Chiefs to their most recent playoff wins in 1993. "The GM and coach won't always have the same perspective," Hunt said. "But they found a way to get to common ground and make decisions, and that will really be my role, finding the right path for the Chiefs and helping the guys make decisions together." Who those guys will be is the question of the hour, and only Hunt knows the answer. He hasn't given a timetable for hiring a coach, though it's expected that he will act quickly. Hunt would prefer the new coach to be in place before making a decision on the future of Pioli, and he said that decision would need to come by the first part of February. Hunt said he's already fielded several inquiries for the head coaching job, and indicated that he has retained multiple people in an advisory role to assist in the search. "I'm not going to go into the dynamics of the search process," he said, "but I will say I have the appropriate resources available to help me in that process. We're very well organized. We want to be thorough but we want to be efficient as well." Hunt understands the magnitude of the decision he is facing. Only a handful of franchises have more history or a richer tradition than the Chiefs, and even though the team has floundered in recent years, there are also opportunities. The Chiefs hold the No. 1 pick in the NFL draft for the first time. They had five players voted to the Pro Bowl, and two more chosen as alternates. They have plenty of salary cap space to make a splash in free agency, allowing them to start filling in the holes. "Overall, the job is still attractive," Hunt said. "Clearly we need to get better at the quarterback position. That's no secret. But the franchise remains very well respected around the league. In talking to people, including those who I've spoken to (Monday), there's a keen interest in at least seeing what the opportunity is here."
Original Story:
http://www.foxsportskansascity.com/01...
THE BACKYARD
BEST OF MAXIM
RELATED ARTICLES
  "Save our Chiefs", a group that was established to try to put pressure on the Kansas City Chiefs owner Clark Hunt to make drastic changes, has issued a statement on their Facebook and Twitter account that might be very interesting to Kansas City fans and all potential head coaching candidates regarding the status of [...]
KANSAS CITY, Mo. The Kansas City Chiefs announced on Monday that Romeo Crennel has been relieved of his duties as head coach. Crennel, 65, was named Kansas Citys 12th head coach in franchise history on Jan. 9, 2012. He compiled a 2-14 regular season record in 2012 and finished the 2011 season 2-1 as the clubs interim head coach. "I have a tremendous amount of respect and...
According to Jason La Canfora of CBS Sports, Chiefs general manager Scott Pioli is still under review and could still end up being fired. Also, Chiefs formalize what I pointed out earlier – GM Scott Pioli under review. could still be let go pending coaching search — Jason La Canfora (@JasonLaCanfora) December 31, 2012 It sounds like whoever becomes the new head coach of the...
Following a season of on-field failures and off-field tragedy, the Kansas City Chiefs have parted ways with head coach Romeo Crennel. The team announced that Crennel was fired Monday after a 2-14 season that will have the Chiefs picking first in April's NFL draft. In a team-released statement, Chiefs owner Clark Hunt said "no final determination" has been made on...
The Kansas City Chiefs have officially announced that head coach Romeo Crennel has been fired and GM Scott Pioli will be retained, although the team's statement wouldn't make him feel exactly warm and fuzzy going forward. Crennel was named Kansas City's 12th head coach in franchise history on Jan. 9, 2012, going 2-14 in the regular season in 2012 and finishing the 2011...
The Kansas City Chiefs have fired head coach Romeo Crennel after just one season. The Chiefs finished with a 2-14 overall record and secured the first overall pick of the 2013 NFL Draft, a franchise first. The Chiefs struggled all season long and finished the season ranked 32nd in passing offense, a mark achieved through poor quarterback play. In his career, Crennel has posted a...
The Kansas City Chiefs suffered a humiliating 2-14 season in 2012 and announced on Dec. 31 they have fired head coach Romeo Crennel in response to it. General manager Scott Pioli still has his job though, but he could be the next to go. Crennel was in charge of the NFL club for just one season and he leaves it after tying the franchise record for fewest wins during a season. This...
1. How will the Chiefs fix their quarterback problem?Since a strong debut season with Kansas City (3,116 yards, 27 TD, 7 INT) in 2010 that saw the team reach the playoffs, Matt Cassel's play has dropped off significantly, as he's thrown just 16 touchdowns against 21 interceptions in a combined 18 games the past two seasons. Cassel struggles with decision-making under pressure...
According to ESPN's Chris Mortensen via Adam Schefter, Andy Reid will interview with the Kansas City Chiefs today for their open head coaching job before he heads to Arizona to interview with the Cardinals on Thursday.Plot thickens: Before arriving in Arizona tonight, Andy Reid will interview today in Philadelphia with the KC Chiefs, via @mortreport.— Adam Schefter (@AdamSchefter...
Yesterday, it was reported by multiple ESPN writers, that Andy Reid was close to signing with the Arizona Cardinals. Today, all of that has changed again. ESPN's Adam Schefter is reporting that before flying to Arizona, former Eagles coach Andy Reid will interview with the Kansas City Chiefs. Plot thickens: Before arriving in Arizona tonight, Andy Reid will interview today in Philadelphia...
In what was widely speculated overnight, the Kansas City Chiefs officially fired Head Coach Romeo Crennel Monday morning.
ESPN's Chris Mortensen reports that Andy Reid will interview with the Kansas City Chiefs on Wednesday afternoon and then fly to Arizona to meet with the Cardinals on Thursday, via Adam Schefter. If Kansas City is in fact interested in Reid, it would be a pretty clear indication that current GM Scott Pioli is not on as stable of ground as it seemed. Reid would almost certainly...
NFL News

Delivered to your inbox

You'll also receive Yardbarker's daily Top 10, featuring the best sports stories from around the web. Customize your newsletter to get articles on your favorite sports and teams. And the best part? It's free!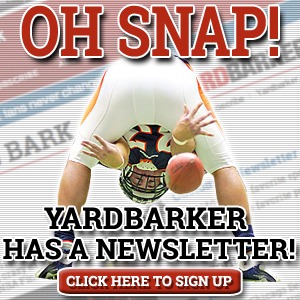 Latest Rumors
The Backyard

Today's Best Stuff

For Bloggers

Join the Yardbarker Network for more promotion, traffic, and money.

Company Info

Help

What is Yardbarker?

Yardbarker is the largest network of sports blogs and pro athlete blogs on the web. This site is the hub of the Yardbarker Network, where our editors and algorithms curate the best sports content from our network and beyond.