Found November 23, 2012 on Fox Sports Kansas City:
KANSAS CITY, Mo. - Like a lot of locals, Steve Price went into fall Sundays wearing red and came out of them raking leaves and muttering obscenities. Before Week 1, hed even purchased the ultimate dude vanity item, a flat-screen TV explicitly for the man-cave. Hed branded himself an NFL lifer, having embraced 49ers games when he lived out west. Then he met the 2012 Kansas City Chiefs. Oh, doctor. This past Sunday (a 28-6 loss to Cincinnati), I didnt even watch the game, screw it, grumbled Price, director of operations at Painted Hills Golf Club in Kansas City, Kan., one of the metros more popular public courses. And Ive got a friend of mine down the street that has tickets in the 12th row, on the 40-yard line, and he called me and he wanted me to go. I said, Ive got a million things I feel like doing I dont really want to go. I like to watch them, but (expletive), when they get their (expletive) kicked, I know theyre going to lose, whats the point? Its really sad. Its really sad. The danger zone isnt when theyre waving signs and wearing bags over their heads. The danger zone is when they arent. Its not there yet. Not officially. Still, you can see it looming, especially after this Sunday, once Peyton Manning and the Denver Broncos have left town. The weathers expected to be decent; its a rivalry game; its Manning, who was Public Enemy No. 1 in this town until mid-September, when the definition of success switched from Making the playoffs to Getting Matt Cassel and Scott Pioli out of town as quickly as legally possible. Manning hasnt played a down at Arrowhead Stadium since 2004. Its easy to stay home when the pummeling is being administered by Andy Dalton; when its PEYTON MANNING (all caps), theres a gravitas there, like watching Ali or Foreman roll into town to knock the snot out of the best your neighborhood has to offer. But after that, then what? Seats to the Carolina game on Dec. 2 are going for as low as 4 on Stubhub.com, where 5,426 tickets were listed as available as of early Friday morning. For the home finale against the resurgent Indianapolis Colts on December 23, seats starts at 5, with more than 6,100 tickets around for purchase. Kansas City prides itself as being a blackout-free zone a latest streak without a local-TV freeze ran from 1990-2009 but the forecast appears grim, on several fronts. Attendance for last Sundays Bengals debacle was listed at 63,336, more than 16,000 below capacity, and even that number seemed a bit, shall we say, generous. It being so close to Thanksgiving, I thought everybody just went early on vacation, to see their family and stuff, Chiefs safety Travis Daniels told FOX Sports Kansas City.com. Because Ive got some family members who came up a week early, since they dont get to see me a lot. So there being seats (empty), I just thought those were some of the same people doing the same thing my family was doing, too. Only it wasnt a holiday aberration it was a trend. Through Wednesday, the Chiefs had sold 90.7 percent of capacity at Arrowhead Stadium, or 69,605 per game. That figure ranked 26th in the NFL, ahead of only Oakland, St. Louis, San Diego, Washington, Tampa Bay and Miami. Thats down from 93.9 percent (72,082) in 2011; between 2006-08, the Chiefs filled the house at 97.1 percent capacity. You know, they have a right to come to game or not to come to games, or to do however they feel, as long as they abide by the law, Daniels continued. They have to do what they have to do. Many feel they have better things to do. Mow the lawn. Clean the gutters. Re-introduce themselves to their families. Attend a later Sunday church service. I dont think its had any impact, said Peter Metz, direction of communications at United Methodist Church of the Resurrection in Leawood, Kan., one of the areas largest houses of worship. Then he laughed. Jokingly, somebody made the comment about how our prayer requests have been up. Traffic on the links is up, too, at least in some corners. And why the heck not? For ages, the running gag around Kansas City was that the best window to find a tee time at the top courses was Sundays during a Chiefs home game. There exceptions to every rule, though, especially when your NFL club limps out to a 1-9 start. I think what we see happening is, if were a little light in the morning, (the Chiefs) are playing decent, Price noted. If theyre not playing decent, we fill up. Actually, decent would be a step up. And Price isnt the only one whos noticed a difference this fall; over at Stone Canyon Golf Club in Blue Springs, Mo., Sunday play is reportedly up a smidge as well. There are a lot of season-ticket holders on this side of town, a lot of them Ive known for many, many years, said Rick Holtcamp, Stone Canyons director of golf operations. And there are definitely quite a few that are not going to the games lately and coming out and playing golf. We definitely have some regulars who are playing golf rather than going to Chiefs games. Including myself. Holtcamp had season tickets at Arrowhead for 14 or 15 seasons. He stopped buying last year, largely for financial reasons. I would say most of them are just like me. They grew up with the Chiefs and theyre just disappointed with the direction that its gone the last couple years, Holtcamp sighed. I miss the people more than I do the games, probably. But, yes, I would say there has been a rise in the second half of this season in playing, or people that would normally be at the stadium or watching the game with friends. Now theyre sticking their head in at the turn and seeing what the score is, throwing in their two cents, and moving on. Bet thats a hoot. Whats the usual reply? Holtcamp chuckled. I probably cant repeat most of it, he said. Keep those prayer requests coming, folks. You can follow Sean Keeler on Twitter @seankeeler or email him at seanmkeeler@gmail.com
Original Story:
http://www.foxsportskansascity.com/11...
THE BACKYARD
BEST OF MAXIM
RELATED ARTICLES
GIVING THANKS
An elderly woman received a turkey from Chiefs WR Dexter McCluster, and she let the player hear it about the team's struggles.
Kansas City Chiefs running back/wide receiver Dexter McCluster delivered a Thanksgiving meal to an elderly fan and was given an earful for the Chiefs' woes this season. "Y'all better start winning some games," Ms. Louise said. "I've been praying, but y'all got to work a little bit harder." After signing a few autographs and delivering the meal, McCluster acknowledged...
The Kansas City Chiefs waived offensive lineman Rich Ranglin on Saturday and elevated wide receiver Jamar Newsome from the practice squad to the 53-man roster. Newsome originally joined the Chiefs' practice squad in December 2011 after playing two games with Jacksonville that season. The former Central Florida player also spent time on Pittsburgh's practice squad. Ranglin...
Kansas City Chiefs wide receivers Dwayne Bowe (head/back) and Jonathan Baldwin (head/neck) were among the players that were able to fully practice yesterday, while offensive linemen Brandon Albert (back) and Ryan Lilja (knee) didn't participate once again. Bowe was able to suit up for last weekend's matchup against the Cincinnati Bengals, but he exited to game due to injury...
Kansas City wideout Dwayne Bowe, who sat out the entire second half Sunday against Cincinnati with neck and back problems, is probable for Sunday's game against Denver, according to coach Romeo Vrennel who expects him to play.Fantasy Spin:That's the good news. The bad news is that Brady Quinn is his starting quarterback and he'll be covered by the talented Champ Bailey.
Denver Broncos (7-3) at Kansas City Chiefs (1-9) There are two trends that apply to this game, but both of them can be neutralized by the fact that this matchup is divisional. Home dogs are 57-40 ATS off a loss as home dogs since 2002, but that only 13-10 ATS as divisional home dogs after being non-divisional home dogs. When you go back to 2002 to get a bigger sample size, that trend...
Peyton Manning says he's not trying to do the things he did at 28. Once again, he's trying to fake everyone out. Manning is an MVP and Comeback Player of the Year candidate. The latter is pretty much a wrap. It's true that he isn't trying to do the same things at 28; he had 49 touchdowns and a passer rating of 121.1. That would be ridiculous. Maybe he was talking about...
(Photo by Justin Edmonds/Getty Images) After ranking 23rd overall in 2011, the Denver Broncos offense has turned things around this season. Last season, the Broncos ranked 25-of-32 among teams in points scored (309) and scored 30 points in a game on just two occasions. Needless to say, the Broncos have made great improvements in 2012. This season, the Broncos have scored 30 points...
For the first time since he moved into their neighborhood, the Chiefs will face the Denver Broncos with quarterback Peyton Manning. Only 10 games into the season and Manning's influence over the Broncos has been very apparent as they lead the AFC West with a 7-3 record. The Chiefs are six games behind at 1-9. When Manning became available back in March, the Chiefs were one...
The New England Patriots didn't start the 2012 season with much of a bang. For many, losses to the Ravens, Cardinals, and Seahawks looked to show the weaknesses of a team on its way down in the power rankings.To make matters worse, the defense appeared just as suspect as 2011, casting more doubt on their ability to compete against the best teams in the AFC. With Peyton Manning...
Today is Thanksgiving but the only fans in the AFC West that are giving thanks are the Denver Broncos. Broncos fans are thankful that the organization got rid of Tim Tebow in favor of superstar Peyton Manning. Manning has paid off as the Broncos are 7-3 and firmly in control of the division.The San Diego Chargers, Kansas City Chiefs, and Oakland Raiders have less to be thankful for...
NFL News

Delivered to your inbox

You'll also receive Yardbarker's daily Top 10, featuring the best sports stories from around the web. Customize your newsletter to get articles on your favorite sports and teams. And the best part? It's free!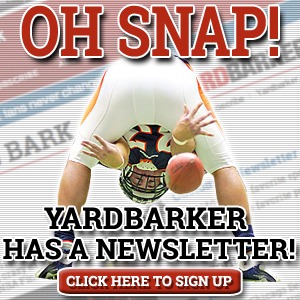 Latest Rumors
The Backyard

Today's Best Stuff

For Bloggers

Join the Yardbarker Network for more promotion, traffic, and money.

Company Info

Help

What is Yardbarker?

Yardbarker is the largest network of sports blogs and pro athlete blogs on the web. This site is the hub of the Yardbarker Network, where our editors and algorithms curate the best sports content from our network and beyond.