Posted December 24, 2012 on AP on Fox
Jamaal Charles seemed to be happy with himself. Peyton Hillis had to feel vindicated, and embattled offensive coordinator Brian Daboll finally had a reason to smile. Imagine how they would have felt if the Chiefs had actually won. Even while playing out the string in a season lost long ago, Kansas City managed an offensive output that should go down in franchise history. Charles ran for 226 yards on Sunday, Hillis had 101 and the Chiefs piled up 352 yards on the ground against the Colts' backpedaling defense. If not for a miserable effort by quarterback Brady Quinn, two turnovers in the red zone and a stuffed attempt at converting fourth down, the Chiefs might have won another game. Instead, the Colts scored late in the fourth quarter for a 20-13 victory. ''We had a feeling we could run on them,'' Charles said. ''When Peyton did a good job running the first half, I thought, `Man, Peyton's getting off. I got to do some, too.' So I felt like I had to go out there and run the ball as well.'' The Chiefs certainly ran the ball well. Their total was the third-best in franchise history, trailing only a couple of games in the 1960s, when teams generally ran the ball with more gusto than they do these days. Not a bad day to put in the history books, except that it came with an asterisk: It's the most yards rushing in a losing effort in NFL history, eclipsing the 320 yards the 1944 edition of the Cleveland Rams ran for in a loss to Washington. ''We wanted to be able to run the ball and it turned out we were able to run it,'' Chiefs coach Romeo Crennel said, who gave his players Monday off to celebrate the holidays. We're disappointed,'' he added, ''as we have been many times this year.'' Thirteen times, to be exact. The Chiefs (2-13) and are tied with Jacksonville for the league's worst record heading into their season finale next Sunday against Denver. Kansas City also holds the tiebreaker for the No. 1 draft pick by virtue of their strength of schedule. That's one positive to come out of a disastrous season. Another one has been Charles. After missing nearly all of last season with a torn left ACL, the former All-Pro running back has been better than ever. He's run for 1,456 yards, the seventh-best season in franchise history, and can break his own single-season-high set in 2010 with 12 yards against the Broncos. His big game against the Colts, in which Charles surpassed 750 career carries, also qualifies him for the NFL record for yards per carry. Charles is averaging 5.82 yards on 770 attempts, which far surpasses the 5.22 yards that Jim Brown averaged in 2,359 attempts from 1957-65. ''Records are meant to be broken, and I always try to break records,'' Charles said. ''Breaking Jim Brown's record, it's one of the most special of all time to me because, listening from the past, he was one of the best running backs of all time.'' Charles has gone over 200 yards rushing twice this season, and three times in his career, which also sets a franchise record. He also has the three biggest games in Chiefs history, and his 84-yard touchdown run in the third quarter gave him three 80-plus runs this season. ''He's super-fast, he's tough. He's a scary sight for a defensive guy,'' Chiefs linebacker Derrick Johnson said. ''He opens up a lot of things for the offense. He's a key player.'' Some of Charles' running room was no doubt thank to Hillis, the former Browns bruiser who has been a disappointment since signing as a free agent in the offseason. He bullied his way for 101 yards on Sunday, his best game since Dec. 24, 2011. The thunder-and-lightning combination gave the Chiefs their first duo of 100-yard rushers since Oct. 7, 1991, when Christian Okoye and Harvey Williams did it against Buffalo. It's a feat that has only been accomplished six times in the 53-year history of the Chiefs. ''You can't go back and say, `We should have run the ball more,''' Charles said. ''Losing by seven points, it didn't have nothing to do with us running the ball.'' It had to do with Quinn's inefficient game, poor execution in clutch situations and a defense that had played well all afternoon failing to get off the field late in the fourth quarter. It also had to with Daboll's offense, which has been historically inept, failing to get into the end zone despite one of the most productive ground games in franchise history. ''We turned the ball over, got penalties at inopportune times and gave up an easy touchdown at the end of the game, as well as miss a field goal,'' Crennel said. ''So when those kinds of things happen, it's hard, and until we can rectify that, that's what we have to deal with.'' --- Online: http://pro32.ap.org/poll and http://twitter.com/AP-NFL
Original Story:
http://msn.foxsports.com/nfl/story/Ch...
THE BACKYARD
BEST OF MAXIM
RELATED ARTICLES
A female Kansas City Chiefs fan brought a sign to Sunday's game at Arrowhead Stadium with her "Christmas list" of possible improvements for her favorite team. Unfortunately, this Chiefs fan forgot to use spellcheck, or at least have a friend proofread her sign, as she embarrassingly failed to spell Christmas correctly. However, the sign seems to perfectly sum up...
KANSAS CITY, Mo. (AP) Jamaal Charles seemed to be happy with himself. Peyton Hillis had to feel vindicated, and embattled offensive coordinator Brian Daboll finally had a reason to smile. Imagine how they would have felt if the Chiefs had actually won. Even while playing out the string in a season lost long ago, Kansas City managed an offensive output that should go down in franchise...
According to Jason La Canfora of CBS Sports, the Kansas City Chiefs could end up hiring former Bills and Colts general manager Bill Polian as their next GM once the season is over and they move on from Scott Pioli. Longtime NFL executive Bill Polian will be exploring NFL options in 2013, sources said, and numerous NFL execs believe he could be with the Chiefs next month. As previously...
KANSAS CITY, Mo. With the Chiefs heading into their final game of this dreadful 2012 season, don't expect any changes at quarterback. Brady Quinn will remain the starter, meaning Matt Cassel, benched earlier this season, may have already played his last game in a Chiefs uniform. Cassel has two years remaining on his contract, but it seems unlikely that present management or...
KANSAS CITY, Mo. -- Somehow, some way, the 2012 Chiefs keep redefining strange. Take the Chiefs' latest puzzler Sunday at Arrowhead Stadium: They actually dominated Indianapolis, rushing for 352 yards, third most in franchise history. And a week after gaining just 119 total yards against Oakland, the Chiefs finished with a whopping 507 yards of total offense this week. And...
The Kansas City Chiefs are expected to part ways with current general manager Scott Pioli following the season, and there are some around the NFL that believe former Indianapolis Colts GM Bill Polian will be with the club by next month, according to Jason La Canfora of CBS Sports. Longtime NFL executive Bill Polian will be exploring NFL options in 2013, sources said, and numerous...
    The Kansas City Chiefs select: Geno Smith | QB | West Virginia   Geno Smith is the pinnacle of the 2013 Quarterback class, and a better option both in the short and long term than those likely to be available in Free Agency or via trade. Kansas City has the talent around him [...]
Before going to most sporting events, it's probably a good idea to spell check your sign to make you don't make any mistakes. Check out this sign from last Sunday's Kansas City Chiefs/Indianapolis Colts game as one Chiefs fan sign accidentally misspells "Christmas": (Courtesy of Holdout Sports)
 At 2-13, the Kansas City Chiefs are tied with the Jacksonville Jaguars for the worst mark of futility in the NFL. As you might imagine, that leaves fans with a long list of Christmas wishes. Here is one fan's list in particular which basically calls for the team to completely wipe the organziation clean like an Etch A Sketch. Duly noted. Via Bleacher Report.
During Indianapolis' game against the Kansas City Chiefs one NFL official was accidentally knocked down by a Colts player. You can watch the video below.
KANSAS CITY, Mo. -- Christmas came two days early for the Indianapolis Colts. They opened their biggest present Sunday afternoon with a 20-13 victory over the Kansas City Chiefs. The outcome pushed them into the AFC playoffs as a wildcard entry. They'll have another Christmas on Monday, when coach Chuck Pagano returns after missing more than two months while receiving treatment...
Indianapolis Colts at Kansas City Chiefs Andrew Luck and the Colts are fighting for a playoff spot. The Chiefs are fighting for a higher draft spot. Jamaal Charles had a bad game last week, but he's still the only guy on the Chiefs you can look to for help. It's been hard to pin point [...]
Chiefs News

Delivered to your inbox

You'll also receive Yardbarker's daily Top 10, featuring the best sports stories from around the web. Customize your newsletter to get articles on your favorite sports and teams. And the best part? It's free!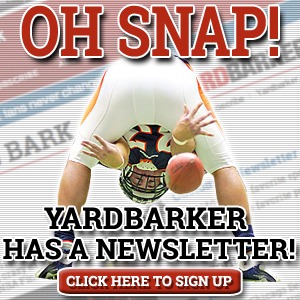 Latest Rumors
The Backyard

Today's Best Stuff

For Bloggers

Join the Yardbarker Network for more promotion, traffic, and money.

Company Info

Help

What is Yardbarker?

Yardbarker is the largest network of sports blogs and pro athlete blogs on the web. This site is the hub of the Yardbarker Network, where our editors and algorithms curate the best sports content from our network and beyond.