Found April 22, 2013 on Purple Jesus Diaries:
Chris Kluwe has a book coming out on June 23 of this year titled "Beautifully Unique Sparkleponies: On Mythos, Morons, Free Speech, Football, and Assorted Absurdities." Boy, the guy has to be pretty full of himself to name his own book with such a long title AND include alliteration! But the cover for said book was released by Mr. Kluwe himself last week, and of course it looks ravishing. I mean, come on! The pony, the air, the **** eating grin, THE BRAGGING PROMINENCE OF THE STRAIGHT MARRIAGE WEDDING RING! Just kidding. But it looks kind of funny, and the book could be interesting, and of course, if anyone wanted to send me an advance copy to review, I'd totally do that, too. Just throwing that out there. I guess while we're highlighting Kluwe today, we may also go ahead and talk about how the Minnesota Vikings are showing stomach churning signs that they may be getting rid of this peace monger in the near future. If not this year, than definitely next. Kluwe is on the last year of his contract, where he is still due $1.45 Million if he is on the roster after the regular season starts. He's also 31 years old, which makes him essentially ANCIENT as far as football players go, and boy, maybe the management team of the Vikings is getting tired of Kluwe's colorful antics, antics which make the team so much more interesting to follow. Maybe instead, they'd rather have good old boys and blank slates and boring canvases, and holy God, this team is becoming so boring. Also, the Vikings worked out a punter this offseason, a guy from LSU called Brad Wing. Not a terrible name for a punter, if we had to get a new one, but the problem of course is that he would potentially be replacing the immortal Chris Kluwe. And why "try out" a punter if you're not just going to Ryan Longwell Kluwe this offseason? I know the team is going for a youth movement, but come on ... The punter? He barely does anything. I think we have much higher concerns than getting younger at the punter position, guys. Anyway, whether or not Kluwe is cut before this season begins or walks at the end of next season, I am learning to appreciate every moment I have with him as a Viking, like he's already in NFL fan hospice care or something. If that's not a real thing, I should probably copy write that. But regardless of what happens, buy his book, read it, then send me a copy with dick pictures in the margin. Everyone wins! [follow]
Original Story:
http://www.purplejesusdiaries.com/201...
THE BACKYARD
BEST OF MAXIM
RELATED ARTICLES
Hold on to your dicks, everyone, I got some news for you today that's going to blow your mind holes: The Minnesota Vikings re-signed Marcus Sherels. ARE WE READY FOR THE SUPER BOWL OR WHAT, BIZZCHES?!! Marcus Sherels, former Minnesota Golden Gopher and the only player on the Vikings team who has been signed after being asked to come in for a local work out, signed...
Behold them in all their glory ... PURPLE PANTS!! These are some leaked photos of the new Minnesota Vikings uniforms for 2013, the very ones we have been receiving clues for over the last month, and the ones fans have mocked up numerous times over the past several weeks. You'll see more on Thursday at the Draft Party of course, but from what we can see here, what's the...
The Minnesota Vikings' new uniforms were supposed to be revealed to the world during a Thursday night draft party at the Metrodome, but Paul Lukas' Uni Watch ended the suspense on its Twitter account Tuesday afternoon. According to Uni Watch, a Jacksonville TV station mistakenly posted an embargoed photo of the Vikings' and Dolphins' new uniforms in conjunction with...
Tuesday seems to be the day that the new NFL uniforms are being leaked.  The Minnesota Vikings tweaked their logo this year, merely modernizing it before they move to their new stadium and when you change your logo, you have to change your uniform.  The Vikings new uniforms look great and got rid of all the extra unnecessary striping, giving it a much cleaner look.  They chose...
According to Tom Pelissero of ESPN 1500 Twin Cities, the Vikings could place RB Toby Gerhart could trading block "once injuries start hitting in camp." Pelissero adds that this may come down to whether or not the Vikings are willing to give him an increased role at some point in the future. Gerhart, 26, is entering the final year of his rookie contract, so Minnesota could always...
1. Wide Receiver: Jennings will replace Harvin's spot on the roster, but Minnesota still lacks a strong #2 weapon for Ponder. He won't develop if he constantly only has one person to throw to. I would be very surprised if they don't grab a wideout with one of their first round picks. Names like Patterson, Hunter, Allen, and Hopkins have all been connected with the Vikings...
Two days before the draft, Minnesota Vikings general manager Rick Spielman said the team found an answer at one of its questionable positions, defensive tackle. Unfortunately, Spielman joked, it was a short-term solution. Spielman announced Tuesday at his annual predraft press conference that defensive tackle Pat Williams will sign a one-day contract with Minnesota on Thursday to...
Following the Jaguars and Dolphins, confirmed leaked photos of the Minnesota Vikings new uniforms have hit the internet.
CHANGES
On a day where the Jaguars also officially showed off their new uniforms, the Vikings and Dolphins have also shown off their new threads involuntarily. The images were found by Paul Lukas over at Uni Watch. Check out the below pics for images of what's to come on Sunday's starting in September.  The NFL has not confirmed yet is these are the exact uniforms. Article found on...
Sqor.com sent out an official press release today announcing that former NFL quarterback Brett Favre will be providing exclusive NFL draft analysis on their website for this year's NFL draft. Below is a portion of the press release. Nobody knows more about being an NFL star than Brett Favre. A three-time MVP and Super Bowl champion with the Green Bay Packers, Favre set records...
With the 2013 NFL Draft just a couple of days away, retired quarterback Brett Favre sent out a tweet wishing good luck to all of the draft hopefuls.He also included a picture of himself lying in bed while receiving the call from the Atlanta Falcons informing him that he had been drafted (2nd round-33rd overall). Does anyone else think the people in the background look eerily similar...
Today is the 12th day of two weeks of Minnesota Vikings coverage leading up to the April 25 beginning of the NFL Draft. April 12: Five best draft moments in the past 25 years April 13: Five worst draft moments in the past 25 years April 14: Quarterbacks position preview April 15: Running backsfullbacks position preview April 16: Offensive tackles position preview April 17: Guardscenters...
NFL News

Delivered to your inbox

You'll also receive Yardbarker's daily Top 10, featuring the best sports stories from around the web. Customize your newsletter to get articles on your favorite sports and teams. And the best part? It's free!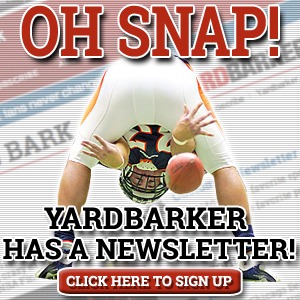 Latest Rumors
Best of Yardbarker

Today's Best Stuff

For Bloggers

Join the Yardbarker Network for more promotion, traffic, and money.

Company Info

Help

What is Yardbarker?

Yardbarker is the largest network of sports blogs and pro athlete blogs on the web. This site is the hub of the Yardbarker Network, where our editors and algorithms curate the best sports content from our network and beyond.