Found January 21, 2013 on Purple Jesus Diaries:
Here's a futile exercise: Try to name something that Chris Kluwe sucks at doing. Besides tackling, I guess. And maybe throwing a football in a forward motion. And possibly his vertical leap. Then probably some other stuff, but I'm talking like COOL stuff. Name one COOL thing he can't do, like dance or kick **** for charity. You can't name anything, because that's ALL HE DOES. As he showed when Chris Kluwe was on The Ellen Show last Friday. True story. I got home and turned the TV on earlier on Friday afternoon. The Ellen Show is on something like 4:00 PM to 5:00 PM or something here, I think. The station that's it's on (I'm really doing my research here) is one that my wife will usually watch for news in the morning, so when I get home from work, it's the first thing that will pop up. So here I go, flipping on the TV and BOOM! Chris Kluwe is chatting with a lesbian. Not that there's anything wrong with that, it was just an unexpected development in my afternoon routine, and then it got REALLY COOL. First, Kluwe came out dancing on the show, as guests are want to do for Ellen. Obama probably danced the best, and Kluwe sure tried valiantly, but I'm willing to guess he can cast spells better than he can bust a move. Unless it's Gangnam Style, or busting moves with Brian Robison, obviously. But here he is, slithering his way across the floor to chat with Ellen: I think there was a butt showing, an Irish jig, and then some roof raising going on. I have no idea why all those things happened at once, but they did. Then Kluwe was shown a picture that Ellen apparently has framed for her Hall of Fame of Kluwe kicking a ball. Let's forget the fact that Ellen has her two fingers curiously close to the Photo Kluwe's rectum, and instead admire Kluwe's mimicry of the photo, which isn't good: At least he's been practicing this off-season! In the end, Kluwe also kicked a football through a hoop that was really high up, and got $10,000 for charity. That's a lot of money, and likely more than Donovan McNabb paid for his jersey number: video platformvideo managementvideo solutionsvideo player Anyway, enjoy the videos. Here's Kluwe's actually interview with Ellen as well: Big thanks to @Qommie for the GIF captures. [follow]
Original Story:
http://www.purplejesusdiaries.com/201...
THE BACKYARD
BEST OF MAXIM
RELATED ARTICLES
Lauded sports journalist source, The Onion, has broken an exclusive story about one of the Minnesota Vikings - and the NFL's - most popular players, running back Adrian Peterson. In a statement released this week, Peterson has confirmed that in order to be prepared for the 2013 NFL season, ready to come back better than ever and not only break Eric Dickerson's single...
The Vikings got an amazing season from Adrian Peterson, who came within 9 yards of the single season rushing record despite being less than a year removed from tearing his ACL and MCL. Without that, they would have been screwed. Peterson dragged them into the post-season, but the Vikings were never a legitimate threat to do anything in the post-season because of their quarterback...
ST. PAUL, Minn. Kyle Rudolph's breakthrough season has earned him a trip to the Pro Bowl. Rudolph, the Minnesota Vikings' second-year tight end, was named to the NFC team Tuesday, replacing the Atlanta Falcons' Tony Gonzalez, who won't play due to injury. Rudolph was Minnesota's second-round pick in 2011 and developed into one of the top receiving options for...
Minnesota Vikings tight end Kyle Rudolph has been added to the NFC Pro Bowl team as an injury replacement for Tony Gonzalez of the Atlanta Falcons. The Vikings made the announcement Tuesday. Rudolph was selected to his first Pro Bowl. The second-year player out of Notre Dame had career highs with nine touchdowns, 53 receptions and 493 yards receiving in 2012. His nine touchdowns...
Cullen Loeffler was hoping he would be named to the Pro Bowl, but NFC Pro Bowl coach Mike McCarthy picked Don Muhlbach as his long snapper. Loeffler still will go to Hawaii, courtesy of kicker Pro Bowl kicker Blair Walsh.
Have you been in the market for a late 1980s limo with class, style, functionality and a hint of flair? Are you a Packers fan? We have the car of your dreams. Just look at this 1988 Cadillac Fleetwood that's a piece of football history. You are looking at the 'Legend of Lambeau' limo that was reportedly used by the Brett Favre family to transport them from their homes in Mississippi...
According to the Minneapolis Star-Tribune, the Vikings have no intention of bringing in a quarterback to compete with Christian Ponder next year. Now, that doesn't mean that they intend to keep Joe Webb as their backup quarterback. The Star-Tribune lists: Derek Anderson, Matt Moore, David Carr, Matt Leinart, Byron Leftwich, Bruce Gradkowski, Jason Campbell and Rex Grossman as...
As the Packers and Colts moved on without Brett Favre (2008) and Peyton Manning (2012), their moves affected numerous franchises over the next several years, and it's still having an effect on the Super Bowl.
Vikings News

Delivered to your inbox

You'll also receive Yardbarker's daily Top 10, featuring the best sports stories from around the web. Customize your newsletter to get articles on your favorite sports and teams. And the best part? It's free!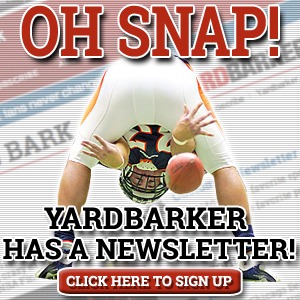 Latest Rumors
Best of Yardbarker

Today's Best Stuff

For Bloggers

Join the Yardbarker Network for more promotion, traffic, and money.

Company Info

Help

What is Yardbarker?

Yardbarker is the largest network of sports blogs and pro athlete blogs on the web. This site is the hub of the Yardbarker Network, where our editors and algorithms curate the best sports content from our network and beyond.