Found June 21, 2013 on Purple Jesus Diaries:
As the Vikings shift their focus towards the 2013 season this week with mandatory Organized Team Activities, expectations are higher than ever. For a team that posted a franchise best turn around in their record (going 3-13 in 2011 to 10-6 in 2012), the internal bar is set to a repeat performance and great, making the playoffs and advancing. But not everyone is convinced. As a recent Vikings.com article pointed out, pundits in the national media have identified the Vikings as a team that's not expected to even have a winning record in 2013 (an over/under on wins is set at 7.5), to the only NFC team to not make a repeat appearance in the playoffs. For a team that only got better as the 2012 season wore on, such a step back would be surprising to Vikings fans and personnel alike. But if you ask Vikings linebacker, Chad Greenway, what will prevent that reversion, he smiles and instantly brings up quarterback Christian Ponder as a player who has advanced since last year, and shown enough improvement to help the team do even better than last year. "Christian is going to take a big step this year" Greenway said in a recent interview, "Yes, a VERY big step! He's such a smart little guy, isn't he?! Who's big? You are!! You're SOOOO BIIIGG!" Greenway isn't the only person who has seen improvement in Ponder this offseason. Ask head coach Leslie Frazier who has changed the most in the past year, and he jumps straight to Ponder, too. "Oh, Christian has definitely changed, definitely most different," the coach says. "You should see how big he's grown, in just a year! He's already out there walking around now, all on his own, no adult to lean on or anything. And he's almost forming words now, too, almost able to call a real play in the huddle. I mean, he still gets some of his sounds mixed up, which is why you'll see him try to hand a ball off to Peterson to the left, when Peterson heard that the play was to go right, but that's expected development for such a young kid. We call them growing pains, at home. But man, they grow up so fast, don't they?" Even the rookies have taken notice. First year receiver, and first round pick, Cordarelle Patterson, recently talked about his experience working with Ponder during this team activities. As a neophyte himself, he knows he's the young pup of the crowd. As such, he's looked to Ponder in awe. "It's amazing, really," Patterson said after a recent practice. "You look around and you see these grizzled old men, these veteran NFL players like Adrian Peterson, Kevin Williams, Jared Allen, and they're just so scary and intimidating, especially to a baby faced player like me. And then you get to work with Ponder, and it's like he's more open, you know? More innocent to the game, almost. Always smiling, oo-ing and aw-ing at things, just like I am. It makes him really relatable." Time will tell if Ponder really is the key development for the team during this offseason that will lead them to success next year. But If anyone would be able to do it, even Adrian Peterson thinks it would be Ponder. "Last year, in his second year, we called them the 'Terrible Twos'," Peterson shared, "Because it was his second year, and that was as far as he could throw it, two yards. But in his third year? Hey, he's got big boy diapers on now. He's got to be potty trained. Time to lose the pacifier, stop sucking your mommy's tit, and play some big boy football. I'd like to give him some advice on how to take that next step, but I never had to. I was always playing at this level, so I don't know what to say. Stop being a baby, I guess." We'll see if those sage words pay off. *NOTE: This is satire! People - for the most part - did not actually say this. Don't sue us. [follow]
Original Story:
http://www.purplejesusdiaries.com/201...
THE BACKYARD
BEST OF MAXIM
RELATED ARTICLES
EDEN PRAIRIE, Minn. -- For all of the offseason maneuvering, free-agent signings and new draft picks, the Minnesota Vikings' 2013 season hinges on the continued development of quarterback Christian Ponder. It's the basic premise of the NFL: A team's success is dependent on the quality of its quarterback play. Minnesota knows the inescapable truth. Ponder, often maligned...
The Vikings have enacted personnel changes at receiver, but they also believe Christian Ponder has changed. The proof will be in the numbers this year, one of them average last year and one of them among the worst.
With the growing trend of two tight end sets, John Carlson is a valuable commodity to book end with second year Pro-Bowler Kyle Rudolph. Carlson was drafted by the Seahawks in the second round (38th overall) of the 2008 NFL Draft and spent four years in Seattle before signing a five-year, $25 million contract with the Vikings in 2012. Carlson suffered a Grade 2 sprain of the...
ALL IN FUN
Greg Jennings and some former Packers teammates have not been kind to each other since Jennings signed with the Vikings, but he insists they're only messing around.
The Vikings were ecstatic when Sharrif Floyd fell to them at No. 23 in April's draft, but they aren't going to force Kevin Williams out of a starting role yet and they have no plans to make Floyd a nose tackle.
Before the Vikings shipped Percy Harvin off to Seattle, many reports came out that Harvin was upsetting many of his teammates in Minnesota. Adrian Peterson had an appearance on Sirius XM NFL Radio. Peterson said the team had no issues at all with Harvin: "I think there some personal things he was dealing with that I really don't want to discuss, some personal things some personal...
There are plenty of storylines to track in Minnesota this year. The team made the playoffs a year ago and Adrian Peterson topped 2,000 yards...
Greg Jennings is loving life as a rich Minnesota Vikings wide receiver, and in doing so, has taken a few shots at his former team, and former quarterback Aaron Rodgers. Jennings raised some eyebrows when he told the St. Paul Pioneer Press that he would take Brett Favre over "the guy they have now" at quarterback. That led many to figure that Jennings and his former quarterback...
Vikings News

Delivered to your inbox

You'll also receive Yardbarker's daily Top 10, featuring the best sports stories from around the web. Customize your newsletter to get articles on your favorite sports and teams. And the best part? It's free!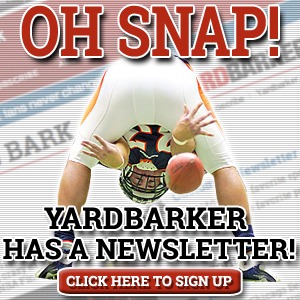 Latest Rumors
Best of Yardbarker

Today's Best Stuff

For Bloggers

Join the Yardbarker Network for more promotion, traffic, and money.

Company Info

Help

What is Yardbarker?

Yardbarker is the largest network of sports blogs and pro athlete blogs on the web. This site is the hub of the Yardbarker Network, where our editors and algorithms curate the best sports content from our network and beyond.