Found January 30, 2013 on Waiting For Next Year:
"We're going to look like an aggressive, forward attacking defense that has big men that can run and little men that can hit. I've seen that on tape and that's the most important thing to me is what do we look like, not what we line up in. We may be a 3-4 on one snap. We may be a 4-3 on another snap. I guarantee we'll be a 5-2 sometimes and we'll be a 4-4 sometimes. We are a multi-front, attacking defense and that's the most important thing, not what player lines up where, how he stands, what stance he's in." – New Browns defensive coordinator Ray Horton If you watched the press conference yesterday introducing new defensive coordinator Ray Horton, you know one thing is certain. We have new buzzwords. No fewer than seven times coach Horton referred to his philosophy of "little men that can hit and big men that can run". He is convinced that if you have those two things you can be quite flexible and adjust to whatever the offense likes to do and take that away. It sounds much better than him saying "I run XYZ defense and we will have to find players to fit this system. It may take a while. It's a process." "Going back, I use the word multiple front. Coach Rob uses hybrid. They're the same term. They're just different semantics of language. We are going to be a defense that gives offenses problems. Our guys can play a multitude of things. I don't like to get pigeonholed into, 'Well, he is this.' Here's what we're going to be. We're going to be a team that looks at the offense and tries to take away what they do best. Now, that may mean one snap being a 5-2. The next snap it may be a 4-4. It will be predicated by what the offense does and we have athletes that can stand up, that can put their hand in the ground and that can run. That's why I go back to the multi-front defense. I can't tell you what we're going to be right now, it depends on who we line up game one against. What do they do? What do we need to take away? The thing I'm most excited about is I have a group of athletes that can run and hit and they're not limited to just saying, 'Coach, line me up in a specific front, number system and play.' Just run and hit." So that sounds fantastic, but is that really what his defense in Arizona looked like? Well, at times yes. Here are a few things that I noticed in limited looks at the Arizona defense: One of the things that Horton said was that he didn't care how many people were putting their hand on the ground as opposed to standing up to rush the passer. That certainly was true in the game against the Buffalo Bills. Here we see a first down play at midfield. The Bills have Spiller in the backfield and a TE lined up as a slot back off the left tackle. The Cardinals have just 2 down defensive linemen, and two linebacker/defensive ends on the outside lined up wide and on the line of scrimmage. This kind of looks like a 4-3, except with the DEs standing up. Except that isn't a linebacker on the defense's left side. Number 22 is a defensive back. And it appears his job is to shadow C.J. Spiller. So in truth this is kind of a nickel package. But it is certainly designed to stop the run as well. At the snap we see the DT on the right side occupy two offensive linemen. It appeared to me that the role of the DTs for the Bills game was to occupy the three interior linemen with just the two defensive tackles. You see the DB #22 watching Spiller all the way, and the DE/OLB crash down following the OT. The play is stopped for a minimal gain by the outside rusher. Notice the gap integrity. Wherever there is a spot to run, there is an Arizona defender. Also, notice the Jabaal Sheard role. This looks like something Sheard can do. Ok, let's look at another play from the same game. This time it is third and long. Now here again there were only two down linemen. There were two DE/OLB standing up on the outside of the line, and four linebackers or defensive backs were within 5 yards of the line and all were showing blitz or had to be accounted for. At the snap the left DE drops into coverage, as does the DB behind him. The Cardinals bring five rushers on the play. What I like here is that the five rushers are overloaded on the right side. They are bringing more rushers than blockers over there, and the QB has to get rid of the ball quick. He decides to go to the WR at the bottom of the screen, and the pass sails out of bounds. Let's take a look at how Horton chose to attack another team. This is the first play from scrimmage for the Packers against the Cardinals. After a great return the Packers have the ball on the 20 of Arizona. Not the way you want to start the game. The Packers go with a tight end right, shotgun formation with a RB on Rodgers' right. How's this for attacking? Horton sends six, leaving man coverage on all three wide outs with a safety over the top. The gamble pays off, as Rodgers is unable to unload the ball before the pressure gets to him. Loss of ten on the play. On second down the Packers complete a short pass for four yards, setting up a big third down. Notice the defensive line? This time they are all four on their hands and the defensive ends are pinched in tighter, similar to what the Browns did with their defensive line under Jauron. The defensive backfield is in a complete zone this time. At the snap the four defensive linemen will all rush, and force Rodgers to step up and out of the pocket before throwing downfield incomplete. In fairness, the man he was throwing to did have a hole in the zone, but the ball was not on line. The Cardinals forced a field goal attempt (which Green Bay missed for the record). We'll continue to look at film on Horton's defense to get a feel for what he likes to do. From the limited game film I've watched, he isn't telling stories. He does change up his defenses quite a bit. Perhaps that is something to be excited about.
Original Story:
http://www.waitingfornextyear.com/201...
THE BACKYARD
BEST OF MAXIM
RELATED ARTICLES
According to Keith Britton of 92.3 The Fan in Cleveland, 49ers quarterback Alex Smith is interested in going to the Browns this offseason. Source has told me #Browns are one of the teams #49ers QB Alex Smith is interested in. — Keith Britton (@KeithBritton86) January 29, 2013 No one knows right now if the Browns are interested in Smith. Regarding Alex Smith's interest in #Browns...
New Cleveland Browns defensive coordinator Ray Horton is hard at work evaluating the Browns personnel and like what he has to work with. Horton brings an aggressive style in the Pittsburgh Steelers zone defense he learned during his stint in the Steel City. The zone blitz concept requires a lot of moving pieces, including defensive linemen who can drop into coverage, and the back...
There's a big change coming for the Cleveland Browns defense, and linebacker Scott Fujita thinks he and his teammates can successfully make the transition from 4-3 to 3-4. "Sometimes people can get too wrapped up in the 3-4, 4-3 conversation," Fujita said, via the Mary Kay Cabot of The Cleveland Plain Dealer. "To me it's about trying to find a system that...
BEREA, Ohio -- One inarguable point was made during Ray Hortons first news conference as the Browns defensive coordinator: He knows what he wants. Give me big men who can run and little men who can hit, Horton said Tuesday morning. Over and over Horton repeated it. Perhaps a half dozen times. Perhaps more. You give me (those) two things, well be a good defense, Horton said. I use...
There's not one topic I feel like talking about today as we endure a week of Super Bowl and Hall of Fame propoganda. The Browns introduced their defensive coordinator Ray Horton yesterday, but even that was putting a cap on old news. With that in mind, I thought I would just combine a bunch of things into one post today… Alex Smith to the Browns? So Brandon Weeden thought he...
The Art Modell talk has been going strong lately, and in this episode Craig and I discussed the former Browns owner's upcoming consideration for the pro football Hall of Fame. We tried as much as possible to not rehash all the excellent pieces that have been written on the subject lately, but some of the topics we discussed include: Is it possible to discuss this issue without...
NFL News

Delivered to your inbox

You'll also receive Yardbarker's daily Top 10, featuring the best sports stories from around the web. Customize your newsletter to get articles on your favorite sports and teams. And the best part? It's free!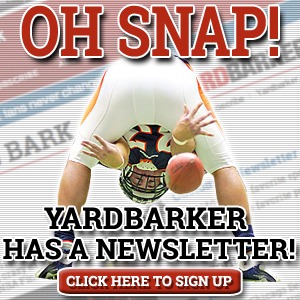 Latest Rumors
Best of Yardbarker

Today's Best Stuff

For Bloggers

Join the Yardbarker Network for more promotion, traffic, and money.

Company Info

Help

What is Yardbarker?

Yardbarker is the largest network of sports blogs and pro athlete blogs on the web. This site is the hub of the Yardbarker Network, where our editors and algorithms curate the best sports content from our network and beyond.