Found April 15, 2012 on Waiting For Next Year:
According to PFT, the San Francisco 49ers and the Dallas Cowboys will both be bidding to host Super Bowl L in 2016. For those who aren't good with Roman numerals, that means Super Bowl 50. We all know that the Browns have never appeared in a Super Bowl or hosted one. While we can't guarantee that the Browns will ever compete in a Super Bowl, recent history with Indianapolis and Detroit hosting Super Bowls tells us that we could host one if we had a roof on the stadium. Much like Browns fans proved with Peyton Hillis' Madden cover, we are a powerful group of people. Is it time that we finally controlled our own destiny and got a Super Bowl hosted in the city of Cleveland by building a roof? I know this is always a controversial idea because Browns football is rooted in history of playing outdoors. Then again Browns football is also rooted in the history of the late 80s that also never produced a trip to the Super Bowl. As hard as we've rooted, the Lerner family hasn't been able to deliver more than a single playoff game. So maybe it is time to take control of our own destiny and at least get in the running to host a Super Bowl. A retractable roof isn't cheap. The estimate for the retractable roof in Minnesota accounts for about $200 million of the $791 million stadium budget. The bulk of the materials to build the retractable roof in Indianapolis approached the $100 million dollar range. So, it obviously isn't a cheap proposition. The positive economic impact isn't small either. The NFL wildly overestimates the economic impact of the Super Bowl coming to your town in all likelihood. Some people spout off numbers like $500 million which is kind of crazy. It might be $500 million if you didn't have to expend any money to earn that $500 million. But let's say the impact is a couple hundred million. It should pay for the roof all by itself. In addition to that, it gives Cleveland a venue to host more events. I won't pretend that the concert industry is doing well or anything. The number of stadium acts that can play rock concerts isn't high. Still, if you add a festival and a couple of country acts per year that would be nice. In addition you can host high school playoff football like they do in Indianapolis. Point being that it could turn into a public hub for activity double as many times per year as it does right now pretty conservatively without much issue. Yes, we might have to sell the naming rights to the stadium to defray the cost. Yes, we might have to invest some tax dollars to make it happen. Yes, it does change a bit of the culture around the football team. But you know what? Bernie Kosar isn't walking back through that door to throw touchdown passes to Webster Slaughter. Hanford Dixon isn't breaking up anymore passes either. The only portion of the culture that lives is being drunk and cold as players hate to play here. Maybe free agents still wouldn't flock to Cleveland, but at least it wouldn't be an impediment. Certainly the best way to turn the Browns around and attract free agents is to instill a winning culture. Players don't mind playing in Pittsburgh where the winters stink too. And who knows? Mike Holmgren and company could be doing that, but just in case they're not, we should take control of what we can control as fans. We proved our power with Peyton Hillis and the Madden cover. Now it's time to take on something bigger and even more fruitful. [Related: NFL Draft: Of misdirection and mocks…] Hey! Come to our draft party!
Original Story:
http://www.waitingfornextyear.com/201...
THE BACKYARD
BEST OF MAXIM
RELATED ARTICLES
Hey! Come to our draft party! We are getting closer and closer to the NFL draft and it is officially time to believe everything and nothing. The Browns will draft Ryan Tannehill. The Browns will draft Matt Kalil. The Browns will trade the pick to Miami or Philadelphia. The Browns have to draft an offensive player. Well, on second thought they could draft Morris Claiborne. The fact...
After listening to the interview that Adam the Bull and Dustin Fox conducted with Justin Blackmon, I am thinking that he could have been one of the top ten draft picks that didn't want to come to Cleveland. When asked about his visit to Cleveland, Blackmon first seemed reticent to even acknowledge that he had visited the team. Then when pressed for elaboration, Blackmon told Dustin...
Look, we're not here to tell athletes how to spend their paychecks. It's their money. Burn stacks of $20s to light water bongs for strippers for all we care. Want to knock up 10 broads and have 12 total kids? Have at it, brah. Want 15 cars that instantly decrease in value? What are you waiting on? Just don't cry – like Warren Sapp – that you're broke and it's either...
If the Cleveland Browns want to go toe-to-toe with the upper-echelon teams and compete for postseason contention in the upcoming 2012 NFL season, then it's probably a good thing the club has a chance to get its feet wet right out of the gate against four potential playoff teams in preseason action. Photo Credit: John H. Reid III/ClevelandBrowns.com Cleveland's 2012 preseason...
The Supreme Court won't hear an appeal from the Cleveland Browns in the team's attempt to force into NFL arbitration a lawsuit by former center LeCharles Bentley over his career-ending staph infection. The high court's decision Monday keeps the case - and lawsuit - in Cuyahoga County court in Cleveland. The team had appealed a July ruling by an Ohio appeals court that...
The Supreme Court won't hear an appeal from the Cleveland Browns in the team's attempt to force into NFL arbitration a lawsuit by former center LeCharles Bentley over his career-ending staph infection. The high court's decision Monday keeps the case -- and lawsuit -- in Cuyahoga County court in Cleveland. The team had appealed a July ruling by an Ohio appeals court...
We all know that the air is filled with lies this time of year as teams posture and pose to try and create scenarios for draft day. If a Philly report is true, the thoughts of trading the Browns fourth pick to the Eagles is just another in a long line of misinformed nuggets. Citing a high-level Eagles source, CSN Philly's Reuben Frank reports that the report of Philly's interest...
Come join us at the Two Bucks in Middleburg Heights for a Browns NFL draft party. WFNY writers will be on hand, as well as a mystery Cleveland Brown player. There will be WFNY giveaways and much more. Hope to see you there!
According to Reuben Frank of CSNPhilly.com, the Philadelphia Eagles and Cleveland Browns have been talking all the time and they've discussed a trade for the fourth overall pick. Right now though, the chances of the Eagles trading up from the 15th pick to the 4th pick are very slim. At the end of the day, I really don't believe that the Eagles are very serious about trading up...
NFL News

Delivered to your inbox

You'll also receive Yardbarker's daily Top 10, featuring the best sports stories from around the web. Customize your newsletter to get articles on your favorite sports and teams. And the best part? It's free!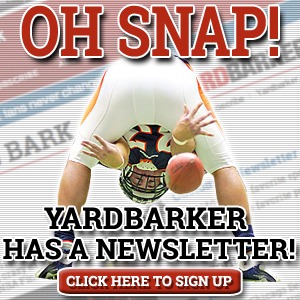 Latest Rumors
Best of Yardbarker

Today's Best Stuff

For Bloggers

Join the Yardbarker Network for more promotion, traffic, and money.

Company Info

Help

What is Yardbarker?

Yardbarker is the largest network of sports blogs and pro athlete blogs on the web. This site is the hub of the Yardbarker Network, where our editors and algorithms curate the best sports content from our network and beyond.