Found August 24, 2012 on 60 Max Power O:
PLAYERS:
Clinton Portis
,
LaVar Arrington
,
Chris Cooley
,
John Riggins
,
Russ Grimm
,
Jason Campbell
,
Dan Snyder
,
Vinny Cerrato
,
Champ Bailey
,
Robert Griffin III
TEAMS:
Washington Redskins
,
Cincinnati Bengals
,
Chicago Bears
,
Denver Broncos
Yesterday afternoon Clinton Portis officially retired from the National Football League.  Since Portis had been of the league for over a year his retirement was of no surprise to anyone yet it was still a somber occasion.
When it was announced on Wednesday that Portis would be announcing his retirement at Redskins Park I felt that there should be a cause for celebration. Sure Portis had his faults but for the past twenty years of losing and mediocrity no other player in burgundy and gold had thumped his chest more with pride in being a Washington Redskin.
Of course if you were listening to former Redskin linebacker LaVar Arrington on his afternoon talk radio show you would have thought Portis to be a bum. LaVar and his sheeple callers seem to rag on Portis and if anyone praised the man LaVar would offer up some conjecture. It's no secret that LaVar doesn't like Portis (and vice versa) but there are times when you have to put personnel feelings aside and give a man his due.
I had not realized that a lot of fans felt this way about Portis. Sure this shtick would get annoying from time to time. His multiple personalties or his YouTube videos him and tightend Chris Cooley would make, but Portis was just having some fun while playing a game we all watch for entertainment.
Portis ran for 6,824 yards with 46 touchdowns as a Redskins and is only second to the immortal John Riggins in franchise history. There are so many running back in Redskins history that we look back on with fondness and only Riggo can say he was better than Portis. And even with Riggins' size he still wasn't half the blocker Portis was. In an era where most running backs consider a block to be just shoving a blitzing linebacker, Portis summoned his inner Russ Grimm and would drill anyone who came his way.
In fact it's my belief that this toughness of Portis is what lead to the end of his career. In a preseason game a few seasons ago against the Cincinnati Bengals quarterback Jason Campbell threw an interception. The cornerback was well on his way to a touchdown when Portis turned on the jets and met him at the sideline and buried him into the turf. Portis would dislocate his shoulder on the play and even after he returned from that injury he was never the same guy. He suddenly became fragile and that's when the groin injury and concussions started. That's why even though coach Shanahan praised Robert Griffin III for going after a Bills defender while he was returning a fumble my stomach got queasy thinking about Portis and the meaningless tackle against the Bengals.
In spite of his eccentricness and his disdain for practice later in his career I couldn't quite put my finger on why Portis, who once was one of the most beloved Redskins, was suddenly being bashed by the fan base. Then the answer hit me like a ton of bricks. In spite of his success Portis was completely proud of being a Redskin during his time here and was the face of the franchise, a franchise that only made the play-offs twice in his seven seasons as a Redskin. To some fans Portis was what was wrong with that era. I would argue that these fans are wrong. In spite of the goofiness that was Clinton Portis on the field no other Redskins came to play more than he did, shoot I dare say there were few in the NFL that came to play on gameday like Clinton Portis.
  Portis was an outside speedster who bulked up to become the inside presence that Joe Gibbs wanted, and even though he was playing running back in a way he wasn't built for he still averaged 975 yards a season and in the seasons where he played the whole year his lowest production was 1,262 yards.
Clinton Portis' career numbers might not be Canton worthy but they are more then enough to enshrine him in the Redskins' ring of fame. Clinton just had the misfortune of playing for the wrong Redskin team. Had he been on the 80's team he would have fit right in with that cast of characters. But alas, Portis was one of the few bright stars whose light was swallowed by the black-hole of mismanagement that was the Dan Snyder and Vinny Cerrato era.
Another reason for possible fan disdain for Portis could have been the hefty price paid to get him from Denver. A second round pick and cornerback Champ Bailey was a pretty big price, but that can't be held against Portis. Again, that was a Vinny and Danny move. Also Champ didn't want to be here anymore. He signed his franchise tender with reluctance because he had no choice. Coach Gibbs didn't want to disgruntle player in his locker room so the team set off to find a deal. Personally I think a straight up trade between the two would have been fine but for whatever reason the Skins were feeling generous and threw in that draft pick. Either way that trade is still one of the least bone-head personnel moves that this franchise has made in the last twenty years.
All in all I'll remember Portis fondly and I'm glad he was apart of this franchise, after all both times we made the play-offs under Joe Gibbs 2.0 was on the back of Clinton Portis and if it weren't for him who knows what dredges of the league we'd be (probably somewhere down there with the Bengals and Browns, sorry Ohio).
Be sure to check out other great articles at Sports Media 101.
Original Story:
http://www.60maxpowero.com/patriots/c...
THE BACKYARD
BEST OF MAXIM
RELATED ARTICLES
Clinton Portis, the man, the myth, the legend, retires from the NFL today at Redskins Park. He retires as a Redskins player. He retires with Mike Shanahan as the coach that both launched and ended his career. Ironic! Portis on one of Hog Heaven's favorite football players, not just favorite Redskins player…favorite football player. I've loved the guy since his rookie season...
After five mostly lackluster seasons in the city of Boston, frustrated pro football club owner George Preston Marshall decided to move his fledgling team, the Redskins, to Washington D.C. Armed with determination and a multi-talented, over-achieving, first round, draft-pick quarterback, Marshall's team opened their 1937 regular season with high hopes, and a surprising win at [...]
Robert Griffin III delivered a reassuring performance against the Indianapolis Colts in Saturday's preseason game won by the Redskins 30–17. Photo link from Washington Post gallery. We Redskins fans are feeling quite well after watching the Washington Redskins dominate the Indianapolis Colts at FedEx Field. There is a quarterback controversy in Washington. This game exposed...
The Washington Redskins (specifically Mike Shanahan) are notorious for leaving fantasy football owners out to dry, and this season figures to be no different. With a 3 headed running attack, it is anyone's guess who assumes the lead role, but for the ever important preseason game #3, we have some clarity. Tim Hightower's lingering knee injury appears to be the least severe in...
The Washington Redskins won't have Evan Royster for Saturday's preseason dress rehearsal against the Indianapolis Colts. Royster has a sore right knee that the team claims wouldn't keep him out of a regular-season game. An MRI exam came back clean, but Royster and Roy Helu will be inactive for Saturday's game. Helu has Achilles soreness. "I'm not sure...
Redskins rookie running back, Alfred Morris, bursted onto the fantasy radar during the team's Preseason game against the Colts. The 6th round draft pick out of Flordia Atlantic rushed for 107 yards on 14 carries along with a TD. Fantasy Spin: Morris is quickly becoming a Preseason darling now that hes gotten some love from Head Coach Mike Shanahan the last two weeks. With Evan...
Chris Cooley has been a Redskins fixture since they drafted the tight end in the 3rd round in 2004. Cooley has caught 428 passes for 4703 yards and 33 touchdowns in his career, all with the Redskins, and is the Redskins' all-time leader in receptions by a tight end. However, Cooley missed 11 games with knee problems last year and was limited in several others, catching just 8 passes...
AP During an appearance on the NFL Network's  NFL AM show former Redskins running back Clintson Portis said that he wanted to prove that he could still play the game of football before he decided to walk away. "I think I realized, when I first left, that I was ready to walk away," Portis said of his decision to hang up his cleats. "I think the desire to play again was just...
In 1998 the debate about the best quarterback available in the draft centered around the word "upside." While most appreciated Peyton Manning's football acumen, pedigree and polish most agreed that Ryan Leaf had a better arm as well as the potential to grow more. The pundits felt Manning was too ready. In hindsight they look like the buffoons in Major League proclaiming...
NFL News

Delivered to your inbox

You'll also receive Yardbarker's daily Top 10, featuring the best sports stories from around the web. Customize your newsletter to get articles on your favorite sports and teams. And the best part? It's free!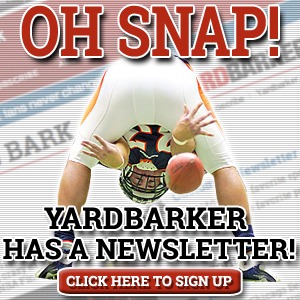 Latest Rumors
Best of Yardbarker

Today's Best Stuff

For Bloggers

Join the Yardbarker Network for more promotion, traffic, and money.

Company Info

Help

What is Yardbarker?

Yardbarker is the largest network of sports blogs and pro athlete blogs on the web. This site is the hub of the Yardbarker Network, where our editors and algorithms curate the best sports content from our network and beyond.