Found September 20, 2012 on CollegeFootballSaturday.com:
PLAYERS:
Brett Favre
TEAMS:
Minnesota Vikings
,
Boise State Broncos
,
Ohio State Buckeyes
,
Bowling Green Falcons
,
Virginia Tech Hokies
,
Wake Forest Demon Deacons
,
Georgia Tech Yellow Jackets
,
Oregon State Beavers
,
Michigan State Spartans
,
Penn State Nittany Lions
,
Washington State Cougars
,
Ball State Cardinals
,
Utah State Aggies
,
Colorado State Rams
,
Mississippi State Bulldogs
,
Notre Dame Fighting Irish
,
Kansas State Wildcats
,
Florida State Seminoles
,
Fresno State Bulldogs
,
Louisiana Tech Bulldogs
,
Arizona State Sun Devils
,
Air Force Falcons
,
San Jose State Spartans
,
San Diego State Aztecs
,
New Mexico State Aggies
Below, Daniel Evans makes his week one college football picks. Come back each week to see which teams he is picking to win Saturday's games. A green border around the game indicates a correct pick and a red border indicates an incorrect pick. The lines used for the spread picks are from USAToday.com's odds page (Cover.com odds). The opening line or more current consensus line is used for the picks.
"Evans Straight Up" picks indicate picking the winner of the game.
"Evans Spread" indicates picking the winner of the game by the point spread indicated.
NOTE: These picks are subject to change leading up to the games on Saturdays due to late injury news or a Brett Favre type change of heart.
KEY: Green background around logo indicates correct pick. Red background around logo indicates incorrect pick.
GAME
EVANS STRAIGHT UP
EVANS SPREAD
BYU (+6.5) at Boise State BOISE BOISE Baylor (-7.5) at Louisiana Monroe BAY BAY Kentucky (+24) at Florida FLA FLA UAB (+36.5) at Ohio State OHST UAB Bowling Green (+17.5) at Virginia Tech VT VT UTEP (-18) at Wisconsin WISC UTEP Maryland (+25.5) at West Virginia WVA WVA Central Michigan (+14.5) at Iowa IOWA CMU Virginia (+18) at TCU TCU TCU Mississippi (-19) at Tulane MS MS Massachusetts (+25) at Miami (OH) MIAMI MIAMI Army (+7) at Wake Forest WAKE WAKE Connecticut (-1) at Western Michigan UCONN UCONN Miami (FL) (-14) at Georgia Tech GT GT Oregon State (+7) at UCLA UCLA UCLA Eastern Michigan (+28.5) at Michigan State MICHST MICHST East Carolina (+17) at North Carolina ECU ECU Temple (+7) at Penn State PSU PSU Marshall (-3) at Rice MARSH MARSH Kansas (+10) at Northern Illinois KAN KAN Missouri (+10) at South Carolina SC SC Colorado (+20) at Washington State WASHST WASHST South Florida (-9) at Ball State USF USF Florida Atlantic (+49.5) at Alabama ALA FLA ATL Wyoming (+2.5) at Idaho WYO WYO California (+16.5) at USC USC USC Memphis (+24) at Duke DUKE DUKE LSU (-20.5) at Auburn LSU AUB Rutgers (+9) at Arkansas ARK RUT Utah State (-12.5) at Colorado State UTAHST UTAHST Troy (-2) at North Texas TROY TROY South Alabama (+34) at Mississippi State MISSST MISSST Southern Miss (+3.5) at Western Kentucky SO MISS SO MISS Louisville (-11) at Florida International LOUIS LOUIS Akron (+32.5) at Tennessee TN AKRON Michigan (+5) at Notre Dame MICH MICH Vanderbilt (+16) at Georgia UGA UGA Kansas State (+14) at Oklahoma OKL KANST San Jose State (+3) at San Diego State SJST SJST Clemson (+14.5) at Florida State FLST CLEM Fresno State (+6.5) at Tulsa TULSA TULSA Louisiana Tech (+3) at Illinois LATECH LATECH Syracuse (-1) at Minnesota SYR SYR New Mexico (+5.5) at New Mexico State NMST NMST Utah (+7) at Arizona State AZST AZST  Air Force (-10) at UNLV AF AF  Nevada (-8) at Hawaii NEV NEV  Arizona (+21.5) at Oregon ORE ORE
THIS WEEK'S RECORD
0-0 0-0
SEASON RECORD
— —
Original Story:
http://feedproxy.google.com/~r/Colleg...
THE BACKYARD
BEST OF MAXIM
RELATED ARTICLES
The day will soon come when Brett Favre and the Packers decide to play nice. The way their relationship ended was obviously less than ideal, but time heals all. When you consider the fact that Favre played 16 seasons with the Packers and brought Green Bay a Super Bowl, it would be crazy to think the feud will last forever. During a recent interview with ESPN's Mike Tirico, Favre...
TIME HEALS ALL
Brett Favre recently spoke about his relationship with the Packers and sounded like a man who is ready to put his differences with the team aside.
Kudos to Gators fan @GoGators4482 for having his head on a swivel, on a Friday night, for this mess. The Swamp? Are you serious? C'mon, ESPN interns, get your **** together. As for our college football picks: Michigan (+5.5), Florida (-23), OVER 56 (K-State/Oklahoma), Clemson (+14.5). In high school football news, Brett Favre is still undefeated. Only issue seems to be his offense...
Is it me or has there been a lot of streaking going around lately?  I feel like my last 10 posts have all been about streaking… which, to be honest, kinda makes me feel uncomfortable.  Not going to deny you all a funny video though.  It is what it is I guess. BUT HOW ABOUT THAT DUDE IN THE COWBOY HAT?!  Straight up rocked the streaker.  Good thing he was wearing his Brett...
Still into football/baseball cards? Yeah, didn't think so. Anyway, you know how sports cards now have to have a hook to get collectors all kinds of excited. 'Oh, look, a Brett Favre Upper Deck with a piece of his football jersey!' Those cards are cool, but there are better investments out there like the Tim Tebow Topps rookie card where he was allowed to sketch anything on...
Flordia State is back. This must mean Jenn Sterger is present (Brett Favre call ESPN to be the guest picker?) in a cowgirl hat, coaches are screaming dadgum 10x a week and star talent is getting away with petty crimes, right? I was raised to not make fun of the mentally challenged fans who favorite movie must be "The Waterboy" or just any Happy Madison Production....
Vikings News

Delivered to your inbox

You'll also receive Yardbarker's daily Top 10, featuring the best sports stories from around the web. Customize your newsletter to get articles on your favorite sports and teams. And the best part? It's free!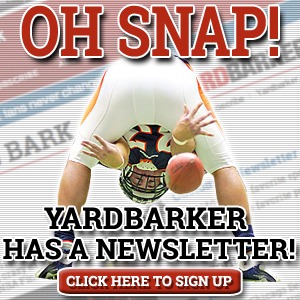 Latest Rumors
The Backyard

Today's Best Stuff

For Bloggers

Join the Yardbarker Network for more promotion, traffic, and money.

Company Info

Help

What is Yardbarker?

Yardbarker is the largest network of sports blogs and pro athlete blogs on the web. This site is the hub of the Yardbarker Network, where our editors and algorithms curate the best sports content from our network and beyond.