Found September 16, 2012 on 60 Max Power O:
Colts 23 vs Vikings 20
Scoring Summary
1st Quarter
FG B.Walsh 51 yd. Field Goal Drive: 12 plays, 44 yards in 7:12
TD D.Allen 3 yd. pass from A.Luck (A.Vinatieri kick is good) Drive: 13 plays, 80 yards in 6:59
2nd Quarter
FG B.Walsh 29 yd. Field Goal Drive: 9 plays, 46 yards in 4:11
FG A.Vinatieri 26 yd. Field Goal Drive: 9 plays, 40 yards in 4:13
TD R.Wayne 30 yd. pass from A.Luck (A.Vinatieri kick is good) Drive: 8 plays, 64 yards in 1:04
3rd Quarter
FG A.Vinatieri 45 yd. Field Goal Drive: 14 plays, 53 yards in 7:54
4th Quarter
TD S.Burton 7 yd. pass from C.Ponder (B.Walsh kick is good) Drive: 10 plays, 54 yards in 5:03
TD K.Rudolph 6 yd. pass from C.Ponder (B.Walsh kick is good) Drive: 9 plays, 47 yards in 2:19
FG A.Vinatieri 53 yd. Field Goal Drive: 4 plays, 45 yards in 0:23 
What the Colts did Right
The Colts played 3 great quarters. 
Let's start with the offense. Andrew Luck had a great game. He was accurate and he didn't make mistakes. He found the open guys and used his legs a lot, which is good. He showed us that he has good wheels making some good runs early on. But today, his long passes were great. He made a superb throw to Donnie Avery down the field. THen he made another great pass at the end of the half to Reggie Wayne. He was on in the first half. In the 2nd half, the Colts went to a more run heavy offense, and Luck only had 14 throws in the 2nd half, but he still looked good. Most of his throws in the 2nd half were on the button. All in all, he had a great bounceback game and as the weeks go on, he's getting more and more comfortable. 
Reggie Wayne and Donnie Avery both had great games. Avery had 9 catches for 111 yards and Wayne had 6 catches for 71 yards and 1 touchdown. They were the 2 front runners today. Avery made a big catch at the start, but after that showed his good hands making good short passes. One of his catches that jumps out at me is the 7 yard slant where there was a cornerback behind him and a safety coming over to hit him and he still made the catch. Reggie Wayne was clutch. He started out slow, but made a nice TD catch and some nice first down catches. His last catch of the game was very important. He got a 20 yard catch at the end of the game to put the Colts in Vikings territory. On that same drive, the Colts scored the game winning field goal.
Anthony Castonzo was the only good lineman. Yes, he had some bad plays against Jared Allen, but name me a left tackle in the league who hasn't had a tough time against Allen. Allen didn't have one sack, and didn't have more than 5 or 6 pressures on Luck. He also didn't have one penalty.
Then the defense.
Cory Redding was the best defensive player, and there were some really good games from some other guys. He was the main reason why AP had a very quiet second half, and had some bad runs in the first half. On top of that, he had a fumble recovery that set up a Colts field goal. That put the icing on the cake. Also, Fili Moala had some good plays today and improved after last week's mediocre performance.
As for the linebackers, all 4 starters had good games. You don't hear that too often. Let's start from left to right. Jerry Hughes had a slow start to the game, but got progressively better even getting a sack in the 3rd quarter. He went all out in the 2nd half and it showed. Then, Kavell Conner. He had some oppurtunities to make big plays, but all in all, he was consistent and solid. He made 6 tackles and helped slow down AP in the 2nd half. Jerrell Freeman had another solid game. He made a lot of good tackles, 13 to be exact. He also had an important forced fumble on Christian Ponder, that set up a Adam Vinatieri field goal. Then, finally there was Robert Mathis. Like last week he started the game with a sack, and he got some good pressure on Ponder. He's been a real positive thus far.
Then in the secondary, Jerraud Powers and Antoine Bethea both had great games. Bethea made great tackles, some of which were very hard and made a loud noise. He's a stud, and he even looked good in coverage. He took away the deep passes, which is one of the things that the Colts wanted and that I mentioned in the Double A Breakdown. As for Jerraud Powers, he had a slow start, but was clutch down the line. His coverage in the 2nd half was superb and I don't believe he allowed any catches his way. He knocked down some balls and made some great tackles also. He had 9 on the day, which is crazy for a cornerback.
On special teams, Pat McAfee had arguably the best game of his career. He had a booming 64 yard punt and had a 56 yard punt too. He also made some tackles/push outs on kickoff. Adam Vinatieri was golden as usual. He made a couple of good field goals early on, but nothing compares to his game winning 53 yard field goal that went right down the middle. He's still got it! 
There were more positives than negatives.
What the Colts did Wrong
The Colts did not show up in the 4th quarter. The unfamiliarity of playing with the lead really hurt them in the 4th.
On offense, the running game never got going. The running backs didn't find the holes, and they didn't run with authority, they slowed down too much and were caught up from behind from the defensive end. However, the main reason why the running game wasn't there, was because of the O-line.
The O-line was bad today. Seth Olsen had a bad game, Linkenbach had a bad game, McGlynn had some snapping problems and Trai Essex took penalties. None of them were solid and they were the only reason why Luck had to scramble so much, and why there were so many close calls. Link was the worst of the group. Robison and Griffin got around him constantly and if it weren't for Luck's awareness, he would have been sacked a lot more. 
As for the defense.
The secondary had some trouble on some plays. Justin King had a bad defensive holding call that costed the Colts a touchdown, and Tom Zbikowski missed some tackles.
The pressure also slowed down in the 4th quarter as nobody had a sack and were barely able to generate any pressure giving Ponder time to find his targets and throw the ball. They need to stay consistent, because it was like that last week.
A small detail that should be noted. Kavell Conner had a chance to make a big play and did not capitlize. He had a chance to clinch the game with a big interception but he dropped it. This isn't the first time that's happened, so he needs to work on his hands.
As a complete defense, they had trouble stopping Adrian Peterson in the first half. He constantly ran for 5 or 6 yards and they moved the ball very well in the 1st and early 2nd quarter.
Finally, the coaching wasn't great today, especially in the 2nd half. They were way too conservative in the 4th quarter, running the ball too often. The Colts don't know how to play with the lead, they're too young, so that's where the coaches have to come in and direct them. Aggressive play calling would have won them the game handily. You can't give the opposing team that many oppurtunities to score with under 6 minutes to go. 
Besides that, everything else was fairly good.
Be sure to check out other great articles at Everything Colts.
Original Story:
http://www.60maxpowero.com/patriots/c...
THE BACKYARD
BEST OF MAXIM
RELATED ARTICLES
After Pat Angerer went down during the preseason with a fractured bone in his foot, the Colts' community let out a collective groan. Angerer had a very nice sophomore season in 2011, one of the few bright spots on the team, and most Colts fans were excited to see him get another season under his belt in 2011.  The Colts linebacker group was already thin with a season-ending...
The always clutch Adam Vinatieri nailed a 53-yard field goal to give Andrew Luck his first victory as a NFL quarterback. The Colts were tied 20-20 against the Vikings with just eight seconds left when Adam stepped up to the plate and nailed a 53-yarder to give the Colts a 23-20 lead. The Colts held onto the lead for the victory. Article found on: Cosby Sweaters
The Indianapolis Colts (1-1) rebounded from their shaky opening-day performance to beat the Minnesota Vikings in their home opener, 23-20. It was a finish a bit too close for comfort for the Colts, who entered the 4th quarter with a 14-point lead. Conservative play calling that prevented the Colts offense from moving the ball until the last drive of the game kept a shaky, inconsistent...
Discuss the Colts first win of the season, 23-20 over the Minnesota Vikings, with Colts Authority Radio Listen to internet radio with Colts Authority Radio on Blog Talk Radio Or follow along on your mobile device with Stitcher: The number to call in is (619) 996-1632 Notes on how to call in with Skype: http://blog.blogtalkradio.com/blogtalkradio/free-skype...
The Colts were destroyed by the Chicago Bears last weekend in the opener and everyone thought the Bears were the best team in the NFL. Green Bay proved that the Bears are a long way from that on Thursday night as they manhandled Chicago for four quarters. So what does that say about the Indianapolis Colts?For starters, I'm very concerned about the Colts' defense. The Packers...
The Indianapolis Colts are already off to a new start. After stumbling out of the gate last season with 13 consecutive losses and dealing with the interminable questions about going winless, new coach Chuck Pagano and new quarterback Andrew Luck have already made sure that won't happen again. They're beginning to re-establish home-field advantage with three straight wins...
Somewhat lost in the justifiable hysteria surrounding Robert Griffin III, surefire superstar Andrew Luck led the Colts to an impressive 23-20 victory over the Minnesota Vikings on Sunday at Lucas Oil Stadium in Indianapolis, Indiana. The 6-foot-4, 234 pound Luck, … Continue reading →
Jacksonville at Indianapolis Sunday, 1:00 p.m. ET, at Lucas Oil Stadium, Indianapolis - TV: CBS; DirecTV: 709 *TV announcers: Bill Macatee, Steve Tasker *Keys to the game: The Colts can't move the line of scrimmage in the running game. With C Samson Satele (knee) hurting, Indianapolis won't make great gains this week but more of a semblance of a threat is required...
Paul Kuharsky of ESPN says that he loved Luck's pocket presence and mobility during the Vikings matchup, among other notes.  What I liked: Luck is just fantastic on the move, whether it's a relatively small step up or slide over or a big rollout or run away from pursuit. Obviously he cannot lose 22 yards trying to run out of a late sack and has to surrender at times. But...
INDIANAPOLIS --?The Minnesota Vikings owned the fourth quarter, but Indianapolis Colts kicker Adam Vinatieri had the last word. Vinatieri kicked a 53-yard field goal with eight seconds left to give the Colts a 23-20 win over the Vikings on Sunday at Lucas Oil Stadium. It was the first win for Colts coach Chuck Pagano and rookie quarterback Andrew Luck. The Colts'?winning...
Colts News

Delivered to your inbox

You'll also receive Yardbarker's daily Top 10, featuring the best sports stories from around the web. Customize your newsletter to get articles on your favorite sports and teams. And the best part? It's free!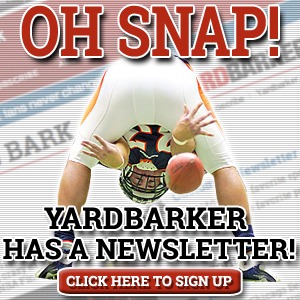 Latest Rumors
Best of Yardbarker

Today's Best Stuff

For Bloggers

Join the Yardbarker Network for more promotion, traffic, and money.

Company Info

Help

What is Yardbarker?

Yardbarker is the largest network of sports blogs and pro athlete blogs on the web. This site is the hub of the Yardbarker Network, where our editors and algorithms curate the best sports content from our network and beyond.