Posted January 28, 2013 on AP on Fox
(Eds: With AP Photos.) By JIM LITKE AP Sports Columnist Super Bowl week is beginning to resemble one of those family reunions where your crazy uncle says something outrageous, but just true enough to spark a discussion worth having. Two years ago, it was Steelers linebacker James Harrison ripping the NFL and commissioner Roger Goodell for excessive fines on the violent hits that were his specialty, and generally trying to make the game too safe. ''We'll lay a pillow down where I'm going to tackle them,'' he said mockingly at one point, ''so they don't hit the ground too hard, Mr. Goodell.'' This time around, the provocateur was Bernard Pollard, the Ravens' notoriously punishing safety. Covering much of the same ground Harrison had, Pollard said he didn't think the NFL would be around in 30 years because rule changes designed to make it even safer would eventually drive away fans - if something tragic didn't hasten the game's end even sooner. ''The only thing I'm waiting for ... and, Lord, I hope it doesn't happen ... is a guy dying on the field,'' Pollard told CBSSports.com. It may be easy to dismiss a handful of players' exaggerated views, but the notion that the NFL is in real trouble - as well as football at every level from Pop Warner up - isn't as hard a sell as it seems. Sure, the game has never been more popular. The league is taking in nearly $10 billion annually, breaking its own record TV telecasts almost on a weekly basis, and could repeat the feat again Sunday in New Orleans, when the 49ers tee it up against the Ravens. But just a few weeks later, arguments are scheduled to begin in Philadelphia in one lawsuit brought on behalf of former players and their families contending that the league failed to warn them about the dangers of concussions and then concealed those risks even in the face of mounting evidence. And that's just one of several pending legal actions piling up outside Goodell's office door. Yet even all those lawsuits combined may not represent the most serious threat to the NFL's existence long term. ''The plaintiffs are facing a huge uphill battle, and that's me speaking as a lawyer,'' said attorney Robert Boland, who teaches sports law at New York University's Tisch Center, and has worked previously as an agent. ''Obviously, the publicity generated by the concussion issues is big, but I don't think the same is true in terms of legal liability. This is a collectively bargained issue for the most part and while the NFL is the biggest target - it has the deepest pockets - courts are likely to take a very narrow view of what responsibility it's facing. It may well be the case where the NFL wins in the courts very quickly, then has to find a way to be sensitive to the very real dangers that exist as part of the game. ''The concussion issue is forcing people to choose sides and yet the real challenge, I think, will be holding together the coalition that made the game so popular - players, coaches, parents and fans. There's already a bar for young players to get into the game; the cost of equipment, the staffing it requires, and if the insurers get nervous and drive up the costs even further, that might be the biggest short-term threat. Nothing has shown up yet,'' Boland added, ''but anybody taking the long view has to be looking at the present and saying, `It could.' '' President Obama tackled that issue in a recent interview with The New Republic, saying that he anticipated the less exciting pro game that guys like Harrison and Pollard envisioned as safety concerns change the way it's played. What really worried him, though, was whether those changes at the top would filter down to the lower levels of the sport soon enough. ''I'm a big football fan, but I have to tell you if I had a son, I'd have to think long and hard before I let him play football,'' Obama said. ''I tend to be more worried about college players than NFL players in the sense that the NFL players have a union. They're grown men. They can make some of these decisions on their own, and most of them are well-compensated for the violence they do to their bodies,'' he added. ''You read some of these stories about college players who undergo some of these same problems with concussions and so forth and then have nothing to fall back on. That's something that I'd like to see the NCAA think about.'' Don't expect action from the NCAA anytime soon, but the NFL and its players' union may not have the luxury of time. A quick sampling of comments during media day showed many players still favor the status quo, risks and all. ''That's what we all know coming into the game,'' 49ers linebacker Aldon Smith said. ''We all signed up for it. It's not like we signed up and thought we were going to play tennis, you know?'' His coach, one-time NFL quarterback Jim Harbaugh, took that cavalier attitude a step further, when asked to respond to the president's remarks. ''Well, I have a 4-month-old - almost, soon-to-be 5-month-old - son, Jack Harbaugh, and if President Obama feels that way, then (there will) be a little less competition for Jack Harbaugh when he gets older,'' Harbaugh chuckled. ''That's the first thing that jumps into my mind, if other parents are thinking that way.'' Keep in mind that the NFL's nightmare scenario played out on a football field an hour from Boston only a few months ago. In a Pop Warner game between longtime rivals, five kids between the ages of 10 and 12 were concussed, all on the losing team, three in the first quarter and the last one on the final play. Not everyone is convinced there's enough time to wait for Goodell and the union to sort out the legal battles and work together to advance the safety issue. ''I think it's being taken seriously, but as far as young people starting to play, we need better and smarter instruction than ever before,'' said former Saints quarterback Archie Manning, who's enlisted his famous sons, Peyton and Eli, to help run his annual quarterbacking camp. ''We've got to bring some attention to bear right away, especially how we teach tackling and the rest of the physical components of the game. ''You only get so many chances and we've let a lot slip past. We can't afford too many more misses,'' he said finally, ''We've got to get it right.'' --- Jim Litke is a national sports columnist for The Associated Press. Write to him at jlitke(at)ap.org and follow him at Twitter.com/JimLitke.
Original Story:
http://msn.foxsports.com/nfl/story/Co...
THE BACKYARD
BEST OF MAXIM
RELATED ARTICLES
OUT OF COMMISSION
According to a new poll of NFL players, NFL commissioner Roger Goodell has an incredibly low but not unsurprising approval rating.
Even George Bush is like damn homie…. There are various reasons why players in general don't like Roger Goodell, but I think it is summed up best by Steelers James Harrison. "I think it's obvious that I disapprove." Harrison has been fined more than $100,000 in his career for hits the NFL has deemed against the rules. "I feel like what he's doing is not totally for...
Roger Goodell took time out of his busy pre-Super Bowl schedule to hold an AMA, or ask me anything, on Reddit Monday afternoon. The commish avoided questions like "If Jonathan Vilma and a dog were trapped in a car on fire and you could only save one of them, what would you name the dog?" from Reddit user vitey15, but he did tackle some controversial issues. One question Goodell...
Ravens safety Bernard Pollard sees two things in pro football's future: death and disintegration. "Thirty years from now I don't think it will be in existence," Pollard told CBS Sports. "I could be wrong. It's just my opinion, but I think with the direction things are going -- where [NFL rules makers] want to lighten up, and they're throwing flags...
Baltimore Ravens safety Bernard Pollard does not think the NFL has a bright future. Pollard told CBS Sports recently that he thinks the league will go out of business in 30 years because rules changes made to make the game safer are ruining the sport, and the chances that a player could die on the field because players keep getting bigger, stronger and faster are increasing. ...
The National Football League is arguably the strongest professional sports league in North America. This holds true from both financial and popularity standpoints. However, one current NFL player doesn't believe the league will be around 30 years from now.That aforementioned player is Baltimore Ravens saftey Bernard Pollard. He cites player-safety concerns and long-term side...
Twitter.com Hard to believe, but the Pro Bowl just got funnier. During Train's performance, one of the Pro Bowl dancers got a little excited and exaggerated her jump, letting her shirt ride up and showing off an elite level camel toe in the process. Commissioner Roger Goodell may opt to suspend her for leading with the lobster claw. She looks naked, but she's not naked; just...
The future of the Pro Bowl is still in doubt, but maybe not as much as it was even Sunday night. While NFL commissioner Roger Goodell and many others around the NFL continue to prepare for Sunday's Super Bowl in New Orleans, the future of the league's all-star game still hangs in the balance. With the Super Bowl media frenzy already shifting into overdrive, Goodell took to Reddit...
  Atlanta Falcons owner Arthur Blank wants a new stadium for his team. Badly. Looking to build a stadium in the neighborhood of $1 billion, Blank is ready to leave the Georgia Dome in the past. However, there is just a little problem. The Atlanta community is reportedly not behind this new stadium. Something that left Blank even bringing in commissioner Roger Goodell to help...
The mayor of Atlanta has warned city councils members about business interests in Los Angeles who want to move the Atlanta Falcons to the west coast.According to Atlanta's Fox 5, team owner Arthur Blank shared the information with top city and state officials in their discussions about financing a new stadium in downtown Atlanta.Mayor Kasim Reed called city councils members...
Baltimore Ravens hard-hitting safety Bernard Pollard believes the NFL won't exist 30 years from now because of player-safety concerns and the long term effects of the hard hits he and others put on players. Pollard told CBS Sports' Clark Judge that he doesn't think fans
First Baltimore Raven Bernard Pollard and now 49ers CB Chris Culliver. CC told Artie Lange that there are no gays on San Francisco and that if their were - they would not be welcomed: "I don't do... Full story at Bob's Blitz ~ http://www.bobsblitz.com
NFL News

Delivered to your inbox

You'll also receive Yardbarker's daily Top 10, featuring the best sports stories from around the web. Customize your newsletter to get articles on your favorite sports and teams. And the best part? It's free!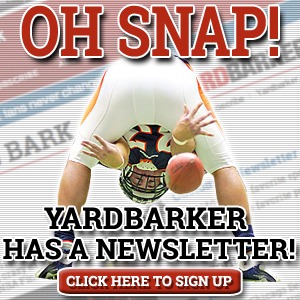 Latest Rumors
The Backyard

Today's Best Stuff

For Bloggers

Join the Yardbarker Network for more promotion, traffic, and money.

Company Info

Help

What is Yardbarker?

Yardbarker is the largest network of sports blogs and pro athlete blogs on the web. This site is the hub of the Yardbarker Network, where our editors and algorithms curate the best sports content from our network and beyond.