Found February 04, 2013 on Fox Sports:
PLAYERS:
Ted Ginn Jr
,
John Harbaugh
,
Ray Lewis
,
Joe Flacco
,
Kurt Warner
,
Joe Montana
,
Colin Kaepernick
,
Frank Gore
,
Jim Harbaugh
,
Michael Crabtree
TEAMS:
Baltimore Ravens
,
San Francisco 49ers
(Eds: Updates photos. With AP Photos.) By TIM DAHLBERG AP Sports Columnist It ended another lifetime after it began, with the Baltimore Ravens gladly surrendering two points that meant nothing except to some lucky bettors in Vegas. One brother patted the other on the cheek and, just like that, the strangest Super Bowl you will ever see was finally over. If football is a game of momentum, the San Francisco 49ers probably deserved a better fate. It took a blackout to get them going, only to have some pedestrian play calling with the game on the line finally finish them off. This wasn't two coaching geniuses at their best, not even close. Their father, Jack, surely saw that from the stands, where he and his wife, Jackie, spent more than four hours trying their hardest not to root either way as their sons went up against each other on the biggest stage in football. One, though, was better than the other, and in the end that was why the Ravens were holding the Lombardi trophy aloft in celebration while the 49ers filed quietly off the field. Advantage, John. Not that either coaching Harbaugh could be totally at fault in a game that went a whopping 4 hours and 14 minutes. Watch all the film you want, do all the planning you can, but nothing could prepare them for a 34-minute power outage that turned what was becoming a Ravens blowout into a thrilling game that could have lit up the Superdome just by the sheer energy of everyone involved. Conspiracy theorists can rest easy, even if the Ravens couldn't rest until Ted Ginn Jr. was tackled on the final desperation play of the game. The investigation is ongoing, but the guess is there will be no evidence that panicked San Francisco fans somehow found their way into the bowels of the dome and flipped the lights off with their team trailing 28-6 in a third quarter unlike any in Super Bowl history. The team that should have won did, mostly because the Ravens played with only a few mistakes while the 49ers kept making a ton of them. ''How could it be any other way?'' Ravens coach John Harbaugh said. ''We talk to our guys all the time: It's never pretty, it's never perfect, but it is us, and that was us today.'' Just a few weeks ago the Ravens were dead in the water, the seconds running out when a miracle play helped them beat Denver. They went on to become the first team to win two straight playoff games as an underdog on the road, then followed it with a win as underdogs in the biggest game they'll ever play. That Ray Lewis went out as a champion seemed merely a side note, even if he was on the field for the last goal line stand that sealed the 34-31 win. Lewis was such a non-factor in this game that, if he did spend money for deer antler spray, he should ask for it back. ''Baltimore!!!'' Lewis screamed as the confetti fell inside the now very bright Superdome, and for once he made some sense. This was a working man's win for a working class city, and most of the credit for that can go to a quarterback who always seemed overlooked when the conversation turned to the NFL's elite. Joe Flacco will get that recognition now as well as the big contract that comes along with it. He deserves it after throwing for three touchdowns, winning the MVP and going in the record books alongside Kurt Warner and Joe Montana as the only quarterbacks with 11 touchdown passes in one postseason. But this was always going to be more about the brothers who faced off on opposing sidelines than anything else. They spent two weeks trying to prepare to beat their sibling, something neither of them really wanted. But it was the only way for either to win his first Super Bowl, even if the postgame handshake was always going to be painfully awkward no matter which brother won. ''Congratulations,'' Jim said, patting his brother on the cheek. ''I love you,'' John said. They are both very different even if they are both very much the same. Jim coached this game with an intense scowl, while John was so relaxed that he draped an arm around his daughter on the sidelines before the game in a touching moment while the Newtown children's choir sang ''America the Beautiful.'' John was simply a better coach on this night than the brother who was born 15 months after him. His game plan helped the Ravens jump to an early lead, and his team managed to hold just enough when it seemed the 49ers would steamroll them after scoring 17 points in just over 4 minutes in the longest quarter of the longest Super Bowl game ever. The 49ers, meanwhile, squandered two timeouts that would cost them, including one when they were inside the 10-yard line with less than 2 minutes left and on the verge of taking the lead for the first time in the game. And with first-and-goal at the 7, Harbaugh didn't call one read-option for Colin Kaepernick and never gave bruising back Frank Gore the ball. ''We had other plays called,'' was Harbaugh's only explanation. The 49ers coach was still put out after the game, upset that there wasn't even one penalty, much less two, called on the team's final offensive play. Jim Harbaugh claimed receiver Michael Crabtree was both held and interfered with, but with the game on the line he wasn't going to get either call even if he was right. The brothers who once battled each other over who would cut the grass at their coaching father's house both battled as hard as they could to win the game that meant the most. In the end, big brother triumphed, but it came at a price. John Harbaugh had joked during the week that whoever lost would always have a chance to regain bragging rights on the golf course. But both knew one would be bitterly disappointed, and the other would be feeling some of his brother's pain. ''It's a lot tougher than I thought it was going to be,'' John said. ''It's very painful.'' Not nearly as painful, though, as it was for his little brother. ---- Tim Dahlberg is a national sports columnist for The Associated Press. Write to him at tdahlberg(at)ap.org or http://twitter.com/timdahlberg
Original Story:
http://msn.foxsports.com/nfl/story/Co...
THE BACKYARD
BEST OF MAXIM
RELATED ARTICLES
Long before he was a Super Bowl coach, Jim Harbaugh was a pretty darn good quarterback. Recruited by Bo Schembechler at the University of Michigan, Harbaugh became the Wolverines starter by his sophomore campaign. As a senior, he was a finalist for the Heisman Trophy and ultimately finished third. Figuring out the very real possibility that Jim McMahon would not be able to continue...
Yesterdays Super Bowl was an intense affair, and with two siblings coaching against each other, it was going to be emotional for both the winner and loser. Jim Harbaugh is usually thought of as the testy of the two brothers, but that wasn't the case yesterday.  After the confetti had started to fall and the Ravens were victorious, 34-31, John Harbaugh started to walk and find...
49ers Practice Pool ReportBy Matt Maiocco NEW ORLEANS -- The lights of the Super Bowl appeared a little brighter for San Francisco 49ers head coach Jim Harbaugh, as the team went through 15 minutes of stretching and playing catch at the Mercedes-Benz Superdome. The 49ers held their final get-together, a light workout on the eve of Super Bowl XLVII against the Baltimore Ravens...
Saying Jim Harbaugh is an emotional guy is an understatement. We all see him throwing tantrums on the sideline. So why would we not think Jim would be going nuts if he thought the referees missed a pass interference call right at the end of the Super Bowl. The officials felt that Ravens defender Jimmy Smith's contact with 49ers wide receiver Michael Crabtree was minor. Harbaugh...
For the better part of a decade, Bill Belichick has been the consensus pick as the NFL's best coach. But that title might be passing on, at least according to John Harbaugh. Harbaugh, who took home his first Super Bowl title with the Ravens' 34-31 win over the 49ers on Sunday, isn't putting himself on that pedestal, though. Instead, he's talking up his younger brother, Jim...
What started off as a bit of a blowout, turned out to be one of the best Super Bowls in recent history.Both teams had their share of big plays, the Ravens more so in the first half, where they scored 28 of their 34 points.San Francisco came roaring back as they've done all postseason, scoring 25 points in the second half, falling just short of their sixth Super Bowl title.Each...
For those who follow college football (like we know all of you do), it's no secret that this past season UCLA had quite a bit of success under a first-year, former NFL head coach in Jim Mora. Ironically however, had the sands of time shaken out a little differently, Mora might've never gotten the UCLA job at all last winter, and instead the Bruins might be led by a current NFL...
Super Bowl XLVII (aka the Bro Bowl) is in the books. The Baltimore Ravens upset the San Francisco 49ers 34-31. John Harbaugh gets bragging rights over brother Jim for the next year. Ray Lewis gets to retire on a high note. And game MVP Joe Flacco has officially been recognized as "elite."There were some phenomenal plays in the game, an electrical problem, an exciting...
The final game of the NFL season is upon us as the AFC Champion Baltimore Ravens prepare to take on the NFC Champion San Francisco 49ers in Super Bowl 47. They meet up in New Orleans in a game that features many unique story lines. From the Harbaughs facing off to Ray Lewis's final game in the NFL, along with his reported use of banned substances, the game has many off-field angles...
Wiz break 4-game losing streak, beat Clips (w/o CP3 or Blake Griffin). [BF] Wittman: "Don't give me that about who was here and who wasn't." [CSNW] RGIII sends fans a message after surgery, rehab is well under way. [HH] Don't worry folks: RGIII will do his part to stay healthy. [Bog] Dan Snyder says good things happened to the Skins thru patience. [Bog] Good recap of John...
NFL News

Delivered to your inbox

You'll also receive Yardbarker's daily Top 10, featuring the best sports stories from around the web. Customize your newsletter to get articles on your favorite sports and teams. And the best part? It's free!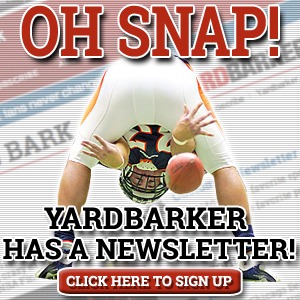 Latest Rumors
The Backyard

Today's Best Stuff

For Bloggers

Join the Yardbarker Network for more promotion, traffic, and money.

Company Info

Help

What is Yardbarker?

Yardbarker is the largest network of sports blogs and pro athlete blogs on the web. This site is the hub of the Yardbarker Network, where our editors and algorithms curate the best sports content from our network and beyond.