Posted January 29, 2013 on AP on Fox
(Eds: With AP Photos.) By TIM DAHLBERG AP Sports Columnist John Harbaugh had just finished answering the masked man in front of him when a caped crusader from a children's network swooped in to ask how he really felt about his brother. ''I think that's a very provocative question from Nickelodeon,'' the Ravens coach said, not bothering to hide a smile. ''I'm a little disappointed because I've spent a lot of time watching your network with my daughter over the years.'' Silly stuff at media day for the Super Bowl. Nothing new about that, even if the humor has, by now, grown staler than a day-old French Quarter beignet. There were no superheroes around younger brother Jim, while he grudgingly held court a short time earlier at a podium on the 43-yard-line of the Superdome. Probably too busy exploring the inner thoughts of Randy Moss or discussing tattoos with Colin Kaepernick. Or maybe they just knew better than to get the San Francisco coach too wound up. Happened in Detroit last year, if you remember, with a postgame handshake. The guy who probably charts what he's going to have for breakfast a week ahead of time had his talking points ready for this ordeal. Fidgeting constantly as he sat on the podium, Jim Harbaugh did his best to entertain like his older brother, but it just wasn't going to happen. ''I could make something up,'' he said in response to one question. ''But I'd be making it up. What do you want me to say and we can save you some time and put it right in your story.'' That the Harbaugh siblings are a big story line in this Super Bowl isn't a surprise. They'll be across the sidelines from each other Sunday in the first brotherly coaching confrontation in 47 Super Bowls. The odds of that happening? About 225-1 if you listen to John; impossible to quantify if you're his younger brother. ''I can add. I can subtract. I can do division and I can multiply. But now you're starting to step in a realm where I get challenged mathematically,'' Jim said. ''Maybe like lightning striking?'' Whatever the odds, brother versus brother makes this a Super Bowl like no other. A sibling rivalry played out on one of the biggest stages in sports, and this time the loser doesn't have to mow the front lawn. The father they learned so much from about coaching and life will be in the stands watching along with their mother Jackie. She tends to get upset at referees when calls don't go the family's way, but with a son running each team there is no one to root against in this game. They're both the same, yet they're both so different. Jim is so intense he often looks like he is about to explode - and occasionally does. John can be so engaging - he got on a media conference call with his parents last week and asked them why they liked his younger brother better than him. And while Jim acted as if he couldn't wait for his 60 minutes to be up Tuesday, John talked past his allotted time, answering questions with enthusiasm until a team official finally pulled him away. He campaigned for the late Ravens owner Art Modell to be voted in the Hall of Fame, talked about his daughter learning Japanese, and joked about how his parents always did like Jim best. ''I think even I liked Jim more than me growing up,'' he said. ''I wouldn't be surprised if they did.'' The 49ers coach, meanwhile, likes to hold things so close to the vest that he feigned ignorance when asked if he would see his brother in a social setting this week. John, though, let the family secret out, saying there were tentative plans to get together Wednesday night for what figures to be a quiet dinner. ''I can't imagine what we would be able to talk about,'' John said. ''What are you having? I don't know. What are you having? It might not get past the menu.'' They could discuss the kind of things everyone discusses about their little brother. In Jim's case, that would be the umbrage he took at a media member referring to the string around his neck as a necklace, or maybe his appearance in the 1990s sitcom ''Saved by the Bell'' while he was a quarterback with the Indianapolis Colts. ''They asked me to come on and deliver a positive message to the youth,'' Jim said with a laugh. ''And for that I've been scorned and humiliated.'' The big brother stuff isn't quite as funny because it's hard even for Jim to make fun of John. How could he when John said he was sure he would be looking across the field at his brother during the game and thinking about their lives together and how they got to this point. ''There's a lot of commercial time'' during the game, John said. ''There will be some time for personal reflection, certainly.'' They grew up as sons of a football coach, and they're now in an elite place every football coach aspires to be. ''Enthusiasm unknown to mankind'' was one of Jack Harbaugh's favorite sayings while they were growing up, and they've now got some sayings of their own. The brother thing fits into it so well, in fact, that Jim paraphrased Shakespeare twice when talking about it. ''That's my brother on the other side,'' he said. ''I love him and care about him very much. But they're also my brothers on the sidelines for he who sheds his blood today shall be my brother.'' Slogans won't win football games, though, and someone will lose this one. It's not a prospect either relishes, but a reality they both accept. They're football coaches, after all. Just like dad. ''We both desperately want to win,'' Jim said. ''But we understand the other side of that.'' ---- Tim Dahlberg is a national sports columnist for The Associated Press. Write to him at tdahlberg(at)ap.org or http://twitter.com/timdahlberg
Original Story:
http://msn.foxsports.com/nfl/story/Co...
THE BACKYARD
BEST OF MAXIM
RELATED ARTICLES
In advance of the much-hyped Harbowl (or "Super Browl", if you will), Reddit brings us this absolute gem from the Harbaugh brothers' childhood. Check out young John and Jim decked out in their Baskin Robbins little league unis, with the elder John towering over the befuddled looking Jim: (via reddit) And after some incredible interweb sleuthing, we uncovered a few more classic...
Not much setting up needed for this one. World Wide Interweb has tracked down and compiled some photos of San Francisco 49ers players (and their head coach, Jim Harbaugh) and Baltimore Ravens players (and their coach, John Harbaugh) as they were when they were much, much younger, long before these men were preparing to play in all likelihood the biggest game of their lives on the...
After one of the most memorable regular seasons in recent memory, the 49ers have finally made it to the Super Bowl for the first time since 1995.John Harbaugh has only been the head honcho in San Francisco for two seasons, but he's already made back-to-back NFC Championship appearances, and is heading to his first Super Bowl this Sunday.Harbaugh was lucky to be surrounded by...
Technically, the San Francisco 49ers are the home team in Super Bowl XLVII, and as grand arrivals go, their landing in New Orleans on an unseasonably warm Sunday evening was rather calm and unassuming. Players casually walked off the team plane dressed in casual attire, minus handheld video recorders recording the moment. Nobody waved to the crowd. They offered no real hint of the...
Thousands turned out to Baltimore's Inner Harbor to send the Ravens off to their second Super Bowl. Retiring linebacker Ray Lewis, coach John Harbaugh and Ed Reed were among the players who spoke to the crowd Monday before the team got on buses and headed to the airport to fly to New Orleans for Sunday's game. The Ravens take on the San Francisco 49ers. Lewis told the crowd...
Super Bowl fever is in full force and rightfully so as this years matchup most likely will be the most gambled single sporting event of all time. Although, I can say I am a bit worn out and emotionally perplexed after religiously betting NFL games week to week, my spirit is picking up and I am ready for one more run; hopefully I end the season on a high note. After doing some minor...
Ravens coach John Harbaugh says star linebacker Ray Lewis assured him ''there's nothing to'' a magazine report linking him to a company that makes deer-antler spray containing a banned performance enhancer.
StraitPinkie looks at some of the better/more interesting props available for this years Super Bowl. If you don't have a bookie to take your action or don't understand money lines, no worries this is for entertainment purposes not financially advice…bet an adult beverage drink (aka shot) with you game watching pals. If you decide to go my way, please make sure to have a D.D...
NFL News

Delivered to your inbox

You'll also receive Yardbarker's daily Top 10, featuring the best sports stories from around the web. Customize your newsletter to get articles on your favorite sports and teams. And the best part? It's free!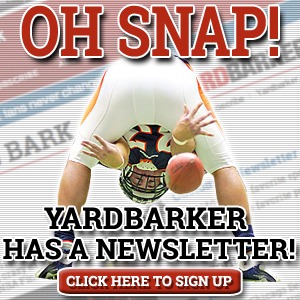 Latest Rumors
The Backyard

Today's Best Stuff

For Bloggers

Join the Yardbarker Network for more promotion, traffic, and money.

Company Info

Help

What is Yardbarker?

Yardbarker is the largest network of sports blogs and pro athlete blogs on the web. This site is the hub of the Yardbarker Network, where our editors and algorithms curate the best sports content from our network and beyond.