Found February 04, 2013 on Blog So Hard Sports:
The 2012-13 NFL season was a good one for young quarterbacks in general. The league saw 4 teams with first time QBs lead their respective teams to the playoffs — 3 of which were rookies in Robert Griffin III, Russell Wilson, and Andrew Luck (Colin Kaepernick was a 2nd year player). Even more specifically speaking, this was a great year for the athletic, dual threat quarterback who can hurt your through the air and on the ground. All four of the aforementioned quarterbacks, including Luck who doesn't have as big a reputation as a runner, were able to find success by keeping defenses guessing with their rushing ability. So while all four of these players had varying levels of success this season, I am going to be looking at Kaepernick vs. Griffin for the purpose of the article. Colin Kaepernick went on to lead his team to the Super Bowl, eventually losing to the Ravens last night. Robert Griffin busted out of the playoffs in round one, leaving with a busted up knee, but went on to win the Offensive Rookie of the Year Award. The two were often compared to each other toward the end of the regular season, as they are both accurate passers and can change the game on a dime with their running ability. The 49ers were also employing the read option offense that Washington had been running all year to take advantage of Kaepernick's abilities. You can not just lay out their numbers side by side to get a fair comparison. Robert Griffin III started 15 regular season games for Washington, while Kaepernick started 7 for San Francisco. Kaepernick took over for a concussed Alex Smith during the Rams game on 9/11/12, so for all intents and purposes he saw significant action in 8 games this year. I am throwing out the playoff numbers and going to try and show their numbers based on regular season play. Since Kaep played 8 games and Griffin played 15, we will be basing these numbers off of doubling Kaepernick's regular season stats (throwing out the 2 games he made quick appearances) and then taking Griffin's stats and adding in the averages for 1 more game to bring both totals to 16. I am sure there may be an easier or better way of doing this, but for the purpose of this article, this is how it goes. If you want to look at their full season stats, go to ESPN StatsLab. Numbers adjusted based on 16 games:   QB Rating (not adjusted): Kaepernick: 98.45 Griffin III: 102.4 Passing Yards: Kaepernick: 3,628 Griffin III: 3413.3 Touchdown Passes: Kaepernick: 20 Griffin III: 21.3 Interceptions: Kaepernick: 6 Griffin III: 5.3 Completion Percentage: Kaepernick: 262/418 = 62.7% Griffin III: 275.2/419.2 = 65.6% Rushing Yards: Kaepernick: 608 Griffin III: 869.3 Rushing Touchdowns: Kaepernick: 6 Griffin III: 7.4 So as you can tell, the comparisons are very much warranted. Both players have some real similarities when looking at the numbers. It would be great to get a full season of both quarterback's starting so you can look at the numbers line by line. Obviously there are some factors that can not be accounted for such as Griffin having essentially a full season to learn on the job among many others (such as Kaepernick running for 181 yards in the divisional game), but this is the best I could come up with for now. Griffin edges out Kaepernick slightly in most categories except the passing yards category (and don't forget playoff victories). The numbers are pretty similar, and you can count on Kaepernick possibly raising his based on a full season of experience. Rounding the numbers off, Griffin throws 1 more touchdown, one less interception, completes 2.9% more of his passes, rushes for 261 more yards and 1 touchdown more than Kaepernick. Again, I would expect to see Kaep's rushing numbers come up a bit more in a full season if they continue to run the same offense, and possibly see Griffin's drop with less rushing attempts in an attempt to maintain health. Either way, these teams future's are extremely bright behind their multi-talented quarterbacks. As a Redskins fan, I will forever support Robert Griffin III and be overjoyed that he is my quarterback. And I am sure all 49ers fans will be saying the exact same thing about Colin Kaepernick.     Related posts: ESPN to Air a 25th Anniversary Doug Williams Piece with Robert Griffin III as Narrator Where will Robert Griffin take the Redskins? Robert Griffin III Takes Part in Practice Warmups: Not Ruled Out Yet
Original Story:
http://blogsohardsports.com/redskins/...
THE BACKYARD
BEST OF MAXIM
RELATED ARTICLES
WHAT AN HONOR
Robert Griffin III has reportedly won the NFL's Rookie of the Year Award, and Adidas released some new socks to celebrate.
This may be a bit late since Robert Griffin III was presented the award on Saturday, but for those of us who did not see his acceptance speech, now you have. "Well it's truly a blessing to be up here, to be able to stand first and foremost." After exchanging hugs from family and Redskins owner Dan Snyder, Griffin walked up to accept his award and looked pretty smooth in doing...
Noticeably absent from Super Bowl XLVII was the NFL's Rookie of the Year, Robert Griffin III. RG3 was selected second overall in last April's NFL draft and led the Washington Redskins to the playoffs. However he did not attend Super Bowl XLVII. 'I'm a firm believer you don't go to the Super Bowl unless you're playing in it," Griffin said via the Associated Press. Every...
On Sunday morning, The NFL asked the Washington Redskins for an update on the recovery of Robert Griffin III — so as to aid in their potential scheduling of Redskins games in prime-time slots — the only thing that's a near certainty at this point is that the QB will begin training camp on the PUP list. However, the Baylor product has a different spin on the situation. On a...
Adidas announced on Twitter that they'll be releasing a special pair of socks in honor of Redskins quarterback Robert Griffin III winning the AP Offensive Rookie of the Year award. Congrats to @rgiii on winning Rookie of the Year! Brand new Team Speed socks available Tue on adidas.com. twitter.com/adidasUS/statu… — adidas America (@adidasUS) February 3, 2013 H/T Los That Sports...
Just over a year after winning the Heisman Trophy, Robert Griffin III will take home some hardware in his first professional season, as well. Griffin was named the NFL's Offensive Rookie of the Year by the Associated Press on Saturday, capping an impressive debut campaign for the Redskins quarterback. The Baylor product completed 65.6% of his passes for 3,200 yards, 20 touchdowns...
NEW ORLEANS -- Washington Redskins quarterback Robert Griffin III was named the NFL Rookie of the Year on Saturday. Griffin III beat out fellow quarterbacks Andrew Luck from the Indianapolis Colts and the Seattle Seahawks' Russell Wilson in a highly-debated vote. The rest of major the 2012 award were due to be announced during the NFL Honors ceremony Saturday night.
According to Alex Flanagan of the NFL Network, Minnesota Vikings running back Adrian Peterson game Robert Griffin III his phone number so he can share rehab tips with him. Peterson did a truly amazing job rehabbing after tearing his ACL last season.  He came back and rushed for over 2,000 yards, which is unheard of. The problem with Griffin's recovery is that he did a lot more...
Robert Griffin III has an award - and a warning for the NFL. The Redskins' Griffin beat out fellow quarterbacks Andrew Luck and Russell Wilson to win The Associated Press 2012 NFL Offensive Rookie of the Year award. From a brilliant rookie class, RG3 was a strong winner Saturday night in voting by a nationwide panel of 50 media members who regularly cover the league. '...
New Orleans, LA (Sports Network) - Washington Redskins quarterback Robert Griffin III and Carolina Panthers linebacker Luke Kuechly were named the offensive and defensive Rookies of the Year, respectively, for the 2012 season.Griffin received 29 votes to easily outdistance Indianapolis Colts QB Andrew Luck (11) for the honor. Seattle Seahawks quarterback Russell Wilson (10) was third...
Washington Redskins quarterback Robert Griffin III has been named the NFL's offensive rookie of the year by the AP. Griffin threw for 3,200 yards, 20 touchdowns and 5 interceptions.  He also ran for 815 yards and 7 touchdowns. Carolina Panthers linebacker Luke Kuechly was named the AP defensive rookie of the year.   Kuechly rolled up 164 tackles, 1 sack and 2 interceptions...
NEW ORLEANS (AP) -- Robert Griffin III of the Washington Redskins has won The Associated Press 2012 NFL Offensive Rookie of the Year award, beating out two other sensational first-year quarterbacks. Griffin, whose thrill-a-minute combination of running and passing skills led Washington to its first NFC East title in 13 years, pulled away from Andrew Luck of the Colts and Russell...
Redskins News

Delivered to your inbox

You'll also receive Yardbarker's daily Top 10, featuring the best sports stories from around the web. Customize your newsletter to get articles on your favorite sports and teams. And the best part? It's free!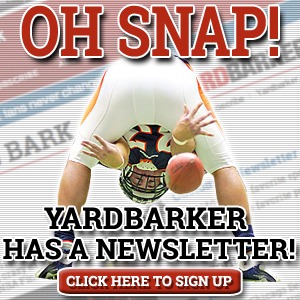 Latest Rumors
Best of Yardbarker

Today's Best Stuff

For Bloggers

Join the Yardbarker Network for more promotion, traffic, and money.

Company Info

Help

What is Yardbarker?

Yardbarker is the largest network of sports blogs and pro athlete blogs on the web. This site is the hub of the Yardbarker Network, where our editors and algorithms curate the best sports content from our network and beyond.