Found December 13, 2011 on Midwest Sports Fans:
He's got folk hero status across the country. He's winning when everybody was betting against him. He's won over fans outside of football. Could Tim Tebow one day win elections like he's winning football games now? It's clearly way too soon to predict, before you scoff at the notion of an athlete leveraging success on the field or court to success in politics, remember: there is a precedent, and plenty of it. From "Timmy" Tebow to Congressman Tebow? Tebow may win ugly, but it doesn't look like his fans care. For them, he represents something bigger. He's the underdog. He's also a Christian underdog. Both types of underdog fans are pulling for him. Conservatives love him and Christian-conservatives adore him. He can't win the presidential nomination this go-round, obviously, but could he be a favorite in 2036? He'll be around 50 years old by that time and potentially primed for the Republican nomination. Jack Kemp was on the ticket with Bob Dole for Vice-President when Clinton and Gore won in 1996. Kemp played the quarterback position, too. There are plenty of other sports figures who have made it to Congress. Coincidentally, or perhaps not so coincidentally, the positions which have the ball in their hands most often have fared the best in public office. Hall of fame Wide receiver Steve Largent, former NFL quarterback Heath Shuler, former Oklahoma quarterback J.C. Watts, NBA star Bill Bradley, and former all-star pitcher Jim Bunning handled both their fare share of the ball and political fireworks (Shuler is still in office). None of the former athletes-turned-politicians can claim to have worn their religious beliefs on their shirtsleeves (or tattoos on bodies) as strongly as how Tim Tebow does though; and this may be where he stands out most in the eyes of Republican voters, especially on the Christian-conservative side. Tebow causes controversy by being as open with his religion as he is. Some people take offense to Tebow's insistence that Jesus is responsible for his skills and work ethic and his propensity for public prayer. Right now though, Tebow's openness about his religious beliefs don't seem to matter as much as they would were he a candidate for public office. As a football player, Tebow is riding a wave, a rare wave, one that any want to compare to "a miracle." Headlines in the sports world read as if Tebow is a savior, which he may be for the Broncos this season. He has saved, enlightened, exalted, and healed many a football fan this year. Some fans are looking for his games to watch as if they are being "born again" as football fans. Eventually, Tebow's stardom will fall back to earth just like everybody else's in the sports world; but unlike everybody else, he will continue to be a darling to Christians and Republicans, and especially to those who are both. Tebow's future scriptures may not have "Hall of Fame" or "Super Bowl MVP" written in them, but they might just have other nominations inscribed. What do you think? Tebow wouldn't be the first outspoken athlete to turn to politics after his sports career ends as a way to affect change. Do you think he fits the profile of an athlete who could (or will) succeed in the political arena? Comment below. *********** Howard Alperin is Managing Editor of AmericanizeSoccer.com.
Original Story:
http://www.midwestsportsfans.com/2011...
THE BACKYARD
BEST OF MAXIM
RELATED ARTICLES
When asked if it's 'Tebow Time', the Denver Broncos QB stated, "No, it Broncos time!" That came after a 6-game winning streak and a come from behind win in OT against the Chicago Bears on Sunday. The 8-5 Broncos now lead the AFC West division and a game ahead of the 7-6 Oakland Raiders. Playoffs? Playoffs? This turnaround for the Denver Broncos is unprecedented....
The Chicago Bears defense forced Denver Broncos quarterback Tim Tebow into his worst game of the season Sunday — through three quarters.
He's done it again, and the Broncos have now won six in a row. After trailing 10-0 late in the fourth quarter against the Chicago Bears on Sunday, Tim Tebow helped orchestrate a 13-10 come-from-behind, overtime victory. Tebow drove the Broncos 63 yards on seven plays late in the fourth, capping the drive off with a 10-yard touchdown strike to Demaryius Thomas with 2:08 remaining...
I bet you never thought that Tim Tebow would be positively compared to Peyton Manning, but Cold Hard Football Facts noticed that he's one comeback shy of Manning's five straight in 2009: Last week it was already predicted Tim Tebow would lead another comeback against the Bears. That happened. Caleb Hanie didn't throw any interceptions this week, let alone three, but somehow...
You might have heard that Tim Tebow is a Christian, and a vocal one at that. His outspoken faith is inspiring to some and annoying to others, but the Broncos quarterback has given nothing but a smile and a forgiving comment to his detractors. He hears the comments, though, and after leading the Broncos to an improbable 13-10 victory over the Bears on Sunday, Tebow seemed to poke...
(Eds: With AP Photos.) By JOSEPH WHITE AP Sports Writer Like Tim Tebow, Roy Helu has become the most exciting offensive player on his team. And like Tebow, the Washington Redskins running back isn't shy about sharing his Christian faith, interspersing his answers to reporters' questions with phrases like: ''I've been praying to be a better steward and a better...
Two things we've come to expect from the New England Patriots' (anti-)PR machine: a) make only laudatory observations about the opposition (obvious exception: Freddie Mitchell), and b) don't dwell on any one topic too long. During his weekly radio appearance on WEEI, Pats quarterback Tom Brady only had nice things to say about his Denver counterpart, Tim Tebow, who...
Getty ImagesTom Brady and Tim Tebow. If it weren't for Aaron Rodgers, we might be talking about Sunday's Broncos vs. Patriots matchup as a battle of NFL MVP contenders. (Well, assuming voters would logically choose the player who was most valuable to their team, as opposed to the best player overall, but we digress). Still, with Tim Tebow lining up opposite Tom Brady, it sets...
Even the Denver Broncos seemed a bit dazed by this latest comeback led by Tim Tebow.
The New England Patriots are in the midst of their second two game road trip of the season with back-to-back road games against Washington and Denver.  Their earlier trip back-to-backers in Buffalo and Oakland yielded a win in the Black Hole and a loss in southern Canada. Now in addition to playing a football game in Denver they have to face the aspect of Tebow-mania.  Head coach...
Power rankings. You hate them. They're so arbitrary and pointless, especially when they include all 32 NFL teams. All you want to know after a good week of NFL action is who the bestest team in the NFL right now, and which one is the absolute barrel-scraping worst. That's why we have TOP AND BOTTOM OF THE NFL, where we go to great lengths to tell you who's the top dog in...
Broncos News

Delivered to your inbox

You'll also receive Yardbarker's daily Top 10, featuring the best sports stories from around the web. Customize your newsletter to get articles on your favorite sports and teams. And the best part? It's free!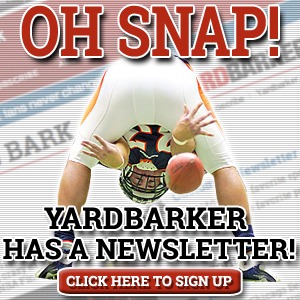 Latest Rumors
Best of Yardbarker

Today's Best Stuff

For Bloggers

Join the Yardbarker Network for more promotion, traffic, and money.

Company Info

Help

What is Yardbarker?

Yardbarker is the largest network of sports blogs and pro athlete blogs on the web. This site is the hub of the Yardbarker Network, where our editors and algorithms curate the best sports content from our network and beyond.