Found December 09, 2012 on Fox Sports Ohio:
PLAYERS:
Jerry Brown
,
Josh Brent
,
Jason Garrett
,
Demarcus Ware
,
Lawrence Vickers
,
Tony Romo
,
BenJarvus Green-Ellis
,
A.J. Green
,
Marvin Lewis
,
Geno Atkins
,
Dez Bryant
,
Dan Bailey
,
Manny Lawson
TEAMS:
Cincinnati Bengals
,
Dallas Cowboys
,
Oklahoma State Cowboys
CINCINNATI -- For the Cincinnati Bengals, Sunday was opportunity wasted. For the Dallas Cowboys, it was emotion captured. And because the Cowboys were able to deal with the emotions of a gut-wrenching weekend that saw one of their practice squad players killed in an auto accident and another teammate charged with intoxication manslaughter, they were able to deal with the Bengals and leave Paul Brown Stadium with a 20-19 win. Make no mistake, though, the emotion ran high, and the Cowboys pain at the death of practice squad lineman Jerry Brown cut deep. The mix of feelings was only exacerbated by the reality that nose tackle Josh Brent spent the day in jail, charged with alleged drunk driving that led to the death of his college roommate and friend. "I told our team," coach Jason Garrett said after the Cowboys kept their playoff hopes alive, "this is uncharted territory." The Cowboys draped Brown's jersey across the bench during the game; after it was carried off the field by DeMarcus Ware. Lawrence Vickers' voice broke in the locker room as he talked about the fact he was blessed to be able to wake up to play Sunday when a teammate did not. Tony Romo candidly admitted "there's no playbook for this kind of thing in life." And Garrett talked eloquently and at length about what he tried to tell the team after relaying the news of Brown's death. "He loved being part of our team," Garrett said. "And he showed it every day." He continued. "This is hard for everybody to handle " Garrett said. "We lost a 25-year-old man who had his whole life in front of him." Garrett, to his credit, did not trivialize what happened by saying the team used football to get past their emotions. He talked as if the team faced the emotion in honest and true ways, and he merely said he told the team the best way they could honor Brown was to play well. "There was a feeling of numbness on the field," Garrett said. "But they focused and found a way to win." The Cowboys did it by doing what everyone does when they deal with death or tragedy -- they keep living, and do their jobs. Dallas struggled for three quarters, but managed to hang around as the Bengals could not extend a third-quarter lead of 19-10. In the end, the Bengals contributed to their own defeat. They dropped three interceptions. They had some bizarre play-calling. With BenJarvus Green-Ellis averaging 7.4 yards per carry, they threw and threw and threw. When Dallas cut the lead to 19-17, the Bengals got the ball with 6:35 left and threw five passes in a row. Green-Ellis' last run came with 11:59 left and the Bengals up nine. Dallas only gave the Bengals one more possession and it was all pass. They also had two critical drops by standout receiver A.J. Green. One would have been a touchdown on a slant that was set up perfectly, the other would have kept a drive alive for a first down. Receivers don't catch them all, but to see it happen to Green was borderline shocking. "It starts with me," said Green, who sat at his locker and waited to address the media after the game. "As I go the team goes." The Bengals also wasted their second-half timeouts early, and when they needed them late so they could stop the clock and get the ball back with time left they didn't have one. Cincinnati had a sloppy game on an important day. "It's disappointing to lose a game that you have in hand, and then lose in the last two drives," coach Marvin Lewis said. The Bengals were forcing the Dallas offense into some very poor possessions. Defensive tackle Geno Atkins almost controlled the game for three quarters. Too, Pittsburgh and Baltimore both lost, which would have put the Bengals in position to control their playoff fate. Instead, they let Romo get hot in the fourth quarter. After throwing for 140 yards the first three quarters, Romo threw for 128 on 11-for-15 passing in the fourth. Included was a 27-yard dart to Dez Bryant that cut Cincinnati's lead to two. He followed by using the final 6:35 to set up Dan Bailey's game-winning 40-yard field goal on the game's last play. "The whole team is thinking about play that could have been made or should have been made," linebacker Manny Lawson said. :It's hard for everyone." But what was hard for the Bengals couldn't compare to what the Cowboys were experiencing, and everyone, including the Bengals, understood that truth. "It is a day that I am never going to forget," Garrett said of his finding the way to win. "However it is a tragic day for all of us. We will never forget about Jerry Brown."
Original Story:
http://www.foxsportsohio.com/12/09/12...
THE BACKYARD
BEST OF MAXIM
RELATED ARTICLES
The Dallas Cowboys did what they could to honor teammate Jerry Brown on Sunday, the day after he died in a car crash. The team laid a No. 53 jersey on its bench for the entire game against the Cincinnati Bengals, and various players held it up after pulling off a last-second 20-19 win. Defensive tackle Jason Hatcher grabbed the jersey and held it up after the game, and other defensive...
Funeral services are scheduled for Friday in St. Louis for NFL player Jerry Brown. Brown was a St. Louis native who was a linebacker on the Dallas Cowboys practice squad. He died in a suspected drunken-driving accident on Saturday. Cowboys defensive tackle Josh Brent was the driver and is charged with intoxication manslaughter. The Cowboys were holding a private memorial service...
Dallas Cowboys nose tackle Josh Brent walked out of jail Sunday after posting $500,000 bond. He's a free man for now, after being charged with intoxication manslaughter following the death of Cowboys' teammate Jerry Brown, who was a passenger in his car that wrecked. "Jerry Brown was my very best friend and I'm just trying to deal with his death right now," said a...
A witness to the car accident that killed Dallas Cowboys player Jerry Brown Jr. said she had to beg Cowboys lineman Josh Brent to pull his friend from the burning car. In a video posted on dallasnews.com, Stacee McWilliams said she arrived on the scene to find Brent pacing on the side of the road while Brown was calling from the overturned, burning 2007 Mercedes. "Jerry was...
Dallas Cowboys practice squad linebacker Jerry Brown was killed in a car crash early Saturday morning, and his former teammate, nose tackle Josh Brent (pictured), was arrested and charged with intoxicated manslaughter as the driver during the incident. Police say the accident occurred around 2:20 a.m. Saturday in Irving. Brent reportedly was speeding when his car hit a curb and flipped...
Dallas Cowboys nose tackle Josh Brent was arrested early Saturday morning for intoxication manslaughter after he was involved in an accident that took teammate Jerry Brown's life. According to Irving police, Brent's car was traveling at a high rate of speed on a State Highway 114 service road before it hit the outside curb at approximately 2:30 a.m. The car flipped at least one...
Jerry Brown, a defensive back on the Dallas Cowboys was killed in a car accident Saturday morning. Police have arrested his teammate, Josh Brent in regards to the incident. Brent, has been charged with intoxication manslaughter. Brent was driving above the speed limit early Saturday, with Brown a passenger, when the vehicle hit a curb and flipped at least once, according to Irving...
Dallas Cowboys practice squad member Jerry Brown was killed in a car crash early Saturday morning in which teammate Josh Brent was at the wheel. As a result the defensive tackle Brent was booked on intoxication manslaughter charges according to the Irving Police Department via NFL Network reporter Ian Rapoport on Twitter: RT @nfl_atl: Cowboys [...]
Dallas Cowboys defensive tackle Josh Brent, facing DUI manslaughter charges, released a statement through his agent Saturday night. "I am devastated and filled with grief," Brent said in the statement. "Filled with grief for the loss of my close friend and teammate, Jerry Brown. I am also grief-stricken for his family, friends and all who were blessed enough to have...
Josh Brent and Jerry Brown met in college, forming a close, unshakeable bond. Having realized his NFL dream, Brent was trying to help his roommate do the same. But Brent wasn't starting on Dallas' defensive line when the Cowboys kicked off in Cincinnati on Sunday. He was in jail, accused of driving drunk and causing a fatal accident that killed Brown, an expectant father...
The Dallas Cowboys invited Josh Brent to Tuesday's private memorial service for linebacker Jerry Brown. Brown was killed while riding in Brent's car early Saturday morning after a crash. Brent has since been released on $500,000 bail after being charged with intoxication manslaughter. The two roomed together at the University of Illinois and were best friends on the Cowboys...
San Francisco 49ers defensive end Demarcus Dobbs walked away from a one-vehicle accident on his 25th birthday last month and was arrested on suspicion of driving under the influence. Less than two weeks later, with the NFL rocked by the car crash that killed Dallas Cowboys player Jerry Brown and left his teammate, Josh Brent, facing a manslaughter charge, Dobbs swears he'll...
NFL News

Delivered to your inbox

You'll also receive Yardbarker's daily Top 10, featuring the best sports stories from around the web. Customize your newsletter to get articles on your favorite sports and teams. And the best part? It's free!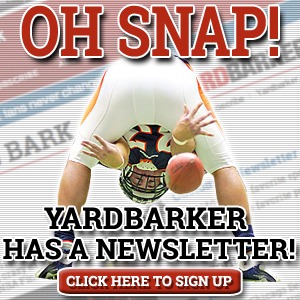 Latest Rumors
The Backyard

Today's Best Stuff

For Bloggers

Join the Yardbarker Network for more promotion, traffic, and money.

Company Info

Help

What is Yardbarker?

Yardbarker is the largest network of sports blogs and pro athlete blogs on the web. This site is the hub of the Yardbarker Network, where our editors and algorithms curate the best sports content from our network and beyond.