Found October 21, 2012 on Fox Sports Southwest:
With a 19-14 win at Carolina on Sunday, the Cowboys proved they could win a game and avoid the costly mistakes of the previous shortfall at Baltimore. They also proved they can't trust their offense. And with good reason. The key moment came late in the fourth quarter with the Cowboys trailing by one and facing third-and-nine at the Carolina 15 yard line. A team with a lot of trust in its quarterback and receivers throws a short pass there, something safe enough to avoid an interception but long enough that a good move or a missed tackle gets a first down. Instead, coach Jason Garrett opted for a Phillip Tanner run up the middle. The result was a field goal, a 16-14 lead and 3:25 left on the clock for Carolina to mount a comeback drive. The Cowboys were given a second chance to put the game away after Carolina turned the ball over on downs. This time the situation was third-and-four at the Carolina 18 and the clock winding down to a minute. A first down basically salts the game away, since Carolina had used all its timeouts. Garrett again went conservative with a Tanner run over right guard. That's a justifiable move, since the ensuing field goal forced the Panthers, now trailing by five, to play for a touchdown with 53 seconds left. On the other hand, it was another example of Garrett refusing to go for the dagger. It's apparent that Garrett doesn't trust his own offense, and why should he? There's the obvious issue with ball security and quarterback Tony Romo. Against Carolina, Romo didn't fumble, throw an interception or get sacked. But a lot of that had to do with the conservative play-calling. The Cowboys were safe and predictable in their play selection Sunday, which can get you a close win over a 1-5 Carolina but not many other NFL teams. Of course, when Romo throws it downfield, who knows what can happen? Miles Austin had a nice, 26-yard touchdown catch. But he also had an awful midfield fumble on what should have been a big play. Kevin Ogletree and proved a liability with two blatant drops. At least he didn't get called for an illegal shift this week. And then there's Dez Bryant, who had just two catches but was constantly in the middle of one commotion or another. Bryant dropped a pass in the end zone but caught a punt he should have let go with mere seconds left before halftime. He fielded the ball over his head at the 15 and his reckless running style could have led to a huge, momentum-crushing turnover. As it turns out, Dez was more a danger to himself than his team. Because he refuses to protect the ball or his body when corralled on a punt return, he took a direct shot to the head and had to be tested for a concussion. On another punt return, Bryant got tangled with a tackler Bryant said he got kicked and came up fuming. It's understandable for a player in that situation to give the tackler a shove, but Bryant would stop there and seemed intent on starting a brawl. He was eventually pushed out of trouble by a teammate, but Bryants' antics have grown tiresome. He is constantly jawing at officials after he thinks he's been held or interfered with. It would be fine if he barked at the refs while jogging back to the huddle, but Bryant always stands and gives the refs a full blast while holding up the rest of the team. If the Cowboys had a reliable running game, they wouldn't have to throw to their unreliable receivers as much. Once again, the running game was non-existent in the absence of the injured DeMarco Murray with a mere 85 yards on 31 carries. Felix Jones, who looked like a new man last week against Baltimore, was back to his old ineffective self with 44 yards on 15 carries. Jones did appear to tweak a knee early in the game, which is probably why third-stringer Tanner got 13 carries (for only 30 yards). The Cowboys clearly miss Murray, who can make a sub-par offensive line look decent. They also miss Laurent Robinson, who as a third receiver was a safety valve, in every sense, for Romo. Winning, especially on the road, is never easy in the NFL. But things are about to get a lot more difficult for the Cowboys can't trust their offense any more than they did at Carolina. Follow Keith Whitmire on Twitter: @Keith_Whitmire
Original Story:
http://www.foxsportssouthwest.com/10/...
THE BACKYARD
BEST OF MAXIM
RELATED ARTICLES
Dallas Cowboys wide receiver Dez Bryant is expected to play today against the Carolina Panthers despite a groin injury, reports Ian Rapoport of NFL.com. Groin injury or not, I'm told the #Cowboys expect Dez Bryant to play Sunday. He will still test it out in pre-game warmups, though. — Ian Rapoport (@RapSheet) October 20, 2012 While he's expected to...
SWITCHING SIDES
Washington Redskins coaching legend Joe Gibbs visited the Dallas Cowboys at the team's hotel in Charlotte on Saturday and gave the team a motivational pep talk.
As expected, Cowboys receiver Dez Bryant will start Sunday against the Panthers. Bryant had been listed as questionable with a groin injury.Fantasy Spin:The questionable label was always a little misleading as Bryant was never in any real danger of missing Sunday's game. Bryant has gone off for 200 yards and two touchdowns over the last two weeks and it's unlikely the Panthers...
By the off chance that you've been cryogenically frozen for the past seven weeks, here's a quick update on the Dallas Cowboys 2012 season. They dismantled the New York Giants in week 1, got manhandled by Seattle in week 2, won a not-as-close-as-it-looks game against Tampa Bay in week 3, got manhandled again by Chicago in week 4, and then were able to wrestle defeat from the...
Dallas Cowboys wide receiver Dez Bryant is expected to play Sunday against the Carolina Panthers, despite being listed as questionable because of a groin injury. A team source told NFL.com Saturday that Bryant will test out the injury before the game and will start unless there is a setback.
I glad Coach has faith in me Juan… DeMarco Murray is still may not practice this week as he recovers from a sprained foot.  Jason Garrett had this to say about Murray: "We're certainly optimistic," Garrett said. "He's proven to be someone who heals quickly." "He was physical, he was downhill. They were going after the ball, and he handled it well," Garrett said...
Cowboys wide receiver Dez Bryant is active and will start against Carolina after being held out of practice Friday with a groin injury. Running back DeMarco Murray is inactive. That means Felix Jones gets the start for the Cowboys (2-3) against the league's 23rd-ranked run defense. Dallas' other inactives include safety Matt Johnson, defensive tackle Sean Lissemore, punter...
The Dallas Cowboys are expecting wide receiver Dez Bryant to start on Sunday against the Carolina Panthers. Concerns were raised when Bryant missed practice on Friday with what has been termed soreness.Bryant was unable to corral a two point conversion in last weeks 31-29 loss against the Baltimore Ravens.With 34 receptions and 364 yards Bryant is the leading receiver for the Cowboys...
It's been awhile since the Dallas Cowboys relied this heavily on their defense. But that's exactly what coach Jason Garrett did in Dallas' 19-14 win over the Carolina Panthers on Sunday. Faced with a third-and-4 at the Carolina 18 and the Cowboys leading by two points, Garrett elected to run the ball and kick a field goal rather than try to deliver a knockout punch...
Week one was a long time ago Juan… Kevin Olgetree was the darling of the fantasy world after week one.  Owners had images of LoRo 2011 dancing through their heads.  Too bad he hasn't done a thing since then.  Yesterday it appeared as though he was benched in favor of Dwayne Harris, although Jason Garrett said the benching was due to a finger injury. Cowboys insider Calvin...
With this week being the midway point for many fantasy football owners, winning this Week 7 game is huge. It can be a make or break point in your fantasy football season. That is why you need to check the Week 7 NFL Injury Report, as many key names have popped up, with some being less likely to suit up than others. Some of those key injuries include Jimmy Graham, Dez Bryant and Ahmad...
The Cowboys were able to defeat a bad 1-4 Carolina Panthers team, but barely and now the Cowboys get back to a very mediocre 3-3 record for the year. After six games, the Cowboys have an identity, which is a conservative and penalty making thirsty team. We are still a bad team, and you can definitely expect more of the same type of games. The Cowboys have absolutely proven the penalty...
Cowboys News

Delivered to your inbox

You'll also receive Yardbarker's daily Top 10, featuring the best sports stories from around the web. Customize your newsletter to get articles on your favorite sports and teams. And the best part? It's free!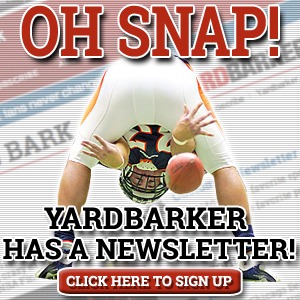 Latest Rumors
The Backyard

Today's Best Stuff

For Bloggers

Join the Yardbarker Network for more promotion, traffic, and money.

Company Info

Help

What is Yardbarker?

Yardbarker is the largest network of sports blogs and pro athlete blogs on the web. This site is the hub of the Yardbarker Network, where our editors and algorithms curate the best sports content from our network and beyond.