Posted December 09, 2012 on AP on Fox
Josh Brent and Jerry Brown met in college, forming a close, unshakeable bond. Having realized his NFL dream, Brent was trying to help his roommate do the same. But Brent wasn't starting on Dallas' defensive line when the Cowboys kicked off in Cincinnati on Sunday. He was in jail, accused of driving drunk and causing a fatal accident that killed Brown, an expectant father who had just landed a spot on the Cowboys practice squad. About an hour after the grieving Cowboys secured an emotional 20-19 victory over the Bengals on the final play, a barefooted Brent walked slowly out of the jail in the Dallas suburb of Irving after his release on $500,000 bond. Surrounded by camera crews and reporters, Brent had several patches of missing hair and a bandage wrapped about his right hand. ''Jerry Brown was my very best friend, and I'm just trying to deal with his death right now,'' Brent said, stopping briefly when asked if he had anything to say to Brown's family. He didn't answer any other questions. Brent, a 6-foot-5-inch, 320-pound nose guard, was arrested at the scene of the accident Saturday on suspicion of driving while intoxicated, a charge upped to intoxication manslaughter after the 25-year-old Brown died. Attorney George Milner complained that Brent's bond was set ''16 times higher than it would have been for anybody that doesn't play for the Dallas Cowboys.'' ''He is torn up,'' Milner said. ''It's not a good moment for anyone. I'm going to take him home. He needs family around him.'' Brown had promised his family that he would play professional football full time, his grandmother said. ''He lived for football,'' Theresa Clark, 63, of St. Louis, told The Associated Press on Sunday. ''He loved it with all his heart.'' The two athletes' friendship, which blossomed during their three seasons at the University of Illinois, was obvious to those who knew them. Milner said Brown was living with Brent during the six weeks he spent with the Cowboys. ''You can't get any tighter than those two,'' Milner said, crossing his index and middle fingers. ''It was the closest family he had was Jerry Brown.'' The circumstances surrounding Brown's death didn't change his family's view of his relationship with Brent, who pleaded guilty to a driving under the influence charge while a player at Illinois in 2009. ''I'm quite sure that Jerry thought the world of him and respected that young man,'' Clark said of Brent. In the Illinois case, Brent was sentenced to 60 days in jail and two years of probation among other sanctions, court records show. According to a probable cause affidavit released Sunday by Irving police, officers said they detected ''a moderate odor of alcohol'' from Brent's breath and that he ''admitted to consuming alcohol at a club,'' but wouldn't identify which one. Police said Brent gave a blood sample at the hospital on Saturday. Brown's mother, Stacey Jackson of Champaign, Ill., confirmed Brown's final Facebook post from Nov. 29, in which he wrote that he was expecting a child and ''how the fast life isn't as fun as it use to be after living it for so long.'' ''She will be here in two more months,'' Jackson said of Brown's baby daughter. ''She is going to be well loved. I have scrapbooks and everything to show her what type of father she had.'' Clark saw Brown about four or five months ago, but spoke with him frequently via Facebook. ''I have 20 grandchildren and Jerry is the oldest,'' Clark said. ''They all looked up to him. They praised him. They were all really upset and crying. They are going to miss their big cousin. He was one in a million.'' The accident happened hours before Brent was to be on a team flight to Cincinnati. The Bengals held a moment of silence before Sunday's game, and most Cowboys bowed their heads. Dallas quarterback Tony Romo and several other players had their hands over their hearts. On Fox's NFL Sunday pregame show, Cowboys owner Jerry Jones said the team had focused on Brown's death in the ''last few hours.'' He didn't mention Brent, who played in the first 12 games and was a bigger presence than expected on defense because of injuries to Jay Ratliff. ''First of all we all know, but we remind ourselves that there is something more important than football, and this is life, and certainly the lost life of Jerry,'' Jones said. ''On the other hand, they know the best way they can honor Jerry, because he was such a hard worker, so conscientious and enthusiastic about his career.'' The Cowboys didn't hide their emotions after Dan Bailey kicked a field goal as time expired to keep the team's playoff hopes alive. ''I don't remember crying this much other than maybe the day I was born,'' Dallas defensive end Marcus Spears said. ''With Josh's situation and Jerry being gone, you felt it.'' Cowboys spokesman Rich Dalrymple said the team was planning a private memorial service for Tuesday in the Dallas area. It marked the second straight week the NFL found itself dealing with a tragedy right before game day. Last Saturday, Kansas City Chiefs linebacker Jovan Belcher fatally shot his girlfriend before killing himself in front of his coach and general manager. The 25-year-old Belcher shot himself in the parking lot at the team's practice complex at Arrowhead Stadium.
Original Story:
http://msn.foxsports.com/nfl/story/Da...
THE BACKYARD
BEST OF MAXIM
RELATED ARTICLES
Dallas Cowboys nose tackle Josh Brent walked out of jail Sunday after posting $500,000 bond. He's a free man for now, after being charged with intoxication manslaughter following the death of Cowboys' teammate Jerry Brown, who was a passenger in his car that wrecked. "Jerry Brown was my very best friend and I'm just trying to deal with his death right now," said a...
Dallas Cowboys practice squad linebacker Jerry Brown was killed in a car crash early Saturday morning, and his former teammate, nose tackle Josh Brent (pictured), was arrested and charged with intoxicated manslaughter as the driver during the incident. Police say the accident occurred around 2:20 a.m. Saturday in Irving. Brent reportedly was speeding when his car hit a curb and flipped...
Dallas Cowboys nose tackle Josh Brent was arrested early Saturday morning for intoxication manslaughter after he was involved in an accident that took teammate Jerry Brown's life. According to Irving police, Brent's car was traveling at a high rate of speed on a State Highway 114 service road before it hit the outside curb at approximately 2:30 a.m. The car flipped at least one...
Tragedy has once again struck the NFL this morning.In the early hours of 12/8, Cowboys defensive tackle Josh Brent was the driver of the vehicle which was involved in an accident which flipped the car, killing fellow teammate, and old friend from college, Jerry Brown.Brent has been charged with intoxication manslaughter in Brown's death."Officers who were at the scene believed...
The Dallas Cowboys invited Josh Brent to Tuesday's private memorial service for linebacker Jerry Brown. Brown was killed while riding in Brent's car early Saturday morning after a crash. Brent has since been released on $500,000 bail after being charged with intoxication manslaughter. The two roomed together at the University of Illinois and were best friends on the Cowboys...
The Dallas Cowboys did what they could to honor teammate Jerry Brown on Sunday, the day after he died in a car crash. The team laid a No. 53 jersey on its bench for the entire game against the Cincinnati Bengals, and various players held it up after pulling off a last-second 20-19 win. Defensive tackle Jason Hatcher grabbed the jersey and held it up after the game, and other defensive...
Dallas Cowboys practice squad member Jerry Brown was killed in a car crash early Saturday morning in which teammate Josh Brent was at the wheel. As a result the defensive tackle Brent was booked on intoxication manslaughter charges according to the Irving Police Department via NFL Network reporter Ian Rapoport on Twitter: RT @nfl_atl: Cowboys [...]
Jerry Brown, a defensive back on the Dallas Cowboys was killed in a car accident Saturday morning. Police have arrested his teammate, Josh Brent in regards to the incident. Brent, has been charged with intoxication manslaughter. Brent was driving above the speed limit early Saturday, with Brown a passenger, when the vehicle hit a curb and flipped at least once, according to Irving...
Funeral services are scheduled for Friday in St. Louis for NFL player Jerry Brown. Brown was a St. Louis native who was a linebacker on the Dallas Cowboys practice squad. He died in a suspected drunken-driving accident on Saturday. Cowboys defensive tackle Josh Brent was the driver and is charged with intoxication manslaughter. The Cowboys were holding a private memorial service...
Dallas Cowboys defensive tackle Josh Brent, facing DUI manslaughter charges, released a statement through his agent Saturday night. "I am devastated and filled with grief," Brent said in the statement. "Filled with grief for the loss of my close friend and teammate, Jerry Brown. I am also grief-stricken for his family, friends and all who were blessed enough to have...
San Francisco 49ers defensive end Demarcus Dobbs walked away from a one-vehicle accident on his 25th birthday last month and was arrested on suspicion of driving under the influence. Less than two weeks later, with the NFL rocked by the car crash that killed Dallas Cowboys player Jerry Brown and left his teammate, Josh Brent, facing a manslaughter charge, Dobbs swears he'll...
NFL News

Delivered to your inbox

You'll also receive Yardbarker's daily Top 10, featuring the best sports stories from around the web. Customize your newsletter to get articles on your favorite sports and teams. And the best part? It's free!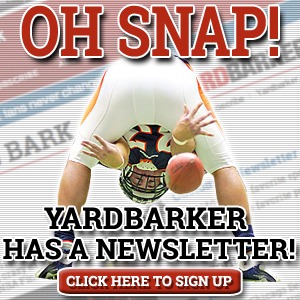 Latest Rumors
The Backyard

Today's Best Stuff

For Bloggers

Join the Yardbarker Network for more promotion, traffic, and money.

Company Info

Help

What is Yardbarker?

Yardbarker is the largest network of sports blogs and pro athlete blogs on the web. This site is the hub of the Yardbarker Network, where our editors and algorithms curate the best sports content from our network and beyond.