Found September 22, 2012 on Denver Sports Chat:
Dallas, TX. Anytime the Dallas Cowboys lose a game, it seems as if there is more crisis that they have to deal with than any other team does after a loss in the entire NFL. If they lose a tight one, the critics say they can't win the close ones and don't have what it takes. If they lose in ugly fashion and get blown out, everyone who doesn't believe in them suddenly knew it was coming as they continue to proclaim the Cowboys are done and the season is over. After an impressive win on the road in New York over the Giants in week 1, week 2 became a critical game to show that they were finally for real. Playing in Seattle is rarely easy for any visitor, but if you wanna be taken seriously and silence the critics for a little while at least, a strong performance and a win would be just the right solution. Unfortunately for the Dallas Cowboys and their fans, they did what they almost always seem to do in this sort of situation. They looked lethargic, not ready to play, and ended up getting taken apart by a less talented Seahawks team. It seems as if this formula has been going on forever now. In one week, Dallas looks as if they have turned the corner and will be a legit threat in the NFC East, only to follow it up with a dreadful outing where they are undisciplined and mistake-prone. Now at 1-1, the Cowboys host the Buccaneers in a very dicey, tricky spot. Dallas is favored, supposed to win, as they finally return to Jerry-world for their home opener. With a win this week, they would do what they are supposed to, as it would surprise nobody really. But with a loss, crisis would hit this team extremely hard, and damage control would soon take over. Bottom line is, for the Cowboys to continue to fend off the many critics they do have, they must win this game versus Tampa Bay.
Should anyone trust the Dallas Cowboys from week to week? I honestly don't know how anyone could, as they are easily one of the most erratic and inconsistent teams in the NFL over the last several years. And for anyone to put all of the blame on Tony Romo, that is just simply foolish. Ha she been part of the blame? Absolutely. However, the fact that this team has disappointed to a large degree can fall on several people's shoulders. From the owner, to the head coach, to the defense, there is plenty of blame to go around. So now the team is 1-1 heading into week 3, and it is pretty apparent that this NFC East is once again gonna be a dogfight all year long. The loss against Seattle is not that big of a deal, as long as the Cowboys take care of business and defeat a rebuilding Bucs team. Going to 2-1 would cure the ills for at least this week, and make a lot of folks forget how awful they were up in the Pacific Northwest. With Philly at 2-0 and winning tough, close games, the defending champion Giants now at 2-1 and looking strong again, and the Redskins showing a ton of life at 1-1, Dallas cannot afford to drop this home game and fall to below .500. Not only would they be in last place for the time being, but the amount of chaos that would ensue for the coming week would be very Dallas-like. Lots of drama, plenty of Jerry Jones on TV trying to calm everyone down, and Tony Romo explaining how they will all get better. The Cowboys must win this game in week 3 for yet another reason….the upcoming schedule. After Tampa Bay, Dallas faces Chicago, Baltimore, Carolina, N.Y. Giants, Atlanta, and Philly in order. With that meat grinder on the horizon, they absolutely cannot afford to go to 1-2. Some games during the season define a team and what they do for the remainder of it. This game versus the Buccaneers may be just that for Dallas in 2012. Denver Sports by J Simp
The post Dallas Cowboys must bounce back to avoid crisis once again appeared first on Denver Sports Chat.
Original Story:
http://feedproxy.google.com/~r/Denver...
THE BACKYARD
BEST OF MAXIM
RELATED ARTICLES
CAUTION: SLIPPERY SURFACE
A scab ref threw his hat to indicate a player came back in bounds after stepping out of bounds and Kevin Ogletree of the Cowboys immediately slipped on it. Why not click the Google +1 & the... Full story at Bob's Blitz ~ http://www.bobsblitz.com
As they were last week, the Cowboys will be without the middle of their offensive line and defensive line once again this week as center Phil Costa will miss with back problems and nose tackle Jay Ratliff will miss with an ankle problem. Costa left during their week 1 game against the Giants, while Ratliff has yet to play a snap this season after injuring himself in the preseason...
The Cowboys made a stir earlier this year when they announced that wide receiver Dez Bryant would be playing under a different set of team rules this season. Bryant had a curfew set up and his off-field entertainment choices curtailed by the team, which has been trying to find a way to keep Bryant from inhibiting himself in his free time so he can go back to being a downfield threat...
Tony Romo, Dez Bryant and the Dallas Cowboys could be facing a disappointing 1-2 start if they do not fix the problems that led them to a head-scratching blowout loss against the Seattle Seahawks last week. The loss led many fans and critics to wonder what kind of the team the Cowboys are this year? Although the first weeks of the NFL season always contain a degree of parody, a loss...
Sean Lee was a hero yet again, picking off a pass on a deflection the first quarter. The play set up the Cowboys' lone touchdown. We're using the following to define regression: 2. Relapse to a less perfect or developed state. We use that word today because of this— 13 penalties for 105 yards. An interception in Dallas territory in the first quarter, which led to a Tampa...
Poor Tony Romo, not only did he get destroyed on this sack by the Tampa Bay Buccaneers Gerald McCoy but he didn't even get a penalty for a helmet-to-helmet hit from the replacement officials:
Injured wideout Miles Austin has returned to action for the Cowboys after leaving earlier with a rib injury.Fantasy Spin:Dez Bryant could see more targets down the stretch if Romo is unsure about throwing Austin's way.
It's been a tough season so far for the replacement officials in the NFL. It seems to be obvious to almost every NFL player, coach and fan, who's name isn't Roger Goodell, that the replacement reps aren't up to par with the currently locked out officials. We all know that the old officials made mistakes, but the amount of mistakes seemed miniscule compared to what we've...
The Dallas Cowboys beat the Tampa Bay Buccaneers by a score of 16-10. However, the score could have been one less touchdown for the Bucs as their offense could not get anything going. Tampa Bay started off quick when Aqib Talib stepped in front of Cowboys' wide receiver Miles Austin to intercept the pass from Tony Romo. Josh Freeman would go on to throw a one yard touchdown pass...
I must admit my views are a bit slanted when it comes to being objective about the Dallas Cowboys. Are you kidding me? America's Team, Jerry World? And let us not forget the newest product to sweep the nation - "Jerry Wipes". However long my tenure at being a loyal and devout follower of said "Holier Than Thou" football team; I can say the glow has started...
Each time they head to the practice field, Dallas Cowboys players pass motivational messages posted outside the locker room. One poster stresses three characteristics that head coach Jason Garrett wants to see from his squad: Passion, emotion and enthusiasm. Garrett should consider adding a fourth word to the list. Consistency. Dallas continues to display none heading into Sunday...
Cowboys News

Delivered to your inbox

You'll also receive Yardbarker's daily Top 10, featuring the best sports stories from around the web. Customize your newsletter to get articles on your favorite sports and teams. And the best part? It's free!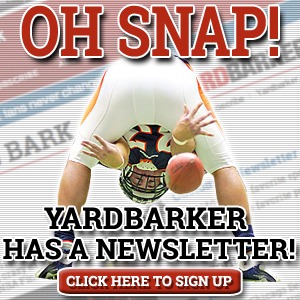 Latest Rumors
Best of Yardbarker

Today's Best Stuff

For Bloggers

Join the Yardbarker Network for more promotion, traffic, and money.

Company Info

Help

What is Yardbarker?

Yardbarker is the largest network of sports blogs and pro athlete blogs on the web. This site is the hub of the Yardbarker Network, where our editors and algorithms curate the best sports content from our network and beyond.