Found November 13, 2012 on Fox Sports:
PLAYERS:
Tony Romo
,
Miles Austin
,
Sean Payton
,
Drew Brees
,
Jason Garrett
,
Doug Martin
,
Laurent Robinson
,
Matt Ryan
,
Mike Smith
,
Joe Flacco
,
John Harbaugh
,
Mark Sanchez
,
Rex Ryan
,
Michael Turner
,
Calvin Johnson
,
Ben Roethlisberger
,
Rick Reilly
,
Brian Schottenheimer
,
Wayne Hunter
,
Greg McElroy
,
Nick Foles
,
Riley Cooper
,
Jake Scott
,
Bryce Brown
,
Connor Barth
,
Blaine Gabbert
,
Bill Cowher
,
Michael Vick
,
Anquan Boldin
,
Joselio Hanson
,
Norv Turner
,
Peyton Manning
,
Andrew Luck
,
Darren McFadden
,
DeAngelo Williams
,
Angelo Williams
,
Jermichael Finley
,
Santonio Holmes
,
Nate Burleson
,
Randy Moss
,
Mark Barron
,
Leonard Johnson
,
Lavonte David
,
Arthur Brown
,
Derrick Brooks
,
Kevin Bacon
,
Brian Kelly
,
Lindsey Vonn
,
Edgerrin James
TEAMS:
Dallas Cowboys
,
Cleveland Browns
,
Philadelphia Eagles
,
New Orleans Saints
,
Atlanta Falcons
,
Baltimore Ravens
,
New York Jets
,
Detroit Lions
,
Pittsburgh Steelers
,
St. Louis Rams
,
Tennessee Titans
,
Tampa Bay Buccaneers
,
Jacksonville Jaguars
,
Oakland Raiders
,
San Diego Chargers
,
Carolina Panthers
,
Minnesota Vikings
,
Green Bay Packers
,
San Francisco 49ers
,
Indianapolis Colts
,
New York Knicks
,
Boise State Broncos
,
Stanford Cardinal
,
Kansas State Wildcats
,
Notre Dame Fighting Irish
Before the 2012 NFL season started, I picked the Cowboys to qualify for the playoffs as one of the NFC's two wildcard teams. Naturally, I heard about it. "Your obsession with the Cowboys and blatant man-crush on Tony Romo is not only disturbing, but it's clouding your judgment. You happen to be one of my favorite NFL writers, but the odd love affair you have with Romo keeps you from becoming great," wrote Tony C. from Bethlehem, Pennsylvania. "The Dallas offensive line couldn't stop a JV defensive line. This team isn't winning six games dude," wrote Brad P. from Orlando. "Are you on Jerry's payroll? I don't get it. You pick them every year. Year after year. And they let you down ever year. You're like a spurned lover. Just let go. You'll feel so much better once you do. This is coming from a Cowboys fan!" wrote Kyle in San Antonio. Well, we're 10 weeks through the 2012 NFL season, the Cowboys are 4-5, and I...
Original Story:
http://msn.foxsports.com/nfl/story/We...
THE BACKYARD
BEST OF MAXIM
RELATED ARTICLES
The Dallas Cowboys have saved their season for another week. On Sunday afternoon, they finally played some inspired football en route to a 38-23 whipping of lousy division foe, the Philadelphia Eagles. Dwayne Harris and the Cowboys ran away from the Eagles on Sunday, saving their season. In this game, the Cowboys got 3 TDs from other places besides their offense, as Dwayne Harris...
Dallas Cowboys quarterback Tony Romo claims that wide receiver Dez Bryant is maturing and has gotten much better since he was a rookie a few years ago. "Dez has come full circle from where he was a couple of years ago," Romo said, per the Dallas Morning News. "We go by catches whether or not someone has a good game as fans or as media, sometimes. But when we watch the tape...
IRVING, Texas Jason Garrett spent a few minutes discussing one of Tony Romo's best plays of the season after Sunday's 38-23 victory in Philadelphia. Following his Monday press conference, the Cowboys coach went into greater detail for about 10 minutes, talking about Romo's ability to extend plays. With the Cowboys down 17-10 in the third quarter, Romo bounced around...
We're seeing something this season very similar to what we have over the last five years in the quality of play from Tony Romo and Eli Manning during the month of November. For some odd reason, the performances over the last five years or so of these two elite quarterbacks have been closely compared but in November they seem to end up on opposite ends of the field. It turns out...
PHILADELPHIA -- Tony Romo threw two touchdown passes that kept Dallas even through three quarters.
Felix Jones found the end zone for the third time in 2012. Tony Romo has been the starting quarterback in Dallas during six of the last seven months of November (he was injured in 2010). Heading into Sunday's game at Philadelphia, Romo had a record of 19-4 during those November games. Romo played a good part of his 24th November game on his back, thanks to an offensive line that...
Jason Garrett talked Monday about taking the good with the bad when you have Tony Romo at quarterback. "You're going to have some plays that you don't like, and you have to live with those, and we've had a few of those," Garrett said. "But at the same time, you have to allow for the other ones. You have to be balanced in how you evaluate it." On...
CLASS IN SESSION
Cowboys wide receiver Dez Bryant has agreed to undergo anger management counseling for a year as part of deal involving a court case.
Magdalena Frackowiak's hotness will melt your eyeballs! (pics) [Brosome]Nicky Romero feat. NERVO – Like Home (Dillon Francis Remix) (music) [EDM Sauce]2 faces of November: Tony Romo vs Eli Manning (sports) [The Penalty Flag]NASCAR announces clinching scenarios for Homestead (sports) [FanViewPoint]The one good thing about Mondays… (pics) [theChive]She's Uncoachable: Nicole...
PHILADELPHIA (AP) -- Dallas scored big on all sides of the ball and pumped some life back into the NFC East race. Tony Romo threw a pair of touchdowns, Dwayne Harris had a 78-yard punt return TD, and Brandon Carr returned an interception 47 yards for a score to lead the Dallas Cowboys to a 38-23 win over the Philadelphia Eagles on Sunday. The Cowboys improved to 4-5, and are second...
Before the 2012 NFL season started, I picked the Cowboys to qualify for the playoffs as one of the NFCs two wild-card teams. Naturally, I heard about it. Your obsession with the Cowboys and blatant man-crush on Tony Romo is not only disturbing, but its clouding your judgment. You happen to be one of my favorite NFL writers, but the odd love affair you have with Romo keeps you from...
While I cannot imagine that game will ever be given the coveted "instant classic" designation, the result for the Dallas Cowboys was exactly what they needed. A road win against a team that is even more hopeless than they are. A team with perhaps more drama. And more veterans who may or may not have inspired efforts ready. And a coach that is certainly not enjoying his...
NFL News

Delivered to your inbox

You'll also receive Yardbarker's daily Top 10, featuring the best sports stories from around the web. Customize your newsletter to get articles on your favorite sports and teams. And the best part? It's free!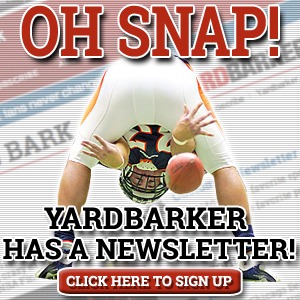 Latest Rumors
Best of Yardbarker

Today's Best Stuff

For Bloggers

Join the Yardbarker Network for more promotion, traffic, and money.

Company Info

Help

What is Yardbarker?

Yardbarker is the largest network of sports blogs and pro athlete blogs on the web. This site is the hub of the Yardbarker Network, where our editors and algorithms curate the best sports content from our network and beyond.