Found October 09, 2012 on 60 Max Power O:
PLAYERS:
Tony Romo
,
Kyle Orton
,
DeMarco Murray
,
Lance Dunbar
,
Felix Jones
,
Jason Witten
,
James Hanna
,
John Phillips
,
Miles Austin
,
Dez Bryant
,
Raymond Radway
,
Derrick Dockery
,
Mackenzy Bernadeau
,
Doug Free
,
Jason Garrett
TEAMS:
Chicago Bears
,
Dallas Cowboys
With the Cowboys still coming back from the bye week, we take a quick look at grading the first four games we've seen in this season of 16. We will try our best to not continue to let the bad taste left by the Chicago Bears impact our decisions. The goal is to evaluate evenly both victories and both losses. Let us know how you think we did and what you'd change in the comments and on Facebook! Quarterback: B- Many of you are going to think that this grade is too high. It may be, but we just can't put the struggles of this team on Tony Romo. We can only imagine the types of dreams that Romo has at night. We imagine they go something like this: Big, mean, ferocious monsters chasing him endlessly, and then just when he is able to reach out for help, his helper slips away. That's exactly how his season has gone so far. The offensive-line and receivers need to take some of the blame for #9's struggles. The line hasn't blocked a soul since week 1 and seemingly every game a receiver makes a game-changing mistake. Of course, this is not to say Romo is not without fault. We've seen him miss a few passes that could've gone for big gains. He's also been back to his pressing ways when the Cowboys fall behind, which naturally give way to the inflated interception stats. On his own Romo would've gotten a C+, but the late touchdown by Kyle Orton in the Bears game gave the position a slight bump. Running Back: C+ Another case of a backup impacting the overall grade, this time for the negative. Demarco Murray still looks like the bruising workhorse that we saw last year. Problem is, the horse is stuck behind a wall made of mud and there's just nowhere for him to go. We've seen a few flashes of greatness, but also way too many negative plays on first and second downs. And then there was Felix. We actually saw the first nice burst by Felix up the middle on a draw play against Chicago, but that's far from enough to save him. Instead of long screens and nice returns, Felix is becoming known for drops and getting tackled at the 15 yard line. Don't be surprised to see Lance Dunbar start to take away touches from Felix Jones. Tight Ends: C If we're being honest, this grade should be lower. Jason Witten was simply terrible through the first three games, while James Hanna and John Phillips did little to make us forget about it. The grade's a C because you just know Witten will turn it around. He looked a lot more like his old Witten-y self against Chicago, and that's what we expect the rest of the season. If Witten's Chicago was an anomaly, then this unit may turn into one of the weakest units on the team. Wide Receivers: C Other than Miles Austin, yikes. Dez Bryant actually had his second 100+ yard receiving game against Chicago, but does anyone really care? If he doesn't turn it around quickly he may end up in the doghouse of Cowboys fans across the nation. Ogletree had a great week one against New York, but hasn't done much of note since, other than drop the pass that led to a Romo pick against Chicago in the red zone.  Luckily, Miles Austin is earning some of that money Jerry tossed at him. He has looked crisp, caught everything, and has been in a nice rhythm with Romo all season. As long as he stays healthy, it will be important to continue to increase his targets going forward. We've seen nothing from the likes of Beasley and Holmes; will they get a chance this season? What about Raymond Radway, the man who just got signed to the practice squad? Will he get a chance? Still plenty of questions with this unit, none bigger than the huge question mark hanging over #88's head.  Offensive Line: F Well you had to know this grade was coming, right? They've been terrible. Penalties. Sacks. Plays for loss. All have been major issues for the patch-work offensive line. Question is, how do you fix it? There's been talk of Derrick Dockery coming in and replacing newcomer Mackenzy Bernadeau, but would he really be the answer to our problems? Doubtful. The de-evolution of Doug Free continues to be one of the most mystifying developments of this team in recent years. He was due to become the cornerstone of this offensive line, and now he looks like he couldn't be the cornerstone of a six-year-olds sand castle. ' Coaching: D+ Hey, they're still 2-2. For all the faults and the mistakes and the mess ups, this team is still set up at 2-2. Now we're not ready to rain praise down on them. The team has often look flat, and save for the Giants game, unprepared. The coaching staff will need to do a better job of scheming to get Murray in a groove. If they can find that groove in the running game, everything else will return to form.  There's been constant chatter about Garrett giving up play-calling duties. While we don't see it happening, it would be interesting to see the result of such a move. It would take less pressure off of Jason Garrett, something he probably wouldn't mind right now. If this team doesn't compete for a playoff spot at the end of the season, we could see the end of the Garrett regime in Dallas.  Be sure to check out other great articles at Sports Media 101.
Original Story:
http://www.60maxpowero.com/patriots/c...
THE BACKYARD
BEST OF MAXIM
RELATED ARTICLES
Tony Romo and the Dallas Cowboys are underachieving this season. Dallas sits 2-2 coming out of their early bye week and need to get things together on offense. Romo is a solid NFL QB but he is not elite. I've watched all of the Cowboys games this season (Romo and Austin are on my fantasy team) and I have been very disappointed. The Cowboys have a feature RB, very good to...
IRVING, Texas The Dallas Cowboys' crack P.R. staff moved swiftly Wednesday to debunk a story out of Baltimore that quarterback Tony Romo had cracked under heavy pressure from the Ravens' press corps. A reporter had just asked Romo via conference call if he was pleased with the amount of passes he's being asked to throw this season when the quarterback fell silent. ...
It's on the record that Players View feels that Terrell Owens can still play. There is also the feeling that he creates these weird stumbling blocks for himself that for instance kept him from making the grade in Seattle. In looking at the film that he generated as a Seahawk he had no problem getting open which is why he was targeted so much. He just dropped crucial catches.When...
Following Dez Bryant's arrest in July for allegedly assaulting his mother, Tony Romo was one of the first Cowboys to speak publicly about the young wide receiver. The Cowboys quarterback showed support for Bryant by saying he prays for him and lets Bryant know that he has his back. On Wednesday, Romo was asked during a conference call with Baltimore media members if he offers...
IRVING The Dallas Cowboys were without a punter during Thursday's practice at Valley Ranch. Chris Jones is dealing with a knee injury and Brian Moorman a groin injury. Both players have held on Dan Bailey's kicks this season, but if neither is available, Tony Romo could be the Cowboys' holder in Baltimore. "There's a possibility that Tony's going to hold...
The Dallas Cowboys sit in their bye week at 2-2.  This coming off a terrible loss on national TV where the entire league could see that QB Tony Romo has not improved and the Dallas defense which has improved has not improved all that much. Before the season started I was concerned that the Cowboys [...][[ This is a content summary only. Visit my website for full links, other content, and more! ]]
Wesley Hitt/Getty Images   Follow @Dan Vasta and like Gridiron Grit on Facebook  Tony Romo and the 'Boys are coming off a bye week, but their third rated offense has been abysmal this season in terms of points per game. The Cowboys ranks the third to worst in football (30th) averaging just 16.2 PPG, and Romo has taken all of the blame (deservedly so). To throw for 5 TD and...
(Eds: Updates throughout. With AP Photos.) By STEPHEN HAWKINS AP Sports Writer Tony Romo and the Dallas Cowboys have done a lot of giving this season. That is good in charity, not when you're a team trying to win in the NFL. With his five interceptions in the last game, Romo has already been picked off eight times this season. That's seven more interceptions than opposing...
As the saying goes, a chain is only as strong as its weakest link. Well, if the Cowboys are a chain, they're only as strong as their offensive line.When it hasn't been false starts and holding calls, it's been little protection for Tony Romo and few holes for DeMarco Murray and the run game.But according to Cowboys executive vice president Stephen Jones, the front five...
It's a tough matchup because both teams are coming off games which left them questioning just how good is the sum of their parts...Questions of faith abound for both the 'Boys and the Ravens...not of a spiritual nature, of course, but of a tactical and personnel nature.The last time the Dallas Cowboys took the field, quarterback Tony Romo threw five interceptions and they...
Football fans and fantasy owners were treated to some good quarterback play in the Week 6 opener between the Steelers and the Titans. Ben Roethlisberger's touchdown pass to Mike Wallace covered 82 yards and caused fist-pump ripples across fantasyland. Matt Hasselbeck posted a fantastic game that would have been even better had his receivers' hands not betrayed him time and...
The Dallas Cowboys have been off since an embarrassing prime-time performance that prompted talk they could miss the playoffs for a third straight season. In reality, they're just slightly off the pace in the NFC East, but the next month-long stretch could determine if they are, in fact, a contender. The Cowboys open a difficult portion of the schedule Sunday against a Baltimore...
NFL News

Delivered to your inbox

You'll also receive Yardbarker's daily Top 10, featuring the best sports stories from around the web. Customize your newsletter to get articles on your favorite sports and teams. And the best part? It's free!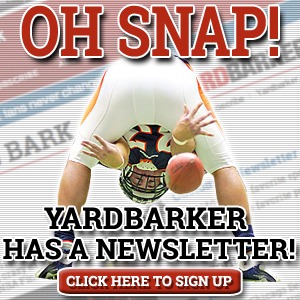 Latest Rumors
Best of Yardbarker

Today's Best Stuff

For Bloggers

Join the Yardbarker Network for more promotion, traffic, and money.

Company Info

Help

What is Yardbarker?

Yardbarker is the largest network of sports blogs and pro athlete blogs on the web. This site is the hub of the Yardbarker Network, where our editors and algorithms curate the best sports content from our network and beyond.