Found January 05, 2013 on Fox Sports Southwest:
PLAYERS:
Jason Garrett
,
Mike Holmgren
,
Dez Bryant
,
Anthony Spencer
,
Dwayne Harris
,
Doug Free
,
Miles Austin
,
Sean Lee
,
Bruce Carter
,
DeMarco Murray
,
Tony Romo
,
Tyron Smith
,
Nate Livings
TEAMS:
Dallas Cowboys
,
Philadelphia Eagles
On the day Jerry Jones named his new full-time head coach two years ago, he insisted that Jason Garrett would have final say on everything that happens on the roster and the coaching staff. There was a belief, by some, that Jones' longtime relationship with Garrett and his father would provide the foundation for a respectful working arrangement. But in the aftermath of another 8-8 season that doesn't include a playoff trip, Jerry has taken back that promise. Garrett told reporters Monday that he expected to continue calling plays and that he felt like the "program" was moving forward. It only took Jones a day to undercut his head coach in suggesting that changes were in store. He could've at least had the decency to pretend that some of these changes were Garrett's idea, but that's not his style. He let it be known on his weekly radio show (105.3) that he was "irritated" and that it would be "uncomfortable" for the next few weeks and months at Valley Ranch. And that's why Garrett had to change his tune when he hopped on the club's flagship station Wednesday. "We would talk it through," said Garrett in response to a question regarding play-calling. "Again, line one for me in the position that I'm in is what's best for the Dallas Cowboys in every way, shape or form, however were doing. Anything and everything is on the table." And does that include Garrett's job? It's been seven days since the season ended and Jones hasn't definitively answered the question of whether Jason will return as the head coach in 2013. It's highly unlikely that he'll make a change at this point, but obviously he's mulling a lot of things over. His absence at Valley Ranch has been conspicuous over the past few days. And he hasn't left a lot of clues regarding what changes he's planning to make, which has left a lot of room for speculation. I know that staffers at Valley Ranch have begun the process of evaluating everything that took place on the field this season. They want to be ready when Jones pops his head in the office and starts asking questions. But my best guess is that he's spent the last few days soliciting ideas from folks outside the organization. It wouldn't surprise me if he's been on the phone with his good friend Mike Holmgren. And perhaps even Jimmy Johnson will receive a call. Jones likes to listen to several ideas and then incorporate the things that ring true to him. A lot of what he was doing this past Tuesday came off as grandstanding for an angry fan base, but I do believe he will take action at some point. It's not going to appease folks just to hear that Jerry's upset. After the 2008 season ended with a 44-6 loss to the Philadelphia Eagles in a win-or-go-home game, Jones attempted to hire Dan Reeves as an offensive consultant. That deal fell through because Jones wanted Reeves to commit to a specific number of hours in the office, and the longtime coach found that somewhat offensive. No matter what changes are implemented, Jones has already demoted Garrett in a sense. The appearance he's created is of a head coach waiting around for his walking orders. Jason said the other day that he can't divulge which changes that he and Jerry have discussed. But there's a good chance he doesn't have a good sense for what's about to happen, either. The organization has to wait for Jones to return from his fact-finding mission. (He didn't even bask in the glow of the Cotton Bowl on Friday). Until then, everyone is free to speculate on what happens next. The Cowboys certainly have some players moving in the right direction Dez Bryant, Anthony Spencer, Dwayne Harris but there's also a lot of uncertainty. They have to figure out why starting right tackle Doug Free took an enormous step backwards and whether it's time to release him. And the same applies to wide receiver Miles Austin, who posted his second consecutive disappointing season. It's obvious that inside linebackers Sean Lee and Bruce Carter are core players moving forward, but you wonder how injury-prone they will be throughout their careers. And there's the same worry with running back DeMarco Murray, who missed six weeks with a foot injury. Jones has already made his decision at quarterback. Despite Tony Romo's dreadful performance last Sunday, he's still the Cowboys' best option. This is not considered a strong draft for quarterbacks and there's no one interesting on the free-agent market. The Cowboys will sign Romo to a long-term deal this offseason and hope they can surround him with enough talent to finally break through. The alleged rebuilding of the offensive line has been an utter disaster. Tyron Smith appears to be solid at left tackle, but everything else is up in the air. The Cowboys threw a bunch of money at two free-agent guards this past offseason. Nate Livings did a decent job at left side, but it's hard to imagine him as the long-term answer. The Cowboys need to either draft or sign in free agency a starting center, guard and possibly a right tackle. This is the result of the organization taking shortcuts instead of truly looking to rebuild the offensive line. Now, we wait for Jerry to return from the mountaintop. He's already effectively stripped Garrett of whatever authority he still possessed. And quite honestly, having a puppet for a head coach makes him pretty comfortable. Of course, there's one move Jerry could make that might transform the entire organization...oh forget it. Sorry I even brought it up.
Original Story:
http://www.foxsportssouthwest.com/01/...
THE BACKYARD
BEST OF MAXIM
RELATED ARTICLES
About a week ago, Dallas Cowboys head coach Jason Garrett wasn't open to  giving up his play-calling duties.I'm sure Garrett had a nice little talk with owner Jerry Jones because now he's changed his mind and is open to bringing in an offensive coordinator to call plays."We would just talk it through," Garrett said of a potential discussion with owner Jerry Jones during...
Cowboys Nation is still waiting for some "changes" in Dallas, nothing last week, but with a full work week this week, maybe some changes will start coming. Last year Tony Sparano looked like a good fit to return, but didn't happen, and this year the talk revolves around Norv Turner. You also have the possibility of changes on defense, Rob Ryan and the 3-4 are on the hot seat...
Jerry says changes are coming. No, he won't replace himself, Jason Garrett, or Tony Romo. But changes are coming. Involving someone. Or something. The potential "big" news this offseason is Jerry Jones' statement that he will consider making some significant changes. Involving someone. Or something. Rick Gosselin says that Jerry needs to make dramatic changes. We know what...
In 1992, Dallas Morning News Business Columnist Cheryl Hall did a feature piece on ex-Cowboys coach Jimmy Johnson.  After spending about two hours with Johnson at his office at Cowboys' headquarters, Hall came away with some unique insights about the two-time Super Bowl winning coach, including this bit from Johnson that Hall shared in today's Dallas Morning News as she reflected...
Following the Cowboys season ending loss to to the Redskins, coach Jason Garrett shot down talk of him giving up the offensive play calling duties next season. A few days later Garrett seems to have had a chance of heart. "Line 1 for me and the position that I'm in, is what is best for the Dallas Cowboys — in every way, shape and form and however we're doing anything. Everything...
Quarterback Tony Romo had more to do with the Cowboys 8 wins than their 8 losses (AP/Michael Keating) The Dallas Cowboys entered 2012 with lofty expectations from their fanbase and sports pundits alike, much as they had entered 2011, 2010, 2009, etc. Each year, it seems the Cowboys enter the season buoyed by the expected deep playoff runs that never materialize. Are the fans expecting...
While there is nothing an autopsy can reveal that would bring Dallas Cowboys linebacker Jerry Brown back to life, it can help us raise awareness by learning from the mistakes others have made. As you know, Brown was killed in a car accident last month. His teammate, Josh Brent, was driving the car and has been charged with intoxication manslaughter. Brent's blood alcohol content...
Dallas Cowboys owner/general manager Jerry Jones promised changes Wednesday after his team missed the NFL playoffs after a second straight 8-8 season that concluded Sunday with a loss to the Washington Redskins. "I'm very disappointed. I thought we missed a great opportunity," Jones told KRLD-FM in Dallas. "I can assure our fans this, that it's going to be very uncomfortable...
Dallas Cowboys head coach Jason Garrett said he's open to changes and would even give up his play-calling duties. "We would just talk it through,"Garrett said about about a possible meeting with owner Jerry Jones. "Again, line one for me in the position that I'm in is, 'What's best for the Dallas Cowboys' in every way, shape or form, however we...
NFL News

Delivered to your inbox

You'll also receive Yardbarker's daily Top 10, featuring the best sports stories from around the web. Customize your newsletter to get articles on your favorite sports and teams. And the best part? It's free!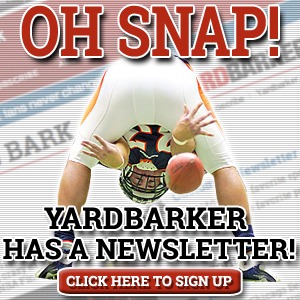 Latest Rumors
The Backyard

Today's Best Stuff

For Bloggers

Join the Yardbarker Network for more promotion, traffic, and money.

Company Info

Help

What is Yardbarker?

Yardbarker is the largest network of sports blogs and pro athlete blogs on the web. This site is the hub of the Yardbarker Network, where our editors and algorithms curate the best sports content from our network and beyond.