GREEN BAY, WI - AUGUST 15: Josh Cribbs #16 of the Cleveland Browns returns a kick against the Green Bay Packers during the preseason game at Lambeau Field on August 15, 2009 in Green Bay, Wisconsin. (Photo by Jonathan Daniel/Getty Images)
Josh Cribbs shares with rookie receivers Sometimes the things we love most about NFL players is also their worst and most self-destructive attribute. Josh Cribbs talked to the media yesterday and showed his patented toughness after taking a vicious head shot from an odd angle against the Ravens. The hit knocked him unconscious but Cribbs, as if transported from a different decade, wanted desperately to go back in the game. "I don't remember much about the hit, but after I came up, I was ready to play again, said Cribbs. "They had to take my helmet and everything for me not to play and had to keep tabs on me in the locker room so I wouldn't run back out there. I was ready to play and I'm ready to play this week. I'm back ready." This is how NFL players came to be the darlings of sports fans in the United States, but it's also why there is so much concern about the culture of the game that has historically influenced players to put their own physical safety and well-being second to their image as gladiators. Josh Cribbs is cut from that mold. It's one of the reasons he is so beloved, but it should also be great cause for concern. I've never read conclusive evidence linking former Browns running back Jerome Harrison's brain tumor to his career as a football player, but it became fair game when Josh Cribbs brought it up yesterday. I thought about Jerome Harrison not too long ago, but there hasn't been any sort of an update on him in the media. Cribbs has continued to stay in touch with his former teammate and his assessment was chilling. "I still go over to his house every now and then and talk to him," said Cribbs. "He's doing pretty bad. He's in and out of the hospital with seizures. They (Cribbs' family) just don't want the same thing to happen to me." From Mary Kay Cabot's report, there is plenty of indication that Cribbs' loved ones are all concerned for his health right now. It seems there are a lot of fans that are concerned too. The Browns had ten days off between games to heal up for the Giants, but we've all learned that these head injuries and concussions couldn't be further from ankle sprains that benefit greatly from a few extra days. Head injuries are cumulative meaning that they leave something in the head forever different than it was before. <a href="http://www.waitingfornextyear.com/2012/10/cribbs-head-injury-seems-to-have-scared-everyone-but-josh/#footnote_0_71185" title="I'm wording this carefully because I'm not a scientist or a doctor, but all indications are that by "cumulative," most doctors and scientists almost undoubtedly mean more fragile and damaged." class="footnote-link footnote-identifier-link">1 Apparently the only one who isn't scared is Josh Cribbs. 2 In a lot of ways that makes sense. Playing football is what Josh Cribbs does. Take that away from him and he's left like so many other retired players who can't figure out exactly who they are when you put the word "former" in front of the thing – professional football player – that they've done better than anything else in their lives. So maybe fear of head injuries is more manageable than fear of not being a football player anymore. Take all that and combine it with the fact that this is a contract year and it makes a lot of sense as to why Josh Cribbs wants to play so badly this week (and every other week for that matter.) For any fans who have been paying attention to player safety and health though, it is a scary-looking elixir that we've seen many players imbibe to their detriment in recent history. All you can do is hope that the doctors and Josh Cribbs aren't deluding themselves into thinking he shouldn't take a couple games off after that monster hit that stole his consciousness last Thursday night. It's bad enough that head injuries are considered cumulative. It would be even worse if they turn out to be even more devastating when they occur closer together and somehow Josh Cribbs sustains another this weekend in New Jersey. In the end, Cribbs said he didn't really even remember the collision with Ellerbe last Thursday. "The doctor said my brain focused on the immediate trauma and shut down everything else. Some guys have brain swelling and don't recover as fast. I've got someone looking out for me." It may be true that Cribbs has someone looking out for him. The biggest fear among Josh's family and fans it seems, is that number 16 isn't that someone. ___________________________________
I'm wording this carefully because I'm not a scientist or a doctor, but all indications are that by "cumulative," most doctors and scientists almost undoubtedly mean more fragile and damaged.
and the doctors that are seemingly going to let him play?
Original Story:
http://www.waitingfornextyear.com/201...
MORE FROM YARDBARKER
NFL News

Delivered to your inbox

You'll also receive Yardbarker's daily Top 10, featuring the best sports stories from around the web. Customize your newsletter to get articles on your favorite sports and teams. And the best part? It's free!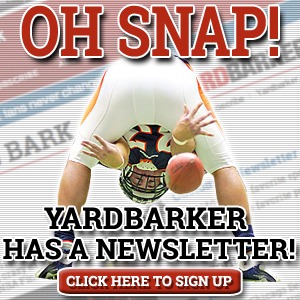 Latest Rumors
Best of Yardbarker

Today's Best Stuff

For Bloggers

Join the Yardbarker Network for more promotion, traffic, and money.

Company Info

Help

What is Yardbarker?

Yardbarker is the largest network of sports blogs and pro athlete blogs on the web. This site is the hub of the Yardbarker Network, where our editors and algorithms curate the best sports content from our network and beyond.