Found April 06, 2012 on Pro Football Zone:
Former NFL wide receiver Cris Carter indicated during today's NFL Live show that former Saints defensive coordinator should receive a lifetime ban from the NFL. "I believe that Gregg Williams, he shouldn't be able to coach football any more, and the reason why is because we have given him our best athletes. We have given him the best athletes to coach in the NFL for the last 16 years and he has taught them the worst tactics that you can teach a football player," said Carter via ESPN's Bill Hofmeier. "So, I believe the only penalty that would suffice for this type of crime: he shouldn't be able to coach any more. It is a privilege for us to be able to play football, and a privilege to play in the NFL, and he has taken the last 15, 16 years of his career, and he has decided to do that with it. I believe that Roger Goodell, his penalty should be: he shouldn't be able to coach in the NFL any more." I understand where Carter is coming from and I believed at one point that Williams should never coach again in the NFL. But when I look back on how Williams has coached and what the coaching environment in the NFL is like, I believe he deserves a second chance, like most people who mess up in life. We're all not perfect, and if he messes up again, then I'm fine with him never coaching again at the pro level ever again.
Original Story:
http://profootballzone.com/nfl/cris-c...
THE BACKYARD
BEST OF MAXIM
RELATED ARTICLES
When the NFL released coaching discipline for Bountygate, it stated that Gregg Williams would be able to appeal his "indefinite" suspension after one year. After hearing audio of one of Williams' speeches to Saints defenders, his suspension needs to be definite and everlasting.
Gregg Williams' indefinite suspension will be much more defined in a matter of time. And even if he's not banned for life, it's hard to imagine another team giving him an opportunity to continue his NFL coaching career, considering the public-relations backlash that would burden the entire franchise. Williams, who was deemed as the man in charge of the Saints' bounty...
The bounty system was on at full throttle when the 49ers faced the New Orleans Saints earlier this year in the NFC playoff semifinals. In a recording released earlier this week, disgraced former Saints defensive coordinator Gregg Williams can be heard explicitly telling his players to target certain San Francisco players, not to mention specific areas of their bodies.
When audio of Gregg Williams' speech to his Saints troops was leaked earlier this week, subsequently setting the internet ablaze, some have argued that other coaches use the same verbal tactics, while others were genuinely disgusted with Williams ordering defenders to purposely injure the opposition. You can definitely count Vikings punter Chris Kluwe into the latter category....
Recognized as one of the most hard-hitting defensive backs in the league, Baltimore Ravens safety Bernard Pollard presented his detailed and audacious analysis on NFL Commissioner Roger Goodell's emphasis on player safety. Asked in an interview on SportsRadio 610 KILT on his thoughts of the commissioner's ultimate goal, the seven-year veteran answered, "From what I see, we're...
Michael Silver of Yahoo Sports has obtained some audio from a pre-game speech from the night before the New Orleans Saints divisional playoff game against the San Francisco 49ers in 2011. The audio was captured by Sports by Pamphilon, who's working on a documentary about former Saints player Steve Gleason who's currently retired and suffers from ALS, which is currently linked...
A documentary film director says he had the right to release a recording of then-Saints defensive coordinator Gregg Williams exhorting his players to physically punish targeted San Francisco players in a playoff game. In a statement posted on his promotional website, Sean Pamphilon says he and former Saints special teams standout Steve Gleason have a production agreement that he...
The father of San Francisco 49ers receiver Kyle Williams believes the revelations about the New Orleans Saints bounty system linked to former defensive coordinator Gregg Williams may make the controversy something to be taken up by the courts. "Personally, suspension or not, it's probably best I'm never in a room with (Gregg) Williams and wonder if such an order crosses...
Former Saints safety Steve Gleason issued a statement saying that, despite a prior agreement, filmmaker Sean Pamphilon released the audio of Greg Williams' pregame speech against the 49ers without his permission. "Sean Pamphilon and I have an agreement that all recordings ultimately belong to me and my family," Gleason wrote on his website. "Nothing can be released...
Like all circus acts, there are times when a side show distracts onlookers from the main tent. What started as a unified (minus the contingent of illogical Saints fans) public admonishing of Gregg Williams and the Saints, has lead into a sideshow of public opinion addressing the ethics and motive of Sean Pamphilon. Sean Pamphilon wasn't the whistle-blower that started the mess...
According to WCPO, Cincinnati Bengals wide receiver Jerome Simpson was sentenced to 15 days in jail on Thursday, as part of a plea deal that included Simpson paying $7,500 in court fees ($5,000 can be donated to charity) and 200 hours of community service (he had already put in 50 hours). Simpson was originally indicted for trafficking marijuana on January 19 after federal authorities...
NFL News

Delivered to your inbox

You'll also receive Yardbarker's daily Top 10, featuring the best sports stories from around the web. Customize your newsletter to get articles on your favorite sports and teams. And the best part? It's free!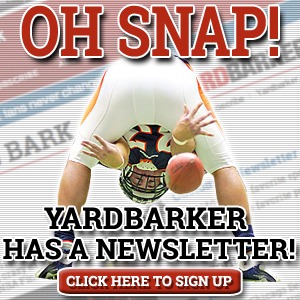 Latest Rumors
Best of Yardbarker

Today's Best Stuff

For Bloggers

Join the Yardbarker Network for more promotion, traffic, and money.

Company Info

Help

What is Yardbarker?

Yardbarker is the largest network of sports blogs and pro athlete blogs on the web. This site is the hub of the Yardbarker Network, where our editors and algorithms curate the best sports content from our network and beyond.