Found February 19, 2013 on Boston's Bettah:
During the 2012 offseason, the depth at this position was perhaps the deepest in the entire NFL. Oh what can change in a year! With the expiring contracts of Wes Welker, Julian Edelman, Deion Branch, and Donte' Stallworth the Patriots are now left with Brandon Lloyd, Matthew Slater, and Kamar Aiken as the only receivers locked up for 2013. This, along with the signing of Northwestern alum Jeremy Ebert and second year Andre Holmes to reserve/futures contracts, has left Pats nation to speculate. Welker: The big question mark that everybody knows is Welker. After turning in another stellar year (118 catches, 1354 yards, 6 touchdowns) it would appear he'd be set for a fat contract. However, if we can learn anything from the past, this will play out differently. Welker is Brady's favorite target; that much is given. But how important is that given that the Patriots haven't won a super bowl with Welker on their roster? BB will not be willing to resign Welker to a superstar contract, look for a contract in the neighborhood of 3 years/15 million. Backload that to '14/'15 and the Patriots still have money to spend while keeping Welker in TB's arsenal. That seems quite a bit lower than Welker's assumed asking price, but given that he has been franchised tagged in the last two years, money shouldn't be a huge issue. Edelman: Another possibility is for New England to completely cut ties with Welker and allow Julian Edelman to attempt to fill the void. Edelman is a restricted free agent, and resigning him would not be as an expensive expenditure for the Patriots. The question remains with Edelman…can he stay healthy? My guess is that he is resigned, given of his low cap cost and the amount of work/time the Patriots have invested in him. If he can stay healthy, he would fit in admirably for Welker at an extremely lower cost. His explosive traits and unique skill set make him a valuable asset, and expect him to stick around on a team friendly, multiyear deal. Branch: Deion Branch was one of my favorite receivers as a kid. Great route runner, very agile, he could play outside, slot, reliable hands, he was definitely Brady's favorite target before Welker. The things that I loved about him when I was young are fading fast though. Still a reliable route runner, his knowledge of the system/playbook is his most important asset, and while I believe that the Patriots have nothing to lose to have him back for another training camp, his days in New England are quickly coming to a close. If injuries impact the Patriots, look for the Pats to come calling, but he is simply too worn down at this point to be counted on a weekly basis. Pour one out for Deion, one of the classiest guys to play in a New England uniform. Stallworth: Like Deion, his days in New England are likely over. While his long touchdown against the Texans this year was one of the greatest plays of season, he quickly got injured and was placed on IR. That play speaks volumes to the lack of deep threat that the Patriots had, and clues to how potent this offense would become with a speedster able to stretch the field. Thank you Donte', that play had me watching highlights from years past. Ebert/Aiken/Holmes: Living in Evanston, Il you learn to love Northwestern athletics, mainly football and basketball. Jeremy Ebert, a 5'11 200 pound wide receiver out of THE Northwestern university comes back to the Patriots after being released during the final cuts last year, and latching onto the Eagles practice squad for most of the year. In his shortened time with the team last season, he received practice squad player of the week honors and seemed to mesh with Ryan Mallet well. With his graceful route running, and soft hands look for Ebert to make a push for the final position spot. An undrafted product of the 2011 class, Kamar Aiken shined as UCF and has bounced around from the Bills, Bears, and now here. One thing that we know is how much BB loves versatility, and Aiken certainly fits the build. In high school, he received all-state honors as a defensive back, and upon his arrival to Central Florida made the transition to wideout. Standing at a big, 6'2 219, his size has helped the Patriots prepare for bigger receivers during the week, and look for the Pats to bring him back as he is still practice squad eligible. 6'4 is a big receiver for NFL standards. How about one that is 6'4 and runs a 4.5 40? Look no further, as Andre Holmes has seemingly turned heads of the coaches everywhere he has been. Reportedly, it is his lack of football IQ that has presented his biggest obstacle. Expect him to continue to develop on the practice squad this year, and hopefully be able to make an impact in the coming years.
Original Story:
http://www.bostonsbettah.com/?p=5755
THE BACKYARD
BEST OF MAXIM
RELATED ARTICLES
According to the Boston Herald, the New England Patriots aren't going to place the franchise tag on wide receiver Wes Welker this offseason. While there is no replacement for Welker on the roster, that won't matter. Neither will the Patriots' abysmal record of drafting wideouts. The Patriots are simply not going to put an $11.4 million franchise tag on Welker, someone with...
Would Wes Welker be as productive outside of New England? The news surfaced Monday reporting that the New England Patriots are going to decline using the franchise tag on pending free agent Wes Welker  and even though the shifty slot receiver has been called the heart and soul of the team, the decision not to franchise him is the right one. The Patriots slapped the tag on Welker...
Wes Welker ultimately put himself in the situation he's in with the New England Patriots after he turned down a fully guaranteed two-year contract worth $16 million in 2011.   He was paid only $2.15 million after turning down the deal, while Chad Ochocinco made $6 million in 2011.   In 2012, Welker should have
  If Wes Welker leaves New England, how will his fantasy football value be affected? With the NFL free agency period now just weeks away, it is the perfect time for the third installment of the 2013 PPR Fantasy Football Rankings. Today we will be focusing on the wide receiver postion. Unlike the previous two positions (2013 PPR Fantasy Football Running Back Rankings, 2013 Fantasy...
Hey, Don't F*$% This Up: The New England Patriots and the Wes Welker Situation - The Triangle Blog -...
According to a report by the Boston Herald over the weekend, the New England Patriots are unlikely to place the franchise tag on veteran wide receiver Wes Welker once again this year. Welker, 31 wanted a long-term deal with the Patriots last season but the team used the franchise tag instead on the 31-year old receiver, a move that earned him $9.515 million last season. If New England...
Wes Welker's days as a New England Patriot may be numbered unless he plans to resign with the team on the cheap. Welker is 31 and according to the Boston Herald, a person with inside knowledge of the Patriots plans, says the team won't Franchise welker at $11.8 million. While there is no replacement for Welker on the roster, that won't matter. Neither will the Patriots' abysmal...
Atlanta Falcons cornerback Asante Samuel was a guest on FOX Sports radio and he had some advice for Patriots wide receiver Wes Welker. "He made the comment when I left, I chased the money and not the championship. So here's my advice to you, Welker: You better chase the money, brother," Samuel said, per ProFootballTalk.com. Unlike Samuel, it might be more important to Welker...
Fantasy Football News - According to Rotoworld, someone with "Intimate Knowledge of the Team's Thinking", believes that the New England Patriots will not tag wide receiver Wes Welker, making him a soon-to-be free agent. FFLockerRoom Take - While this is all just speculation as of right now because NO decision has been yet, this definitely makes us think some. Tom Brady...
In 2008, Asante Samuel left the New England Patriots to sign with the Philadelphia Eagles, at the time Patriots wide receiver Wes Welker acused Samuel of choosing money over championships. Now, years later, Welker is the one who's a free agent, and Samuel has some advice for him. Speaking on FOX Sports Wednesday, Samuel said Welker should leave the Patriots if some other team...
With Patriots wide receiver Wes Welker's future with the team uncertain, this would be the right time to consider a possible position switch for tight end Aaron Hernandez. He is obviously a receiving tight end as it is already, and has been used as a wide receiver countless times before. Wouldn't this move make sense? On paper, yes. Before signing his contract extension...
The Philadelphia Eagles gave Asante Samuel six years and 57 million reasons to leave New England in 2008, a move that prompted Wes Welker to accuse him of "chasing the money." Now, five years later, Samuel is advising Welker to do just that. Welker is poised to hit the free-agent market for a second straight year, and this time it appears the Patriots won't be slapping the...
Patriots News

Delivered to your inbox

You'll also receive Yardbarker's daily Top 10, featuring the best sports stories from around the web. Customize your newsletter to get articles on your favorite sports and teams. And the best part? It's free!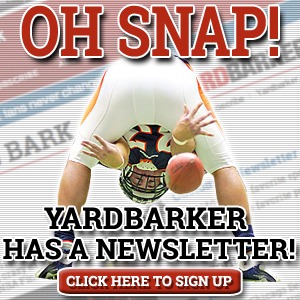 Latest Rumors
Best of Yardbarker

Today's Best Stuff

For Bloggers

Join the Yardbarker Network for more promotion, traffic, and money.

Company Info

Help

What is Yardbarker?

Yardbarker is the largest network of sports blogs and pro athlete blogs on the web. This site is the hub of the Yardbarker Network, where our editors and algorithms curate the best sports content from our network and beyond.