The Falcons probably aren't looking to replace these guys. The offseason is long, and if you write about the NFL or this specific football team during the doldrums, you're bound to annoy people eventually. There's a difference between indulging in some offseason fantasies and/or exploring unlikely possibilities and continuing to hammer a point that has no chance of becoming reality...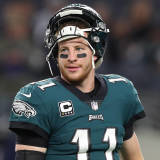 As a fan of the NFL, there's nothing quite like watching a player improve from year to year. In some cases, improvement can mean when a good player makes the leap and becomes great. In other cases, they can be seen when a forgotten player turns into a solid part of his team.Regardless off groupings, every NFL team has at least one player who's taken big steps in the right direction...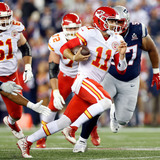 Stars of Week 1QB: Alex Smith, KC: 28-35, 368 yards, 4 TDs, 0 INTsRB: Kareem Hunt, KC: 17 carries, 148 yards, 1 TD 5 catches, 98 yards, 2 TDs)WR: Stefon Diggs, MIN: 7 catches, 93 yards, 2 TDsTE: Austin Hooper, ATL: 2 catches, 128 yards, 1 TDWhile not shocking to have two players from the victor of the Patriots-Chiefs game land here, the Chiefs providing those players does come as...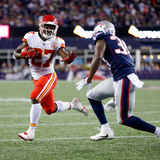 In case you missed it, football is officially back after a full slate of Sunday games. Despite a shortage of total offensive touchdowns across the league, there were plenty of unexpected results on the scoreboard and in the box scores to start off the season. Six teams scored fewer than 10 points on Sunday. But, there were still plenty of sleepers that performed above expectations...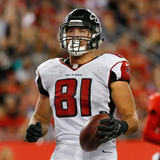 Falcons tight end Austin Hooper showed he's not only athletic, but can also play physical in Sunday's game against the Bears.Hooper found himself wide-open near midfield on a third-and-3 situation, and then caught a pass from Matt Ryan. He was then off to the races.Quintin Demps tracked him down near the 30-yard line, but Hooper put a brutal stiff-arm on him, and that was all the...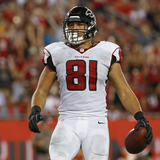 It's early, but the play of the 2017 NFL season belongs to Atlanta Falcons tight end Austin Hooper and his quarterback, Matt Ryan.Facing a third-and-three from deep in his own territory, Ryan nearly fell, then extended the play long enough to find Hooper wide open down field. Hooper then extended the play on his own, unleashing a sick stiff-arm on his way to the end zone for an 88...
Austin Hooper was selected by the Atlanta Falcons in the third round of the 2016 NFL Draft. Hooper is a tight end that played his college ball in Stanford. During his time at Stanford, Hooper put together a solid career and showed that he could eventually become a good, pass-catching NFL tight end. For whatever reason, rookie tight ends almost never make an impact in their first...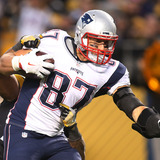 Tier 1: Rob GronkowskiTier 2: Jordan Reed, Travis Kelce, Greg OlsenTier 3: Jimmy Graham, Delanie Walker, Zach Ertz, Tyler Eifert, Kyle RudolphTier 4: Hunter Henry, Martellus Bennett, Jack Doyle, Eric Ebron, Austin HooperTier 5: OJ Howard, Cameron Brate, C.J. Fiedorowicz, Antonio Gates, Jason WittenAnalysis:The draft board for tight ends looks quite predictable, with Gronk on top...
Great play call here by the Atlanta Falcons as Matt Ryan found a wide open Austin Hooper. The rookie made the catch and then made his way to the end zone for his first career TD….. The Panthers forgot to cover Austin Hooper. And Matty Ice made them pay.@AtlantaFalcons TOUCHDOWN. #RiseUp https://t.co/VWk5XZx11s — NFL (@NFL) October 2, 2016
After the Atlanta Falcons spent the first two rounds of the 2016 NFL Draft shopping for defensive players, the team finally found some offensive talent in the third round, when they selected Stanford tight end Austin Hooper with the 81st pick. Hooper joins safety Keanu Neal (17th overall) and linebacker Deion Jones (52nd) in the Falcons 2016 draft class. While tight end hasn't been...
MORE STORIES >>
Falcons News

Delivered to your inbox

You'll also receive Yardbarker's daily Top 10, featuring the best sports stories from around the web. Customize your newsletter to get articles on your favorite sports and teams. And the best part? It's free!