Be sure to follow me on Twitter for more Broncos updates throughout the day. Denver Broncos News Drayton Florence: A Product of Raised Expectations | Max Denver
Perhaps no single signing since Peyton Manning better illustrates the Broncos' raised expectations than their pickup of cornerback Drayton Florence. Denver's signing — and that he was on the market in the first place — is evidence of two franchises in diametrically different places on the NFL spectrum. Mecklenburg: "I Have Good Days And Bad Days." | KOA 850
If he had it to do over again with the benefit of more than four years of hindsight, my guess is Goodell would change that answer quite substantially. The NFL committee on brain injuries to which he referred was subsequently so discredited as an apologist for the league that its co-chairmen, Dr. Ira Casson and Dr. David Viano, resigned in November 2009.
// <![CDATA[ google_ad_client = "ca-pub-1209026070761313"; /* 468x15 link content ad */ google_ad_slot = "0894341522"; google_ad_width = 468; google_ad_height = 15; // ]]>
// <![CDATA[
// ]]>
Cornerback Drayton Florence lands with Broncos after release by Bills | Washington Post
A crowded field of cornerbacks didn't deter veteran free agent Drayton Florence from picking the Denver Broncos as his new team. Denver Broncos newcomers ready for three-day minicamp | Denver Post
The newest Broncos boarded planes at airports across the country Thursday, heading to Denver for the official start of their NFL careers. Broncos add former Buffalo Bills cornerback Drayton Florence | Denver Post
The team on Thursday agreed to signed Drayton Florence, a 10th-year player who spent the past three seasons with the Buffalo Bills. Florence, 31, was released by the Bills last week, nine months after signing a 3-year, $15-million contract with the team. Jon Gruden, John Lynch honor student athletes at Mile High | Denver Post
The former NFL head coach-turned-broadcaster joined John Lynch at the annual Lynch Foundation Salute the Stars awards banquet at Sports Authority Field at Mile High Thursday. The foundation awarded $60,000 of college scholarships to eight Colorado high school students. Denver Broncos Blogs Elway, Manning, Fox, Nunnely, Lynch to attend Seau service | First and Orange
The Broncos are doing their part to honor the late Junior Seau as the faces of the franchise are planning to attend the "celebration of life" memorial service for the former San Diego Chargers linebacker Friday evening at Qualcomm Stadium. Denver Broncos Greats: An Interview with Floyd Little | MileHighReport
Last week, Floyd was recognized by the Pro Football Hall of Fame and Allstate insurance with a plaque that will forever hang at James Hillhouse High School in New Haven, Connecticut where Floyd played High School ball. (More on that here.) It was because of this honor that I got the opportunity to interview Floyd over the phone. A New Hope: The Denver Broncos' 2012 Offseason | SB Nation
The Denver Broncos' latest NFL Draft picks might not know a whole lot about the binary language of moisture vaporators, but this draft possibly deserves a '1′. Denver Broncos Players Attend Leadership Boot Camp | Yahoo! Sports
Eleven members of the Denver Broncos attended a three-day private leadership boot camp last week at the Broadmoor in Colorado Springs. It wasn't an event for Peyton Manning, as he stayed in Denver to continue his workouts.

Original Story:
http://broncotalk.net/2012/05/36012/b...
MORE FROM YARDBARKER
NFL News

Delivered to your inbox

You'll also receive Yardbarker's daily Top 10, featuring the best sports stories from around the web. Customize your newsletter to get articles on your favorite sports and teams. And the best part? It's free!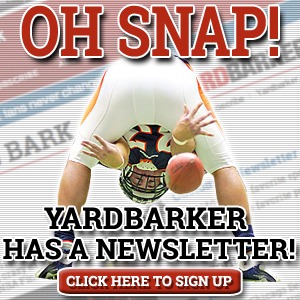 Latest Rumors
Best of Yardbarker

Today's Best Stuff

For Bloggers

Join the Yardbarker Network for more promotion, traffic, and money.

Company Info

Help

What is Yardbarker?

Yardbarker is the largest network of sports blogs and pro athlete blogs on the web. This site is the hub of the Yardbarker Network, where our editors and algorithms curate the best sports content from our network and beyond.