Found April 10, 2012 on BroncoTalk:
PLAYERS:
Tim Tebow
,
Mark Sanchez
,
Peyton Manning
,
Chris Kuper
,
Eric Decker
,
Kerry Collins
,
Curtis Painter
,
Peter Konz
,
Fletcher Cox
TEAMS:
New York Jets
,
Denver Broncos
,
Indianapolis Colts
,
Wisconsin Badgers
,
Mississippi State Bulldogs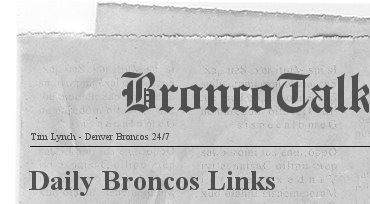 Win a custom commissioned sports athlete portrait – valued at $300!
Top Stories
Osweiler fits Broncos' profile for a backup QB backup | Denver Post
The Broncos were on the hunt for another quarterback even before they traded Tim Tebow to the New York Jets. And while fewer folks seem to be angered by that pursuit now that a four-time MVP and future Hall of Famer is the team's starting quarterback, the Broncos still are evaluating the signal callers on the draft board.
2012 NFL Draft Preview: Defensive Line | DenverBroncos.com
In the weeks leading up to the 2012 NFL Draft, DenverBroncos.com is taking a look at the draft prospects position-by-position.

Tebowmania is Not Enough to Oust Mark Sanchez | Yahoo! Sports
Can Tebowmania oust Mark Sanchez as the New York Jets' starting quarterback? It worked in Denver, when Tim Tebow played for the Denver Broncos, but Denver is not New York. The starting quarterback for the New York Jets is Mark Sanchez, and so far, no one from the Jets organization is saying anything different.
Denver Broncos News
Broncos Mailbag: Peyton Manning could use some running back help | Denver Post
Denver Post sports writer Mike Klis posts his Broncos Mailbag each month during the NFL offseason.
Starting guard Chris Kuper could be A-OK by training camp | Denver Post
Kuper, a fifth-round pick in the 2006 draft, had surgery soon after his New Year's Day injury against the Chiefs.
Broncos WR Eric Decker says Peyton Manning is 'throwing it great' | CBS Sports
It's been three weeks since the Broncos signed Peyton Manning. The initial excitement has worn off (Tim Tebow is now the Jets' problem), and it's been replaced by this reality: will Manning return to full health in time to actually be Denver's quarterback next season?
DENVER BRONCOS: MANNING FOR NOW, BROCK OSWEILER THE FUTURE? | NFL Soup
The Denver Broncos may have learned a lesson from the Indianapolis Colts: Be prepared. Last season, the Colts lack of a back-up plan to Peyton Manning resulted in Kerry Collins and Curtis Painter reducing their offense to a stuttering embarrassment. The Broncos, it seems, are all ready looking to the future and may look to pick up their Manning-successor in this year's Draft.
Denver Broncos Blogs
2012 NFL Draft: Denver Broncos Must Pass on "Project" Brock Osweiler | Bleacher Report
Brock Osweiler is a double-edged sword. He has shown lots of promise and raw talent, but he is still inexperienced and unpolished after only one season in college as the unquestioned starter at ASU.
2012 NFL Mock Draft: Broncos Select C Peter Konz In Latest Projection From SB Nation
The Denver Broncos have plenty of options when it comes to this year's NFL Draft, and expert opinions have differed quite a bit when it comes to projecting who the Broncos will select in the first round. In his latest mock draft, SB Nation's Ryan Van Bibber sees Denver strengthening its offensive line by selecting Wisconsin center Peter Konz.
Making sense of the numbers – the inherent flaws in explosion number and lateral agility | MileHighReport
If you don't know that the Denver Broncos are in dire need of some talent at the DT position, then you probably are a Raiders fan whose greatest lifetime accomplishment was completing seventh grade.
Scouting the Draft: 2012 Defensive tackles | IAOFM
It's Lying Season for the NFL (moreso than usual), but it's no great secret the Broncos have a significant need at defensive tackle, again. Last month I profiled Mississippi State's Fletcher Cox, who is expected to be long gone when Denver makes its first pick at #25, provided they remain there.
Denver Broncos Videos
Video: On The Clock — Broncos | ESPN
The On The Clock roundtable looks at the impact Peyton Manning will have on the Broncos and if they can contend for the Super Bowl.
Original Story:
http://broncotalk.net/2012/04/33638/d...
THE BACKYARD
BEST OF MAXIM
RELATED ARTICLES
New York Jets quarterback Tim Tebow drew a crowd of about 15,000 people in Georgetown, TX  on Sunday for an outdoor Easter service.  He encouraged those who attended to be outspoken about their faith. "It's OK to be outspoken about your faith," Tebow said. Tebow said that he doesn't mind the attention he receives from the convictions he has as well as his "Tebowing"...
If the Jets' goal in bringing Tim Tebow on board was to boost merchandise sales, their owner certainly isn't going to admit it. We all know Tebow has the Midas touch. Since the Jets announced the trade, No. 15 jerseys have been flying off the shelves. We don't need a sports business investigation launched around the New York/New Jersey area to reveal that. Jets owner Woody...
As expected, thousands of worshippers attended an outdoor Easter morning service featuring an appearance by Tim Tebow on Sunday. The New York Jets backup quarterback was scheduled to attend the two-hour service at Celebration Church in Georgetown, Texas. School buses shuttled hundreds of people to the event, which looked more like a rock concert than a church service. Some in...
Tim Tebow's outdoor Gathering of the Fuggalos ended up drawing roughly 15,000, about half of the 30,000 that organizers were anticipating, so clearly Tim Tebow is done as a cultural phenomenon and we can return to living peaceable lives devoid of Tebowtardery. Ooh ho ho. You got me. That's not true. Can't slip wishful thinking past you. Anyway, the Runslinger talked about...
If Jets starting quarterback Mark Sanchez finds himself a backup next year, he may not be able to say that fans never gave him a chance. A Quinnipiac University poll released Monday showed both general New York State residents and the state's football fans were fine with the trade for Tim Tebow, but they strongly felt Sanchez was the best option as the starting quarterback....
If there's anyone who mixes faith and sports, (and with it, intentionally or unintentionally, politics and sports) it's Tim Tebow. Those who believe sports should be kept from being used as a political platform need to cast the first stone at Tim Tebow, as he consistently commits that act over and over again. It was previously projected that 30,000 would come see Tebow preach...
[Surgeon General's Warning: Statistics!!!] The age old debate: Peyton Manning or Tom Brady, who is the better QB? We've argued it time and time again. Back in March of last year I recall a friendly discussion I had with a co-worker who happened to be a fan of the Patriots and Tom Brady. I argued, "Well, fine, forget the statistics and Super Bowls. Manning is better than Brady...
John Elway should be able to add some key pieces on both sides of the ball to the Denver Broncos roster later this month without ever venturing east of the Mississippi for any of the team's seven picks. With so much riding on Peyton Manning to carry the franchise back to the pinnacle of the [...]
The Luv Ya Steel Blue Crew, Mike, Aaron and Pat, opens up another season of Houston Texans football with their first installment of the new season. The three talk Texans free agent moves, with additions and losses and give their opinion on the moves. This is the start of a new season that will prove to be bigger and better than previous ones, and the LYSB crew starts it off with...
Win a custom commissioned sports athlete portrait – valued at $300! Top Stories Ghosts of Drafts Past: The Best and Worst Picks — QB | MaxDenver.com It's pretty thin here. Like the air in Leadville. The best quarterback in Broncos history, some chap named Elway, played his entire career with the organization, but was acquired via trade. NFL Players & Offseason Conditioning...
NFL News

Delivered to your inbox

You'll also receive Yardbarker's daily Top 10, featuring the best sports stories from around the web. Customize your newsletter to get articles on your favorite sports and teams. And the best part? It's free!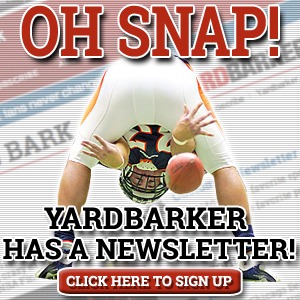 Latest Rumors
The Backyard

Today's Best Stuff

For Bloggers

Join the Yardbarker Network for more promotion, traffic, and money.

Company Info

Help

What is Yardbarker?

Yardbarker is the largest network of sports blogs and pro athlete blogs on the web. This site is the hub of the Yardbarker Network, where our editors and algorithms curate the best sports content from our network and beyond.