Found May 31, 2012 on BroncoTalk:
PLAYERS:
Peyton Manning
,
John Fox
,
John Elway
,
Eric Decker
,
Sealver Siliga
,
Von Miller
,
Casey Hampton
,
Ben Garland
,
Jack Del Rio
TEAMS:
Denver Broncos
,
Pittsburgh Steelers
,
Jacksonville Jaguars
,
Air Force Falcons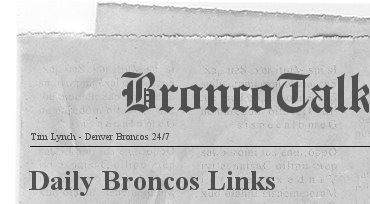 Be sure to follow me on Twitter for more Broncos updates throughout the day.
Denver Broncos News
Back At It | DenverBroncos.com
After a long weekend off, the Broncos were back at Dove Valley Wednesday afternoon for their fourth OTA practice.
Broncos' passing game out of sync after holiday break | Denver Post
There have been times, in the football jet wash that has followed Peyton Manning into the Broncos' offensive huddle, when Manning has said there will be a learning curve and there is plenty of work to be done. And that, every once in a while, there would be a day or two like Wednesday.
Notes from an OTA: May 30 | MaxDenver.com
It wasn't the finest day for the offense, which was dogged by incompletions, mistimed routes and general balkiness, some of which coach John Fox attributed to the rust of taking a four-day weekend for the Memorial Day holiday.
John Elway's final desire is to become an owner | Denver Post
They are E-Broncos. John Elway's team … again and more so. But how long will he stay this time, and will Elway end up as minority, or even majority, owner of the Broncos?
Broncos' Peyton Manning, Eric Decker work OT as offense stalls in OTAs | Denver Post
Peyton Manning and Eric Decker lingered on the Broncos' practice field for more than 15 minutes Wednesday, playing catch long after the rest of their teammates had headed into the locker room.
Broncos defensive tackle Sealver Siliga making most of his chance | Denver Post
Outside of maybe Utah and the Broncos' unofficial offseason depth chart, Sealver Siliga is relatively unknown. Get to know the name.
Broncos' decisions on Warren, Thomas should come in next few weeks | Denver Post
Thomas remains unsigned as an unrestricted free agent. And any decision the Broncos make on Warren is still on the horizon. So it is possible Thomas and the Broncos reconnect in the coming weeks.
Broncos' Von Miller shoots down fake trade on Twitter | NFL.com
No, the Broncos weren't willing to trade the most promising young pass rusher in the game for Steelers defensive tackle Casey Hampton. As pointed out by the guys at BroncosTalk.com, some enterprising Steelers fan pretended to "retweet" a trade from the Broncos official Twitter account.
// <![CDATA[ google_ad_client = "ca-pub-1209026070761313"; /* 468x15 link content ad */ google_ad_slot = "0894341522"; google_ad_width = 468; google_ad_height = 15; // ]]>
// <![CDATA[
// ]]>
Denver Broncos Blogs
A Man of Two Uniforms | MaxDenver.com
Ben Garland grew up nursing two dreams: to serve in the Air Force and to play for the Denver Broncos. Wednesday afternoon, they came together when he was sworn into the Colorado Air National Guard.
Scenes from a Practice: May 30 | MaxDenver.com
A collection of images from the opening periods of the Broncos' fourth OTA session, held May 30 at team headquarters.
Scouting the Broncos: 2012 defensive ends | IAOFM
Jack Del Rio believes in the importance of a front seven that attacks the offense constantly. He believes in it for defending the pass and the run and he has no illusions about it.
Denver Broncos Videos
OTAs Day Four: Fox | DenverBroncos.com
Head Coach John Fox talks about Wednesday's practice and how last year's rookies should benefit from the offseason program.
Original Story:
http://broncotalk.net/2012/05/37369/b...
THE BACKYARD
BEST OF MAXIM
RELATED ARTICLES
"But a four-time MVP made you some QB that we used to know!", laments the heartbroken Tim Tebow fan, body painted in Denver Broncos colors, singing to a framed picture of John Elway. Well done, Internets. Well done. Gotye's got nothing on this.
The first episode of Hard Knocks will air Tuesday, August 7 at 10 pm ET — Miami Dolphins (@MiamiDolphins) May 29, 2012 So Peyton Manning says no to Dolphins, Broncos and Manning say no to Hard Knocks, and, like love-scorned phoenixes rising from the flames of heartbreak, the two find each other. Don't worry, HBO can't be too sad. They will get to feature a first-time head...
After taking his job as Denver Broncos quarterback, Peyton Manning now has beaten Tim Tebow to the top spot for the best-selling jersey in the NFL.
It's confirmed: Jim Harbaugh could sell a ketchup popsicle to a woman in white gloves. Or at least he'd try to if it was in the best interest of his football team. The 49ers coach spoke to the media on Wednesday and attempted to spin the reports that said the team pursued Peyton Manning in March. "There's a perception out there, and it's an erroneous perception, that...
On Wednesday, two Denver Bronco players — one offensive and one defensive — will be ranked between 41-and-50 on NFL Network's Top 100 Players of 2012, the network has confirmed. The two players will represent the fourth and fifth Broncos to make the list (joining No. 98 Willis McGahee, No. 68 Elvis Dumervil and No. 52 Von Miller). That's a big improvement from 2011, when...
There was a spate of articles in the Star recently about what Peyton is up to. I didn't read them. It felt strange and foreign to overtly ignore news about someone that I cared so much about, a player whose every move was of daily interest to me for more than a decade. At some point, I stopped in and tried to scan one of them, but that felt even more strange. It probably...
In case you haven't been listening to the radio, this is a parody of Gotye's "Somebody I Used To Know." It focuses on a Indianapolis Colts fan and a Denver Broncos fan dealing with the departures of Peyton Manning and Tim Tebow from their team. Can't beat starting your day with a little football humor!
San Francisco head coach Jim Harbaugh claimed Wednesday afternoon that the 49ers never considered pursuing future Hall of Fame quarterback Peyton Manning when he was a free agent this winter. Prior to signing a five-year contract worth $96 million with … Continue reading →
In a recent interview with the 49ers head coach Jim Harbaugh, Harbaugh had some interesting comments when the subject of the niners' pursuing former free agent Peyton Manning came up. "It's an erroneous perception that we were flirting with Peyton Manning," Harbaugh said. "I keep hearing that over and over again. It's silly, and it's untrue. It's phony. Even the...
NFL News

Delivered to your inbox

You'll also receive Yardbarker's daily Top 10, featuring the best sports stories from around the web. Customize your newsletter to get articles on your favorite sports and teams. And the best part? It's free!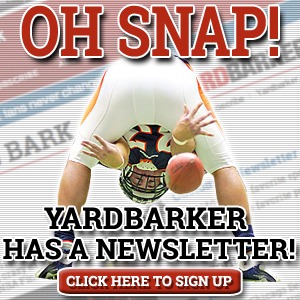 Latest Rumors
The Backyard

Today's Best Stuff

For Bloggers

Join the Yardbarker Network for more promotion, traffic, and money.

Company Info

Help

What is Yardbarker?

Yardbarker is the largest network of sports blogs and pro athlete blogs on the web. This site is the hub of the Yardbarker Network, where our editors and algorithms curate the best sports content from our network and beyond.