Found June 01, 2012 on BroncoTalk:
PLAYERS:
John Fox
,
Derek Wolfe
,
Peyton Manning
,
Roger Goodell
,
Matt Prater
,
John Elway
,
Eric Decker
,
Jack Del Rio
TEAMS:
Denver Broncos
,
Indianapolis Colts
,
Jacksonville Jaguars
,
New Orleans Saints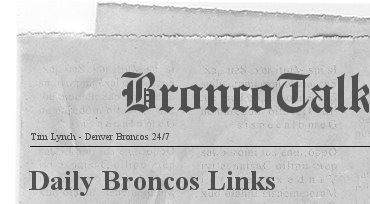 Be sure to follow me on Twitter for more Broncos updates throughout the day.
Denver Broncos News
OTAs Day Five: Del Rio | DenverBroncos.com
Defensive coordinator Jack Del Rio talks about why he wants size on the line, the competition in the secondary and his history with John Fox.
Jack Del Rio has a keeper in Derek Wolfe | Denver Post
When it came time for the Broncos to choose from an assortment of quality defensive tackles in the draft, somebody had to speak first.
Broncos will monitor how often Manning passes in practice | Denver Post
Peyton Manning is coming off a season's worth of missed games and has four neck surgeries in his medical history. With all that in mind, the Broncos have their quarterback on a pitch count of sorts as he learns the team's playbook.
Goddell believes harsh penalties will end bounties in the league | Denver Post
Commissioner Roger Goodell said he is confident bounty hunting will no longer be an issue in the NFL because of the severe penalties handed out in the wake of the New Orleans Saints scandal, adding that the actions taken by the league "speak very loudly."
Broncos kicker Matt Prater remains a "franchise player" for this season | Denver Post
Prater has not participated in the Broncos' offseason workouts, but he will be under contract for the coming season. The issue for both sides is what happens after 2012.
Mike McCoy says Manning, Broncos offense responded to poor practice | Denver Post
Broncos offensive coordinator Mike McCoy said his offense took Wednesday's subpar practice as a "challenge" and responded well when they returned to the field today.
Broncos aren't holding back QB Manning on field | SI.com
The Denver Broncos aren't holding back when it comes to Peyton Manning. Offensive coordinator Mike McCoy said Thursday he isn't making any special allowances for the four-time MVP who's returning from a nerve injury that caused weakness in his throwing arm, forced him to sit out last season and led to his release from the Indianapolis Colts.
// <![CDATA[ google_ad_client = "ca-pub-1209026070761313"; /* 468x15 link content ad */ google_ad_slot = "0894341522"; google_ad_width = 468; google_ad_height = 15; // ]]>
// <![CDATA[
// ]]>
Denver Broncos Blogs
John Elway content with current role as vice president of Broncos | First and Orange
I was hanging out in John Elway's office today. I was interviewing the Broncos' football operations boss for a Sunday story. We brought up the column today by the Denver Post's Woody Paige, who mentioned Elway ultimately would like to own the Broncos.
Could Hillman challenge McGahee to be Broncos' top back in 2012? | CBS Sports
The addition of Peyton Manning (and subtraction of Tim Tebow) has understandably generated most of the headlines for the Denver Broncos during this offseason.
As Peyton Manning Continues Work for Broncos, Fallout Continues from His Free Agency Tour | Yahoo Sports
The Denver Broncos returned to their off-season program on Wednesday and Peyton Manning once again started making news. While the local Denver media were discussing how he put in extra practice time with wide receiver Eric Decker, national media latched onto a story concerning the San Francisco 49ers' pursuit of Manning during his short stint on the free agency market.
Denver Broncos Team Report | USA Today
Like the mountains that overshadow Denver, there will be peaks and valleys as the Broncos' returning offensive players and quarterback Peyton Manning adjust. Their organized team activities began May 21 with the former; nine days later, they continued with the latter.
At DT, Bigger Is Better | MaxDenver.com
Jack Del Rio wants massive, space-filling defensive tackles — and he knows some of the answers will have to come from what he inherited.
Denver Broncos Videos
OTAs Day Five: McCoy | DenverBroncos.com
Offensive coordinator Mike McCoy talks about Peyton Manning's progression and how the offense is coming together.
Original Story:
http://broncotalk.net/2012/06/37456/b...
THE BACKYARD
BEST OF MAXIM
RELATED ARTICLES
Luke Del Rio spoke with GoPokes.com Thursday afternoon about his commitment to Oklahoma State. The 6-2, 190-pound quarterback becomes the eighth commitment in the class of 2013. Here is our question-and-answer session with the the son of Jack Del Rio, the defensive coordinator for the Denver Broncos and former head coach of the Jacksonville Jaguars.
"But a four-time MVP made you some QB that we used to know!", laments the heartbroken Tim Tebow fan, body painted in Denver Broncos colors, singing to a framed picture of John Elway. Well done, Internets. Well done. Gotye's got nothing on this.
It's confirmed: Jim Harbaugh could sell a ketchup popsicle to a woman in white gloves. Or at least he'd try to if it was in the best interest of his football team. The 49ers coach spoke to the media on Wednesday and attempted to spin the reports that said the team pursued Peyton Manning in March. "There's a perception out there, and it's an erroneous perception, that...
Jim Harbaugh wants to be clear: Despite working out Peyton Manning, the San Francisco 49ers always wanted quarterback Alex Smith. The 49ers head coach veered into an unprovoked discussion about Manning and Smith at the end of his session with reporters Wednesday. "Oh one other thing: There's a perception out there and it's an erroneous perception that we were flirting...
There was a spate of articles in the Star recently about what Peyton is up to. I didn't read them. It felt strange and foreign to overtly ignore news about someone that I cared so much about, a player whose every move was of daily interest to me for more than a decade. At some point, I stopped in and tried to scan one of them, but that felt even more strange. It probably...
In case you haven't been listening to the radio, this is a parody of Gotye's "Somebody I Used To Know." It focuses on a Indianapolis Colts fan and a Denver Broncos fan dealing with the departures of Peyton Manning and Tim Tebow from their team. Can't beat starting your day with a little football humor!
Be sure to follow me on Twitter for more Broncos updates throughout the day. Denver Broncos News Back At It | DenverBroncos.com After a long weekend off, the Broncos were back at Dove Valley Wednesday afternoon for their fourth OTA practice. Broncos' passing game out of sync after holiday break | Denver Post There have been times, in the football jet wash that has followed Peyton...
San Francisco head coach Jim Harbaugh claimed Wednesday afternoon that the 49ers never considered pursuing future Hall of Fame quarterback Peyton Manning when he was a free agent this winter. Prior to signing a five-year contract worth $96 million with … Continue reading →
In a recent interview with the 49ers head coach Jim Harbaugh, Harbaugh had some interesting comments when the subject of the niners' pursuing former free agent Peyton Manning came up. "It's an erroneous perception that we were flirting with Peyton Manning," Harbaugh said. "I keep hearing that over and over again. It's silly, and it's untrue. It's phony. Even the...
Cam Newton had a record breaking rookie season, breaking Peyton Manning's rookie passing yards record and shattering the all-time single season quarterback rushing touchdown record. He also brought the Panthers back from irrelevance, helping them to a 6-10 record despite awful defense, and giving them a lot of hope for the future. Possibly most importantly, he silenced all the...
NFL News

Delivered to your inbox

You'll also receive Yardbarker's daily Top 10, featuring the best sports stories from around the web. Customize your newsletter to get articles on your favorite sports and teams. And the best part? It's free!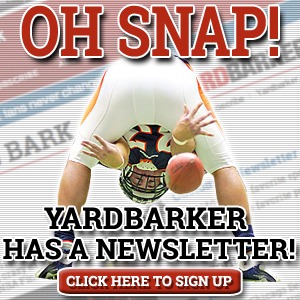 Latest Rumors
The Backyard

Today's Best Stuff

For Bloggers

Join the Yardbarker Network for more promotion, traffic, and money.

Company Info

Help

What is Yardbarker?

Yardbarker is the largest network of sports blogs and pro athlete blogs on the web. This site is the hub of the Yardbarker Network, where our editors and algorithms curate the best sports content from our network and beyond.