Found June 14, 2012 on BroncoTalk:
PLAYERS:
John Elway
,
Ty Warren
,
Peyton Manning
,
D.J. Williams
,
Eric Page
,
Todd Helton
,
Ben Garland
,
Derek Wolfe
,
Rahim Moore
,
Mike Adams
,
John Fox
TEAMS:
Denver Broncos
,
Colorado Rockies
,
New York Jets
,
Toledo Rockets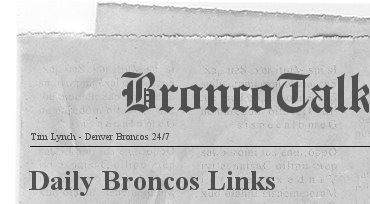 Be sure to follow me on Twitter for more Broncos updates throughout the day.
Denver Broncos News
Role models for John Elway the exec: Dad, Ozzie and Ted | USA Today
John Elway sits behind a massive desk inside his second-floor Dove Valley office, sipping coffee, engulfed by mementoes of a Hall-of-Fame playing career and a rising hope of capturing more Super Bowl championships – this time as one of the league's unheralded team builders.
Entering 14th season, Bailey as good — and fast — as he ever was | CBS Sports
Most of the focus relating to the Denver Broncos might be on the future Hall of Famer on the offensive side — you know, that quarterback named Manning — but don't forget about the Canton Corner on the other side of the ball.
Broncos DT Ty Warren ready for football, a.k.a. "the easy part" | Denver Post
By the end of today, the Broncos will head for their summer vacation, a six-week break from football before training camp begins July 25. But for defensive tackle Ty Warren, the work is only beginning.

Peyton Manning looking sharp in Denver Broncos' passing game | Denver Post
If Peyton Manning keeps this up, A.J. Smith's fears may be realized. The Broncos' minicamp practice Wednesday at the team's Dove Valley headquarters was easily the best Manning has performed since he put on a Denver uniform.
Peyton Manning at Broncos practice looking tip-top with passes | Denver Post
Optimism should not be constructed on name alone. The Denver Broncos' minicamp practice Wednesday at the team's Dove Valley headquarters was easily the best Peyton Manning has looked since he put on a Broncos uniform.
Woody Paige: D.J. Williams needs to tackle his problems elsewhere | Denver Post
At Broncos minicamp practice, when the offense ran inside, No. 55 of the defense was outside. That's exactly where D.J. Williams belongs.
Eric Page's chance to crack Broncos roster lies in his return game | Denver Post
Page was one of the most productive wide receivers in college football during his career with the Rockets. He left Toledo as the school's all-time leading receiver with 306 catches and three 1,100-yard seasons. He had 25 touchdown receptions.
Todd Helton visits Peyton Manning at Broncos practice | Denver Post
One day it's Peyton Manning's former offensive coordinator at the Broncos minicamp practice, the next it's a former Tennessee teammate.
Garland gives making Broncos roster his best shot | Colorado Springs Gazette
Asking a professional athlete about possibly being cut is a pretty good way to abruptly end a conversation. Thankfully, Ben Garland usually brings it up first.
Wolfe quickly getting up to speed with Broncos | Dayton Daily News
Not that long ago, Broncos rookie defensive lineman Derek Wolfe was down to his last $7 and wondering how he was going to pay rent.
Jets' Tebow putting on extra weight this season | Denver Post
The New York Jets backup quarterback revealed Wednesday after the second day of minicamp that he weighs a rock-solid 249 pounds — about 7-to-9 pounds heavier than last season with the Denver Broncos — and the team would like him to be at 250 to start the season.
// <![CDATA[ google_ad_client = "ca-pub-1209026070761313"; /* 468x15 link content ad */ google_ad_slot = "0894341522"; google_ad_width = 468; google_ad_height = 15; // ]]>
// <![CDATA[
// ]]>
Denver Broncos Blogs
Notebook: Corners Pleased with Progress | DenverBroncos.com
The veteran defensive backs on the Broncos are excited about the talent surrounding them in the secondary.
Warren Back in His Element | DenverBroncos.com
Veteran defensive tackle Ty Warren has enjoyed having his hand in the dirt during OTAs and minicamp practices.
Off-Season Player Movement: Update 4 | Draft Metrics
This is a fourth in a series of updates that tracks the off-season player movements of all players who started a game during the 2011 NFL season. The table on the attached page summarizes activity by NFL team. The contents of the table will change as transactions (players released, retirement decisions, free agent signings, etc.) affecting those players take place. This information will next be updated when the teams are about to head to training camp.
Notes from an OTA: June 13 | MaxDenver.com
Rahim Moore worked alongside Mike Adams on the first team … Peyton Manning found success with the deep ball … and more.
Fat Camp: Undervalued roles – the Matchup Safety | IAOFM
When an offense uses 12 personnel (1 RB, 2 TE, 2 WR), it forces a defense to choose whether to use Base (four DBs) or Nickel (five DBs) personnel. In most cases, that's a situation of being damned if you do, and damned if you don't.
Peyton Manning Arm Strength Not Good Enough Yet | Yahoo Sports!
With the Denver Broncos in a mandatory mini-camp that is open to the press this week, many reporters have traveled to Colorado to check out the progress of quarterback Peyton Manning. One such reporter has observed that Manning's arm strength is noticeably diminished from his prior form, and that he doesn't even possess the strongest arm on the team.
Denver Broncos Videos
Minicamp Day 2: Fox | DenverBroncos.com
Head Coach John Fox talks to the press after Wednesday's practice.
Original Story:
http://broncotalk.net/2012/06/37908/b...
THE BACKYARD
BEST OF MAXIM
RELATED ARTICLES
Denver Broncos quarterback Peyton Manning encourages teammates during NFL football practice at the team's training facility in Englewood, Colo., on Wednesday, June 13, 2012. (AP Photo/Ed Andrieski) Denver media have only been allowed to watch five of the Broncos' 12 practices to date, but according to the Denver Post's Mike Klis, Wednesday's session was Manning's best...
GOING DEEP
A minicamp practice reporter says Peyton Manning looked pretty sharp throwing the football, but that he's still lacking arm strength.
Denver Broncos running back Willis McGahee catches a pass during NFL football practice at the team's training facility in Englewood, Colo., on Monday, June 4, 2012. (AP Photo/Ed Andrieski) Just because the Denver Broncos brought in one of the NFL's all-time greatest passers this offseason doesn't mean they will be abandoning the run game. The common message from the Broncos...
Getty Images According to Nate Davis of USA Today, it was clear during the Denver Broncos' minicamp session on Tuesday, that Peyton Manning's velocity on his deep balls isn't what it once was. Manning has looked very good with his accuracy when he delivers short to intermediate throws.  His doctors remain upbeat about his current condition. "I still have a lot of work...
The Denver Broncos wrapped up their offseason workouts Thursday with another spirited practice marked by potent, precise passes. One thing is abundantly clear after 13 offseason practices, six of which were witnessed by the media: Peyton Manning is back. The four-time MVP has shown no ill effects of the nerve issue that caused weakness in his throwing arm last year, required four...
Getty Images According to ESPN's Adam Schefter, the health of Denver Broncos quarterback Peyton Manning is looking good so far.  He likely won't have many limitations this season. "Doesn't look like he's gonna have many limitations at all," said Schefter, via Evan Silva. So far, so good in Denver." So far Manning  has been throwing the ball all over the field during...
Even Peyton Manning makes a mistake from time to time. We're all closely watching the Broncos to see how Peyton Manning's rehab is coming along, and Pete Prisco likes what he sees from the future Hall of Famer. The fact that Manning is still impressing everyone isn't surprising to me. I've watched him nearly every weekend for over a decade, and he still surprised...
When Peyton Manning entered the league he had Marvin Harrison on which to rely and not much else. In many ways, Andrew Luck's first year will be much more target-rich. He's taking notice early by getting on the same page as Austin Collie and Reggie Wayne: Luck said he'll rely on veteran teammates such as Collie and Wayne, and 13 of his 25 completions in the afternoon session...
As mini-camps are underway and fans get to see, or hear how their teams look with their new additions there are definitely some eyes and ears in a few places  more than others. New York Jets acquired Tim Tebow from Denver this off-season to add depth to their quarterback spot. With the addition of Tim Tebow, the Jets may have the most talked about and most scrutinized quarterback...
Be sure to follow me on Twitter for more Broncos updates throughout the day. Denver Broncos News Break Brings Chance To Recharge | DenverBroncos.com Players called the offseason program very productive, and now the Broncos begin a five week break after shutting down minicamp. Peyton Manning's presnap maneuvers make him almost unsackable | Denver Post Elvis Dumervil has chased,...
If Andrew Luck's receivers can get this kind of separation, he'll have a long, prosperous career in Indianapolis. Colts players and fans are having no trouble moving on from the Peyton Manning era. Reviews are flying in that rookie quarterback Andrew Luck is a huge success. I don't have a problem with optimism, but Colts fans and players do need to realize their quarterback...
McFarlane's Sports Picks latest college football series revealed Collectors will be sure to be on the look out in their local hobby shops next month. McFarlane's Sports Picks, known for their detailed figurines of top stars from various sports, is ready to sell their latest college football icons, featuring former Heisman Trophy winners Cam Newton, Tim Tebow, Sam Bradford, Ricky...
NFL News

Delivered to your inbox

You'll also receive Yardbarker's daily Top 10, featuring the best sports stories from around the web. Customize your newsletter to get articles on your favorite sports and teams. And the best part? It's free!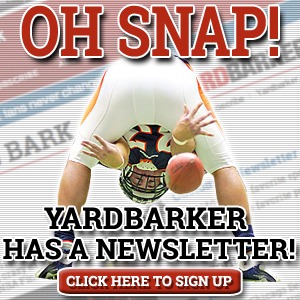 Latest Rumors
Best of Yardbarker

Today's Best Stuff

For Bloggers

Join the Yardbarker Network for more promotion, traffic, and money.

Company Info

Help

What is Yardbarker?

Yardbarker is the largest network of sports blogs and pro athlete blogs on the web. This site is the hub of the Yardbarker Network, where our editors and algorithms curate the best sports content from our network and beyond.