Found July 09, 2012 on BroncoTalk: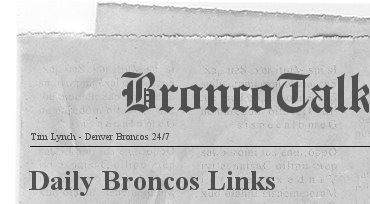 Be sure to follow me on Twitter for more Broncos updates throughout the day.
Denver Broncos News
Ex-Alabama A&M linebacker hopes the NFL calls | Huntsville Times
Lumpkin, who spent two seasons at A&M before transferring to Carson-Newman College after the 2010 season, has made himself available for the NFL Supplemental Draft after being ruled ineligible for the 2012 season. The draft will be held Thursday.
NFL Attendance Numbers Dropping, Football Losing Popularity? | Yahoo!
In recent days there's been some attention paid to the fact that NFL attendance numbers are the lowest they've been since the league expanded to 32 teams in 2002. That year, 16,883,310 attended a total of 256 games.

Colorado sports fans asked for a lot of patience; can you spare it?
Patience. In the local sports world, that word is all the rage these days. And in this town, it gleefully glides off the lips of front office types and coaches of four professional sports franchises.
// <![CDATA[ google_ad_client = "ca-pub-1209026070761313"; /* 468x15 link content ad */ google_ad_slot = "0894341522"; google_ad_width = 468; google_ad_height = 15; // ]]>
// <![CDATA[
// ]]>
Denver Broncos Blogs
2012 Game-by-Game: Week 4 | DenverBroncos.com
In week four of the 2012 season, the Broncos host the Oakland Raiders in their first divisional matchup of the year.
2012 Game-by-Game: Week 5 | DenverBroncos.com
In week five of the 2012 season, the Broncos travel to New England to take on the Patriots.
Q&A with Jeff Rodgers | DenverBroncos.com
Special Teams Coordinator Jeff Rodgers talked about the play of the special teams in 2011, the importance of signing Matt Prater to a long-term contract and the newcomers to the special teams units.
Q&A with Mike McCoy | DenverBroncos.com
Offensive Coordinator Mike McCoy talked about working with Peyton Manning, adjusting the playbook and his offseason head coaching interview.
Original Story:
http://broncotalk.net/2012/07/38964/b...
THE BACKYARD
BEST OF MAXIM
RELATED ARTICLES
(Image courtesy of Bob Gathany/The Huntsville Times) The league's 2012 Supplemental Draft will be held on Tuesday and eight players are eligible to be selected.  One of the prospects in the draft is former Alabama A&M linebacker Larry Lumpkin, who was ruled ineligibly for the 2012 college football season. The draft gives players often labeled as character-flawed a chance...
Ever since iTweetGate, fans have become increasingly adamant that nine-year linebacker D.J. Williams should be shipped out of town. In one of our recent polls, 55% of fans voted in favor of D.J. being taken out of the starting lineup all together. My response has been that the team values D.J.'s on-the-field performance higher than his occasional off-the-field mishaps —...
We're celebrating some of the greatest hits in Denver Broncos history.  Today, we remember Rahim Moore's big hit against Buffalo. Be sure to check back tomorrow for Hit No. 13!  After the series is over we'll top it off with one big hitastic video.
Introducing the new 2013 Buick Verano, and it's new spokesperson, Denver Broncos QB Peyton Manning. It won't go at break neck speed, and that's just how Peyton likes it. Perfect for those Pharmacy runs or to make that early bird special. Ok, seriously, Manning is back to his obsession with hocking as many things on TV as humanly possible. We suspect he'll be seen...
Denver Broncos quarterback Peyton Manning will be featured in a new commercial for the 2013 Buick Verano.   Buick will debut the Manning commercial on Wednesday night during the ESPY Awards on ESPN. A behind-the-scenes video was released which shows the NFL star calling "audibles" to the vehicle's OnStar voice-activation features.
(Image courtesy of the Denver Broncos) After recording an 8-8 record and a playoff berth last season, Denver's top two 2011 coordinators — Mike McCoy and Dennis Allen — suddenly became head coaching candidates.  The Oakland Raiders were granted permission to interview both coaches (and they ended up hiring Allen) and the Miami Dolphins considered signing McCoy. Allen was...
Denver, CO – 2011 will always be remembered by Denver Broncos fans as the year of Tebow. Whether or not you are a Broncos fan, we all recall the unbelievable season it turned out to be. After a 1-4 start, Time Tebow was inserted into the starting lineup and craziness then ensued. Comeback win after … Continue reading »
Over the next two weeks, we're going to be celebrating some of the best hits from Denver Broncos history.  Today, we remember Darrell Reid's big hit in Philadelphia. Be sure to check back tomorrow for Hit No. 14! After the series is over we'll top it off with one big hitastic video.
The AFC West has been viewed as that of a 'weak' division the past few years. This is mostly attributed to the fact that the division hasn't made it far into the playoffs in the last couple years. This may be a common misconception held by NFL fans around the league. The AFC West may in fact be the most competitive division in football today. Last year, there was a three...
Denver, CO – From time to time, we all hear about the former greats who never won a championship. The list typically includes Hall of Famers like Dan Marino, Charles Barkley, Karl Malone, and Ted Williams. There are also plenty of other really good players who never won the big one, and most will admit … Continue reading »
NFL News

Delivered to your inbox

You'll also receive Yardbarker's daily Top 10, featuring the best sports stories from around the web. Customize your newsletter to get articles on your favorite sports and teams. And the best part? It's free!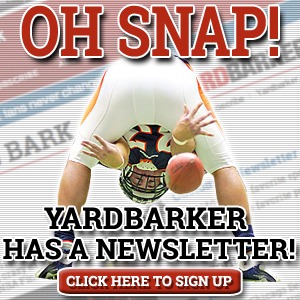 Latest Rumors
Best of Yardbarker

Today's Best Stuff

For Bloggers

Join the Yardbarker Network for more promotion, traffic, and money.

Company Info

Help

What is Yardbarker?

Yardbarker is the largest network of sports blogs and pro athlete blogs on the web. This site is the hub of the Yardbarker Network, where our editors and algorithms curate the best sports content from our network and beyond.