Found June 14, 2013 on isportsweb.com:
The Dallas Cowboys have finished the past 2 seasons at 8-8, but GM Stephen Jones believes that the team can compete for a Super Bowl trophy in 2013. This is a team that only has 1 playoff win since 1996, and a team that has missed the playoffs in three of the past four seasons. However, this is a team infused with talent in primary skill positions and the ability to win now in today's NFL.  I believe that the Cowboys will make the playoffs for the first time since 2009. Here's a closer look at why: 1. Callahan Calling Plays- With Bill Callahan now calling plays, Head Coach Jason Garrett can now focus on the little things it takes to win a football game. In previous seasons, Garrett has struggled down the stretch with crucial clock management errors, and the field position battles. The switch will allow him to view the game differently, and not be so consumed in the offense's successes or woes. During his tenure with the Oakland Raiders, Callahan's team led the league in rushing 2000 and then in passing in 2002. This was a team that also led the league in total offense. With Romo at the helm, the maturation of Dez Bryant, and the new additions of draft picks Travis Frederick, Gavin Escobar, and Terrance Williams equip the Cowboys with an aerial arsenal. Along with aerial arsenal, a healthy DeMarco Murray will now be paired with Lance Dunbar, and rookie Joseph Randle. I believe Callahan will find a balance between the aerial and rushing attacks to make the Cowboys lethal in terms of scoring for the 2013-4 season. 2. Return From Injury- Several key players will make their return to the Cowboys after seasons of injuries, no impact felt bigger but then on the defensive side of the ball. Last season, the Cowboys lost 6 regulars on defense, including the emerging Sean Lee and Bruce Carter, as well as starter Jay Ratliff. However, the team still possessed the opportunity to win the NFC East title in Week 16. In addition, superstar pass rusher DeMarcus Ware appears poised for a big season after battling last season with basically one arm. On the other side of the ball, the Cowboys will now boast a healthy DeMarco Murray in the backfield, and are hopeful Wideout Miles Austin has overcome his hamstring woes. If the Cowboys can stay relatively healthy in 2013-4, and once again that's a big if, they can hang with anyone in the NFC East. 3. Change from the 3-4 to the 4-3- With the arrival of new Defensive Coordinator Monte Kiffin, the Cowboys will make a scheme switch for this upcoming season. A shift from the 3-4 to the 4-3 will benefit the Cowboys, as they will more than likely go "small" on defense to maximize their speed. The shift basically substitutes a outside linebacker with a defensive end. This switch makes sense on many levels as young linebackers Sean Lee and Bruce Carter have the speed to chase any one down on any given play. On the line, the maximization of speed will allow Kiffin to turn pass rushers Demarcus Ware and Anthony Spencer loose at the quarterback, which is critical in a division with RG3, Eli, and Michael Vick. The question with the scheme change will come in the secondary. However if the secondary can adapt to the change, which I believe they will, Kiffin's Tampa 2 scheme can take the Cowboys places, and create turnovers. 4. Romo Contract Extension/Game Preparation- I know the NFL is a performance based league, and Romo's postseason woes may deem him unworthy of his $106 million dollar contract he signed this offseason. However, Romo, in my opinion is one of the best quarterbacks in the league, ranking in the Top 10. With the lack of an offensive line and an inferior defense, Romo often takes undeserved criticism for trying to do what he can to help the Cowboys win. The pressure on his shoulders to deliver a championship all off his performance alone has been unrealistic. Romo has what it takes to win a Super Bowl and be a long-time winner in the NFL.  As an undrafted free agent, Romo has always felt like he's had to prove something, and always falls victim to "trying to do too much". With a new contract under his belt, which I feel is well-deserved, I believe that Romo can now play a little more calm and free, as Jerry Jones has vowed his confidence in him to deliver that trophy. In addition to the monumental contract extension, Romo will now serve a Peyton Manning like role during the week that will allow him to have further input into the game-plan. With further input, Romo can ensure the Cowboys find a balance on offense, making his life easier. If the things above work out, the Cowboys will finish the season with at least 9 wins, a chance to win the NFC East, and a potential playoff berth. The playoff berth would mean the Dallas Cowboys would indeed be competing for a championship.
Original Story:
http://feedproxy.google.com/~r/isport...
THE BACKYARD
BEST OF MAXIM
RELATED ARTICLES
The Dallas Cowboys will again rely on DeMarco Murray to carry the ball in 2013 and the running back says he is where he needs to be. "I definitely feel like I'm back to where I need to be," Murray said, via ESPN, as the Cowboys finished up mini-camp on Thursday. The Cowboys pan to run the ball more in 2013 which makes the health of Murray important for the team. He missed six...
Cowboys defensive end Anthony Hargrove truly knows what it's like to be without a home. And that's why he didn't panic when his NFL career appeared to be on the rocks in the aftermath of the Saints' bounty scandal. Hargrove spent his childhood bouncing between shelters and foster homes after his family's home in Brooklyn, N.Y., burned when he was 6. His mother...
IRVING Dallas Cowboys quarterback Tony Romo threw during Thursday's final day of mini camp at Valley Ranch. Now, Romo didn't have his helmet on and he wasn't dropping back with a pass rush pursuing, but about 10-15 tosses from the five-yard line to Miles Austin and Dez Bryant in the back of the endzone was the first time Romo has thrown a football in front of media...
IRVING, Texas A day after missing practice with a migraine, Morris Claiborne had to deal with a wide receiver that will probably be causing cornerbacks headaches for the foreseeable future. Dez Bryant made several catches with Claiborne defending him during Wednesday's mini camp at Valley Ranch. Of course, neither player was wearing pads, so the physical nature was limited...
According to ESPNDallas.com, even though the Cowboys held out quarterback Tony Romo from this week's minicamp, he still allowed him to throw a few passes to his receivers on the side. He wasn't in a helmet, nor did it come during live drills, but Tony Romo threw passes for the first time in media view on the final day of the Cowboys' minicamp.   Romo went through a series...
IRVING, Texas Hang around a defensive player long enough in the Dallas Cowboys locker room and there's a good chance you'll hear them get asked about the difference between current defensive coordinator Monte Kiffin and former defensive coordinator Rob Ryan. While most note that both bring a lot of energy, one of the obvious differences mentioned has been that Kiffin conveys...
Looking for the best Dallas Cowboys blog? Look no further. You found it. Congratulations! Silver and BlueBlood - The Essential Dallas Cowboys Blog | Totally Biased * Highly Opinionated * UnapologeticYou have to love it when an athlete manages to gig the media without ripping his own britches. Tony Romo did just that on Tuesday, when he was able to tell reporters they didn't matter...
Dallas Cowboys head coach Jason Garrett says he likes what he's seeing so far from quarterback Tony Romo and his new pseudo-coach duties. "We talked to him very specifically in the beginning of the offseason, that we wanted more of that from him," coach Jason Garrett told reporters, via Marc Sessler of NFL.com. "I think he's embraced the role, I think any...
Dallas Cowboys quarterback Tony Romo is dismissing everyone that is criticizing him. You would too if you just worked out a new deal for $108 million.  Romo spoke with ESPN and let it fly. "I think more than anything I think [the media], not trying to be rude, but you guys don't matter," Romo said. "Saying that, I know you guys all have a job to do and it helps grow the...
The two tight end set has been around since Joe Gibbs implemented it, as a way to suppress Lawrence Taylor's effectiveness, but it has never been a more valuable weapon in the passing game as it is in today's NFL.With the success of the Patriots using two tight end sets in their aerial attack, more teams are looking to create mismatches against slower linebackers or smaller...
Dallas Cowboys executive vice president Stephen Jones indicated that they'll likely look into signing linebacker Sean Lee to an extension this season. "Historically, we look at guys going into the last years of their contracts," Jones said, via the Dallas Morning News. "Sean is going into the last year of his contract, so that's probably something we'll look at." Lee...
The Dallas Cowboys have finished 8-8 the past two seasons, but that didn't stop the teams vice president Stephen Jones from saying that he thinks his team "can compete for a championship right now." "We really feel like we have a team that can compete for a championship," executive vice president Stephen Jones said. Jones thinks the NFL landscape allows any competitive...
Cowboys News

Delivered to your inbox

You'll also receive Yardbarker's daily Top 10, featuring the best sports stories from around the web. Customize your newsletter to get articles on your favorite sports and teams. And the best part? It's free!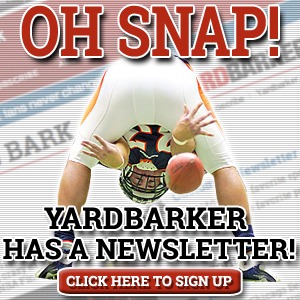 Latest Rumors
Best of Yardbarker

Today's Best Stuff

For Bloggers

Join the Yardbarker Network for more promotion, traffic, and money.

Company Info

Help

What is Yardbarker?

Yardbarker is the largest network of sports blogs and pro athlete blogs on the web. This site is the hub of the Yardbarker Network, where our editors and algorithms curate the best sports content from our network and beyond.