Found April 25, 2012 on isportsweb.com:
The Cowboys were busy in free agency and I would expect them to sign a few more players before everything is said and done with. The Cowboys took care of their seemingly top issues with signing two guards and Brandon Carr to replace Terrance Newman but that does not mean they will draft a player at those positions either. So based on based on these recent signings, here is a list of the needs in order from least need to greatest and by position then broken down by early and late round prospects. Special teams: The problem for Dallas is Matt McBriar is coming off another injury and they already have a guy on the roster that has some NFL experience. That with two kickers, one who did really well this past season and another who is expected to be even better, makes Special Teams the least of all the needs for Dallas. They tried last season to replace the long snapper J.P. L but that did not work out so outside of that position the only other draftable one is punter. Dallas would normally get a punter from the undrafted free agent pool but personally I would like them to draft a player IF they trade down and get more picks. My early and late round pick would be Bryan Anger from California. He has the experience and strong leg that Dallas would be set for years to come. It would be hard to see McBriar go, but I think it's time Dallas moved on to a younger player. Linebacker: Shea is the hard working gritty type of player Dallas needs on defense. Dallas is all but set at Linebacker. With Dan Connor, Sean Lee, and Bruce Carter on the inside, then DeMarcus Ware and Anthony Spencer on the outside they seem all set. The only real position they need is a replacement for Spencer, unless you count injuries then they need replacements for everyone but Ware. Personally I think Dallas would be taking a great risk in not drafting a HEALTHY inside linebacker, but I just don't think they have the space on the roster or the inclination. The only catch is if Dallas were to move to a 4-3. If they did that then yes they will draft an inside linebacker in the early rounds. Outside linebacker would be a replacement for Spencer and his one year franchise tag offer. The problem is that Dallas can't afford him on a one year deal so I think they will seek to sign him to a long term deal and spread out his cap hit. This means they will most likely avoid a linebacker but here are my two per group. For outside linebacker I think Courtney Upshaw from Alabama is probably a good Spencer replacement in the early rounds. He could easily fit into the scheme and looks athletic enough, but I just don't know if he would be worth the first round pick. Personally I would much rather have Dallas draft players like Vinny Curry from Marshall or Shea McClellin from Boise State. Both players could be drafted in the second or third round and could be solid replacements for Spencer in future seasons. McClellin is my odd on favorite. His character is great and he is a hard worker. Curry has a high motor but playing for Marshall he may have not faced the best talent. If you are looking for a pass rusher he would be my non first round guy. I don't see Dallas moving to the 4-3 but if they did the only first round player they would draft would be Luke Kuechly from Boston College. That guy is a Sean Lee clone. Hard worker and sure tackler, he would fit well into a three linebacker system. However I expect Dallas to keep the same system so only a late round player makes sense. Bobby Wagner from Utah could be that player. While he is a little on the short side, he has the speed that Dallas needs for him to cover the tight end. The other option would be a player like Tank Carder from TCU. This guy is not great in coverage, but plays smart and makes solid hits. Receivers: This position needs to find a way to replace the loss of Laurent Robinson and his 11 touchdowns. I think Dallas has guys lined up to take his place. Players like Dwayne Harris, Andre Holmes and Raymond Radway are three that could be fill-ins for Robinson talent wise, but the veteran connection with Romo won't be there. However if Dallas were to take a receiver I would assume they will pass on one in the first round. If they did take one I would want them to take is Kendall Wright from Baylor that is assuming Michael Floyd and Justin Blackmon are not available. Wright did not measure well at the combine, but when you look at his on the field play you cannot deny he is a big time player. He reminds me a lot of Marvin Harrison coming out of college. If he has his head on straight he will be a significant contributor in the NFL. However, I don't know if Dallas can use their first pick on a receiver, so they may look deeper in the draft. Players that I like are Ryan Broyles from Oklahoma, Joe Adams from Arkansas, and Eric Page from Toledo. Broyles tore his ACL and should drop to the third round or later. Broyles is solid in the return game and played well at OU. He could contribute as a slot receiver. Adams and Page both could provide return skills which Dallas needs, but they would have to be a slot receiver as Broyles would. Quarterback: If the Cowboys draft a QB this year, then Lindley is the guy. Many would think that this position should be listed this high, however I think Dallas needs to be seeking Romo's replacement right now. This is another position where Dallas will not use a first round pick on a player. However, it would not shock me to see them draft one in the second assuming they pick up another second round pick by trading down in the first. Brock Osweiler from Arizona State and Kirk Cousins from Michigan State are two players who I would look at in the second and third rounds. Osweiler has the height and arm strength that Dallas would need to replace Romo. However he took limited snaps and took several out of the shot gun. Cousins came from a strong program and has the leadership and large number of starts that Dallas fans would covet. However he does not have the arm strength that I would like. The wild card is Ryan Lindley from San Diego State. He has a gun of an arm and needs development in reading defenses and making throws on time. If Dallas can develop those skills in him then I would draft him. He has almost 50 starts and was under a coach from the Don Coryel coaching tree. I think they missed out last season picking up a good QB in Colin Kapernick. There is not a guy in this draft I think is the right pick, but Lindley would be close. Offensive Line: Its hard to have the Oline listed this high when Dallas signed so many linemen in the free agency and drafted three in last year's draft. However they could still use a guard and could improve at center. The only real first roud pick for Dallas is obvious in David DeCastro from Stanford. DeCastro could be a once in a franchise pick for Dallas, but I doubt he will be there at 14 and if he is Dallas will trade down. So only later round picks would be what Dallas would look at and that means players like Kevin Zeitler from Wisconsin or Philip Blake from Baylor would be the best options. Blake would be the center that Dallas could use to improve the short yardage game. The only thing that scares me with Blake is that at times it did not seem like he got a solid push in short yardage. This Dallas greatly needs. Zeitler does great in short yardage, but he is a guard and may not be able to make the transition to center. Running back: Dallas needs one of two backs. One for short yardage and one for kickoff returns. It is doubtful they could find one to do both. They will not draft one in the first round but in the second round they could draft Doug Martin from Boise State and get a gem of a player. Martin is that type of running back that does not stand out in any particular measurable, but he has done it all. He returned kicks, made short yardage runs, made break away runs, and caught well out of the back field. He would do well as the third back, but he would not 100% fill either need by Dallas. Now if Dallas sees recent pick up Lawrence Vickers meets the short yardage need, then Dallas needs another back that can return kicks or play every down. If you are thinking Felix Jones can return kicks then you are joking yourself. He is not a return guy. Watch him in the beginning and after his injury while returning kicks, not the same. Isaiah Pead from Cincinnati and LaMichael James from Oregon, and Terrance Ganaway of Baylor all could return kicks and help with every down carries. Each has their own level of question marks size with Pead and James and Ganaway has limited return opportunities. Secondary: Barron would not be my first choice, but he would add a lot of talent in the secondary. Brodney Pool signed a 1 year deal. So Dallas must have a plan either in this draft or on the current roster ready to replace him. Mark Barron from Alabama is easily the best safety to replace Pool, but Barron scares me with his groin injuries and lack of solid cover skills. Personally I think he has great character and it would nice to see receivers fear going over the middle, but I think they would need to pass on him. I like Markelle Martin from Oklahoma State and Brandon Taylor of LSU as possible safety options, however only Taylor is a true strong safety that could replace Pool. I would actually break one of my biggest complaints of the Cowboys and have them draft a player who has not played that position. I would have them take a linebacker in the late rounds that could be moved to Safety. Players like Mychal Sisson from Colorado State, Brandon Herron from Michigan, and Danny Trevathan from Kentucky are all undersized for an NFL linebacker role and might could fill in at Safety. That is if Dallas thinks they can improve their cover skills. Tight End: I don't see how Dallas can be a viable playoff contender without a solid third tight end. Last season this was left to Jon Phillips. There is a chance that Dallas could draft a Tight End in the first round, but that would mean he would have to make a significant contribution to the offense. Coby Fleener from Stanford is that type of player. He would eliminate the need for Dallas to draft a third receiver for more offensive fire power. Fleener has played everything that Dallas needs from a tight end. He blocks, runs good routes, catches well, and has played H-back. He would be another player to me that is cannot miss and would be a solid replacement to Witten when he decides to move on. The only way Dallas can do this is by trading down, which may not happen. Thus Dallas may be locked into drafting a tight end in later rounds. Problem is there is not a lot to choose from. Corey Harkey from UCLA , and James Hanna from Oklahoma are two players who were primarily used as blocking tight ends in college and could fill the role vacated by Bennett. Defensive Line: Mike Martin showed a lot of grit at the Senior Bowl. Since Anthony Spencer signed his one year tender Dallas needs to find a way to get more play out of the players around him. Improving the defensive line could improve Spencer's production. As you may have noted from prior posts I am not a huge Spencer fan. However, if he is surrounded by better players maybe that will mask his deficiencies for us fans and maybe prove to Jerry that Spencer needs to move on. That being said, there could be few or multiple options in the first round. Michael Brockers from LSU seems to be the odds on favorite for most Dallas analysts. He is a solid player from a big program. He has the experience and seems like a solid overall player. I am not so sure about his motor. That is something that only an interview and deep evaluations can find. Just watching him in the National Championship game he did not look like much, but he was often double and triple teamed. Later round guys I like are Mike Martin from Michigan, and Kheeston Randall from Texas are two players who I think Dallas could get in later rounds and could still make an early impact on the field. The Cowboys have 8 picks in this year's draft. They have a true chance in the 4th round to pick up some quality players to develop. If Dallas traded with Cincy it would be tough for them to get another top 50ish pick for moving down three spots. If Dallas traded with Cleveland it would almost the same situation, but they might could swing getting Cleveland's second round pick in exchange for their 4th round pick #113. Round pick    overall 1          14       14 2          13        45 3          19        81 4          18        113 4          40        135 (Comp) 5          17        152 6          16        186 7          15        222 Ideally for me I would like to have Dallas trade down. I think there will be plenty of need players available in the lower half of the first round. Personally I think Dallas missed out on their chance last season by passing on JJ Watt and taking an offensive Tackle. That starts a whole new argument, on what they would have passed on vs what they need then and now. I don't see a solid d'lineman who is a hard working like Watt and it being still a top need Dallas could be drafting this position again next season. Let's all hope they make some good choices in the top 50 and take some gems like they did with DeMarco Murray.
Original Story:
http://isportsweb.com/2012/04/25/dall...
THE BACKYARD
BEST OF MAXIM
RELATED ARTICLES
Reports are coming out that the Cowboys are actively planning a move that will garner them a 2nd round pick for tonight's draft. The Cowboys obviously are trying to recoup a pick since they gave their's up to move up for Claiborne. PFT is reporting that the Cowboys are actively shopping CB Mike Jenkins. I think this is a good idea, we still have Scandrick who has been the primary...
I absolutely love this trade for both teams. The Dallas Cowboys now have one the game's best duos at cornerback in Morris Claiborne and Brandon Carr. Claiborne is arguably more NFL-ready than Patrick Peterson was a year ago (at least in terms of coverage) and will make an immediate impact in Dallas. As for the trade, I'm ok with teams trading up for players when they believe...
According to Rotoworld.com, ESPN's Ed Werder reported that the Dallas Cowboys don't anticipate Alabama safety Mark Barron being available when they're on the clock with the 14th overall pick. "The sense I get among the Cowboys right now, is that they understand that Mark Barron is unlikely to be available to them," Werder said. "… They seem somewhat content with that...
I typically don't praise teams that trade up as far as the Dallas Cowboys, but I have to give them credit for addressing a glaring need with the best player at the position. By adding Brandon Carr and Morris Claiborne, the Cowboys have completely overhauled their secondary and now have, at least on paper, the look of a top-10 defense. The Cowboys did part with their 2nd round pick...
The Cowboys need to fill a lot of holes on their roster yet and need a second round pick to do it. They only way they can do that is to trade more picks or start clearing the roster. The only question is who will they trade to get there. Jenkins time in Dallas could be done. The first two players that come to mind are Mike Jenkins and Felix Jones. It would surprise me to see either...
TEST APATHY
After the Cowboys drafted him in the first round, Morris Claiborne said that the only reason he performed so poorly on the test was because he "only finished 15 or 18 questions."
IRVING, Texas (AP) -- Jerry Jones says the Dallas Cowboys have been able to do everything they wanted to do this offseason despite the NFL reducing their salary cap. The NFL took away 10 million in cap space from the Cowboys and 36 million from the Washington Redskins. The two NFC East teams were penalized for overloading contracts in the 2010 uncapped season despite league warnings...
The first round of the 2012 NFL draft was perhaps it's most eventful. It was raining trades as teams made moves to secure their futures. Here's the biggest moments of the night with video. #1 Deal of the Day: Cowboys Trade Up For Morris Claiborne Please click the link below to read the rest of this story and watch video commentary and highlights from last night's first round.
Drafting Starters According to the Star-Telegraph, Cowboys coach Jason Garrett said he expects players drafted in the first three rounds to be starters. Not necessarily Day 1 starters, but soon. "Day 1 starters? You can't say that. Nobody can say that, but at some point in their careers, you would like to think that they're a starter, and the sooner the better," Garrett said...
Through all the mock drafts and all the interviews Cowboys fans were convinced that either Mark Barron, David DeCastro or even Michael Brockers would be selected in the first round. But as I sat watching the draft last night and also watching the Cowboys War Room on my laptop I noticed something strange happening as the draft approached the 6th overall pick in the first round. The...
The first round of the NFL Draft is happening later this evening, and the Cowboys are sitting on the 14th overall pick. Several names have come up as potential picks for Dallas, so let's run through a few here: Option 1: David DeCastro, OG, Stanford. DeCastro is being touted as the best guard to come [...]
Deion wasn't arrested, but his claims that he didn't do anything wrong do not appear to be 100% true. There is at least some doubt in the police mind that Deion was innocent in the incident. Former Dallas Cowboys star Deion Sanders has been charged with misdemeanor simple assault in the wake of an altercation with his estranged wife that got her arrested at their mansion...
Cowboys News

Delivered to your inbox

You'll also receive Yardbarker's daily Top 10, featuring the best sports stories from around the web. Customize your newsletter to get articles on your favorite sports and teams. And the best part? It's free!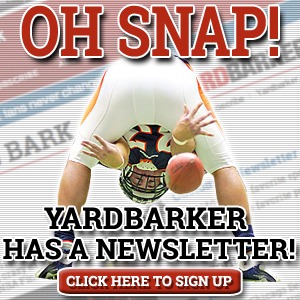 Latest Rumors
Best of Yardbarker

Today's Best Stuff

For Bloggers

Join the Yardbarker Network for more promotion, traffic, and money.

Company Info

Help

What is Yardbarker?

Yardbarker is the largest network of sports blogs and pro athlete blogs on the web. This site is the hub of the Yardbarker Network, where our editors and algorithms curate the best sports content from our network and beyond.