Found March 08, 2012 on isportsweb.com:
The whole NFL is rapidly approaching the start of Free Agency. The benefit of having free agency before the draft is that teams can address needs with veterans if they want.  Right now there is only one position I would say cannot use an upgrade and that is kicker. Not because Dan Bailey played so well, it's just that Dallas has three on the roster two vets and one said to be better than Bailey. So with so much of an open market for Dallas here are my five thoughts. 1. Should the Cowboys get Peyton Manning? In a word NO! Manning is great QB no doubt but besides the fact that Manning is coming of multiple neck injuries, he is 4 years older than Romo, and he will command a lot of money he should not be picked up by Dallas. No the real reason not to sign Manning is that he is not a plug and play quarterback. All QB's have to develop with their receivers, but Manning seems to need more time. He would spend countless hours throwing to Reggie Wayne and that is just a pregame warm up. Manning knows an offense, HIS offense, and Garrett wants to run his offense. It is not that Manning or the Cowboys cannot adjust, but Dallas needs wins now and they don't need to develop a QB for a single season. 2. Should Dallas sign a top cornerback instead of drafting one? Dallas will have a chance to draft any of the top 2-4 corners in the first or second rounds. Every last one of them comes with questions and reservations. Dre Kirkpatrick is listed on just about every prognosticator's must draft for Dallas. Dre is 6-2 and a buck86. That is mighty light. Even though Aaron Ross from the Giants is about the same size and he struggled greatly in his first season. What really makes the secondary for the Giants work is the pass rush. Thus signing a solid veteran and using that pick in the first round for an interior lineman might be the smarter way to go. The fact he got into a little trouble bothers me enough to say Dallas should pass on him and go with the vet. While I think signing one would be better than drafting one, they have to get one cheap. 3. Was it a wise move to franchise Anthony Spencer? Spencer will be the most debated player over the next 12 months Yes and no. I don't like hearing from a player that he was not giving his best in his preparations. That and his non statistical Senior Bowl really keeps me from hyping up Spencer even when he plays well. Personally I think Spencer can be better if the interior line talent improves and Dallas drafts someone to put greater pressure on the interior and open up the edges. But I also don't really think that Spencer has the heart to get Dallas to the next level and into the playoffs. Heart is a key element when two men square off. If Dallas keeps him for one year or just long enough to draft someone better then great. If they sign him to some huge long term deal I might have to turn in my fan card until he is cut or traded. 4. Should Dallas sign one big free agent or several lower end ones? While I would prefer Dallas to sign a player that would become a long time starter like CB Brandon Carr of the Chiefs or G Carl Nicks of the Saints, I think that would be a wrong move. Dallas does not have a lot of cap room and for them to lock in Spencer and a top free agent would break the bank. Dallas has a lot of holes to fill and won't be able to fill them all in the draft. With Tony Fiammetta, Laurent Robinson, Martellus Bennett, Keith Brooking, Abram Elam, Jon Kitna, and two starting guards all on the market, Dallas has to pick and choose how to spend their paltry 12 million under the cap. Add in the need for Dallas to improve in so many areas on defense and offense and there is not enough money or draft picks to go around assuming they sign one big free agent. 5. Who should Dallas spend their cap dollars on? From looking at the free agent list there are few can't misses. Guard Carl Nicks of the Saints and DE/OLB Mario Williams of the Texans will command more money than Dallas currently has. Yeah they cut some players and get some cap relief like David Beuhler and Terrance Newman, but Newman's biggest savings comes after June 1. So to pull off a deal for one of those players would be a short miracle. I think Dallas could get some serviceable players in Red Bryant DE from Seattle, Dwight Lowery S from the Jags, or even Sione Pouha DT from the Jets. None will command top dollar and all could fit into the defensive system of Dallas and allow them a different focus in the draft. For those players that were on the team last season I would really like Dallas to keep Laurent but here again I don't see how Dallas has the money to keep him and Spencer. Long story short, Dallas has a lot of options in free agency. They will be able to free up cap space, but it's a June 1 cut that will make the difference in who Dallas can sign. They have already started to restructure contracts by rolling Dez's roster bonus into a prorated signing bonus. I would expect to see several more contracts renegotiated in the days leading up to the start of Free Agency. We may even see a restructure to trade a player so keep an eye open for that as well.
Original Story:
http://isportsweb.com/2012/03/08/dall...
THE BACKYARD
BEST OF MAXIM
RELATED ARTICLES
Dallas Cowboys quarterback Roger Staubach announced his retirement in 1980. Click here for more posts featuring quote trivia and history of the team in quotes. Dallas fans have enjoyed the luxury of having several great franchise quarterbacks. Although the likes of Craig Morton and Gary Hogeboom played elsewhere, most of the Dallas Cowboys quarterbacks have retired after their...
Between the 1973 and 1985 seasons, the Cowboys faced the Rams eight times in the playoffs. The teams split the series at four games a piece. Here are some quotes related to two of those games. "I just got pushed back. He didn't mark it where I caught it…It's one of those things you have to live with, I guess. You can't change it now." Billy Joe DuPree regarding a reception...
The Dallas Cowboys finished like I thought they would, 8-8. This is a time when I hate being right. Of the six winnable games for Dallas they lost only one, Arizona. I said for them to be successful they needed to win 4 of their 6 divisional games and beat the Jets. They did neither of these and so they ended up with only 8 wins. The only team they defeated with more than 8 wins...
According to Jason LaCanfora of the NFL Network, the Dallas Cowboys will likely make an effort to solidify their offensive line in free agency by pursuing Saints guard Carl Nicks. The Cowboys have been restructuring contracts like Dez Bryant's and some others to make room under the cap, in order to land a guy like Nicks.    
The Patriots are one of the teams rumored to be interested in landing soon-to-be free agent Anthony Spencer. But, according to this report, they may not get that chance. Aside from tagging Spencer, the Cowboys may not be willing to part with their prized defender.
Dallas Cowboys Just like 20 other teams this week, the Cowboys have used their franchise tag. Free agent linebacker Anthony Spencer was hit with the tender yesterday. The move is getting mixed reviews from the fans, mostly because they didn't want to lose him for nothing. However, an $8.8 million salary in 2012 for a player who was very inconsistent the season before...
   Houston Texans defensive end Mario Williams will become an unrestricted free agent on March 13, quickly propelling upward as one of the top players available this Tuesday. There's no telling how much money he'll eventually sign, but it could be closer to the $100 million range, despite the fact he's failed to generate more than 10 quarterback sacks in the past three...
Cowboys News

Delivered to your inbox

You'll also receive Yardbarker's daily Top 10, featuring the best sports stories from around the web. Customize your newsletter to get articles on your favorite sports and teams. And the best part? It's free!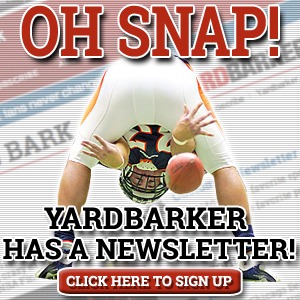 Latest Rumors
Best of Yardbarker

Today's Best Stuff

For Bloggers

Join the Yardbarker Network for more promotion, traffic, and money.

Company Info

Help

What is Yardbarker?

Yardbarker is the largest network of sports blogs and pro athlete blogs on the web. This site is the hub of the Yardbarker Network, where our editors and algorithms curate the best sports content from our network and beyond.