Found July 08, 2013 on Football and Futbol:
  This will be the first in my ongoing series reviewing the Dallas Cowboy's roster position by position. We all know who the top dog is here. Dez Bryant is by head and shoulders the number one out of the Dallas' receivers, and after him there seem to be far more questions than answers. Dez Bryant will have a chance in 2013 to leap into the upper echelon as one of the NFL's top three or four wide receivers. From my analysis (and many agree) Dez is the type of freak that has the talent to basically be as good as he wants to be. By whatever statistic you find most telling, Bryant has improved by stupid amounts during each of his three years in the league. Granted, he put up 1,382 yards and 12 touchdowns in 2012, maybe not much room for further improvement. But what's key to remember about Bryant's 2012 campaign was how average to garbage his performance was in the first half of the season, before his dominant second half of the year. Let's hope he can put up numbers similar to his second half for 2013, as his team will need it, and I also think we are all just ready to see what this 24 year old kid can do as he matures. Miles Austin was one of my favorite Cowboys for a time. Don't get me wrong, I'm still a fan of the guy, but when a player's breakout season is going to be the best of his career, it doesn't inspire long-term admiration. The eight-year savvy vet has only surpassed 1,000 yards all of one time since his video game-like 2009 season, which saw him post 1,320 yards and 11 touchdowns. A big piece of this slump has been an inability to stay on the field. I could maybe hear the argument that Bryant's rise to the stardom has taken away some of Bryant's production, but last year Romo threw the rock 648 times. Bryant caught 92, and then sure, Witten caught 110, but of the remaining 446 passes, when he played in all 16 games for at least some time, he managed to only catch 66. Still a solid number, but in an offense that was this pass heavy last year, you need your number 2 receiver to produce more. Keeping healthy would go a long way. But how long can those excuses be made? Dwayne Harris is the favorite for the Cowboys' No. 3 receiver spot entering 2013. I'm not alone in thinking that. Sure going into his third year Harris is far from a proven veteran, his 17 career receptions and 222 total yards reveal he's definitely got to put some work in, and his only receiving TD of 2012 came in the second-to-last game of the season, against the Saints. But he blew up last season as a punt returner, and the flashes of athleticism and burst he displayed showed what I believe to be a lot of potential to contribute in what will already be a loaded offense. Terrance Williams led the NCAA in receiving last year. Very quietly, but he did. Granted, he was only drafted three months ago so the jury's still out on the kid. But the third round spick spent on him could produce some high expectations. Supposedly Williams underperformed during rookie minicamp, but came on in a big way during OTAs and minicamp. The third wide receiver spot could come down to Harris and Williams. Cole Beasely was limited due to injuries during his rookie campaign, but he still managed to get into 10 games. His 15 catches would be a solid contribution from an injured rookie on a team where the quarterback didn't throw the ball 650 times. But he has apparently been healthy and impressive so far in offseason workouts and drills. Danny Coale was hurt last year, and still is now so…we don't really have much to go off of. This one's still a mystery. Anthony Armstrong is playing for his third team in four years and at this point is a journeyman still looking for a follow-up to his 800-yard rookie season with the Redskins. He only touched the field in one game with Dallas in 2012, but he's got far more experience at the NFL level than any of the other unheralded receivers vying for a roster spot.
Original Story:
http://www.footballandfutbol.com/dall...
THE BACKYARD
BEST OF MAXIM
RELATED ARTICLES
ESPN's Ron Jaworski has Cowboys quarterback Tony Romo ranked as the 15th best signal caller in the NFL going into the 2013 season. "I have always liked Romo, but his play in the final regular season game of the 2012 season with the NFC East title on the line still bothers me," said Jaws, via ESPNDallas.com. You just can't make mistakes, regardless of whose fault it is. It...
Dallas Cowboys quarterback Tony Romo has been throwing regularly and is expected to be ready for the start of training camp reports ESPN's Ed Werder. Romo, 33, underwent back surgery in the offseason. Aside from a broken collarbone in 2010 that caused him to miss ten games, Romo has been one of the most durable quarterbacks in the NFL dating back to 2006. He has missed just three...
On a weekend where the New England Patriots continued to cleanse themselves of anything Aaron Hernandez, the Dallas Cowboys got a reminder that they still have a problem in Josh Brent. The defensive tackle has been in jail after failing a second drug test, but Sunday 
Romo extending plays with his feet Ron Jaworski's Daily Countdown of ranking the top quarterbacks in the NFL on ESPN found the Cowboys' Tony Romo ranked at No. 15. Is this too high? or too low? or just right? This argument can go one of two ways. Supporters of Romo can argue that Jaworski (a former Eagles quarterback) has Romo ranked way too low on this list. Personally, I think...
Dallas Cowboys quarterback Tony Romo's recovery from surgery to remove a cyst in his back is on schedule and he should be ready for the start of training camp. Romo was seen throwing at the Cowboys minicamp last month and the team feels good about the QB making a complete recovery in time for camp. According to Ed Werder of ESPN, Romo is on the right track to be able to participate...
Club Name: TrueBlueNation Fan Club Of the Dallas Cowboys Your Name: Brandon "TrueBlueNation" Beasley Location: Dallas/Ft. Worth Area (Little Elm) Website or Contact Info: http://www.truebluenationblog.com 1. What encouraged you to start your Dallas Cowboys Fan Club? Family history is what encouraged me to start the TrueBlueNation Fan Club of the Dallas Cowboys. Both sides of...
There is no exact science or theory on how to judge the strength of a NFL team, but judging how strong a team is by its weakest position is one way. So, today you're going to see which position is the weakest link on the Dallas Cowboys, and what that weak position says about the Cowboys' chances of success in 2013. And the weakest position on the Cowboys in 2013 is…the...
A Dallas judge told attorneys Friday to watch what they say about the intoxication manslaughter case against former Dallas Cowboys player Josh Brent, following a controversial interview the Dallas County district attorney did on local sports talk radio. Brent is charged with intoxication manslaughter in a December car crash that killed Jerry Brown, a Cowboys practice squad player...
Dallas Cowboys defensive tackle Josh Brent has been released from jail, while awaiting trial for intoxication manslaughter according to Pro Football Talk. Brent's bail was revoked on June 27 because of two failed drug tests, but a judge ordered him released on Sunday. Even while remaining on the Cowboys roster, the earliest Brent could possibly play a down would be the 2014 season.
Cowboys lineman Josh Brent has been released from jail, where he landed after testing positive for drugs while free on an intoxication manslaughter charge.
"Rehabbing daily and throwing regularly," ESPN's Ed Werder reports Dallas Cowboys quarterback Tony Romo should be 100 percent by training camp. Days before April's draft, the 33-year-old Romo underwent the knife to have a cyst removed from his back. Throwing 177 touchdowns, against 91 interceptions, for 25,737 yards since debuting in 2006, the 6-foot-2, 230 pound Romo and...
After undergoing back surgery this offseason, Dallas Cowboys quarterback Tony Romo is expected to be ready for training camp, according to ESPN's Ed Werder. I'm told Cowboys expect Tony Romo to be ready for start of training camp. He's been rehabbing daily and throwing regularly #cowboys — Ed Werder (@Edwerderespn) July 8, 2013   Need NFL Tickets? The post Tony...
Cowboys News

Delivered to your inbox

You'll also receive Yardbarker's daily Top 10, featuring the best sports stories from around the web. Customize your newsletter to get articles on your favorite sports and teams. And the best part? It's free!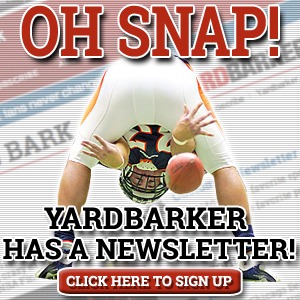 Latest Rumors
The Backyard

Today's Best Stuff

For Bloggers

Join the Yardbarker Network for more promotion, traffic, and money.

Company Info

Help

What is Yardbarker?

Yardbarker is the largest network of sports blogs and pro athlete blogs on the web. This site is the hub of the Yardbarker Network, where our editors and algorithms curate the best sports content from our network and beyond.