Found September 19, 2012 on 60 Max Power O:
Every where you look in the Dallas media this week, it's talk about the Seattle Seahawks game. There's talk about what the team did well, what they did poorly, who played well, what they did wrong, what the coaches should've done, and on and on and on. Yes, the game was a disappointment and it's easy to focus on things that go wrong. But hopefully the team is having better focus than the media.
Last time we checked, it's almost week 3 in the NFL. For the Dallas Cowboys, that means it's time for the home opener and for the Tampa Bay Buccaneers to come to town. Enough about Seattle, let's focus on something that the team still has a little control over.
Tony knows; It's time to focus on the Bucs (CHRIS PARK)
The Tampa Bay Bucs come in with an identical 1-1 record and a similar week two let down. It wasn't that the team failed to show up in week 2 like the Cowboys did; Instead, they chose not to show up in the 4th quarter and allowed 25 4th quarter points to the New York Giants in a game they lost by 7. In the first half, the Bucs forced 3 Eli Manning interceptions and jumped out to a 24-13 lead. After trading field goals in the 3rd quarter, the wheels fell off of the Bucs' wagon (or the sails came down from there ship? Whatever). Two long Eli Manning TDs and the final 2 yard scamper for a score by Andre Brown proved too much for the Bucs to overcome.
When analyzing the stats, it's tough to believe this is a game that came down to the final seconds. New York almost doubled (604 to 307) the amount of yards gained by Tampa Bay, and more than doubled them in passing yards (510 to 228). First-Round RB Doug Martin didn't have much success against the NYG front seven, rushing for only 66 yards on 20 carries. After getting knocked around by Marshawn Lynch, it will be important for the Cowboys' front to force Martin into a similar day. 
Without analyzing the tape completely, it's tough to figure out the Tampa Bay secondary. That's what you get when a unit forces 3 turnovers and also allows 510 yards through the air. They seemed susceptible to the big play, with Eli Manning throwing TD passes of 23, 80, and 33 yards. We will also get to see our firstlook at a player that was linked to Dallas through the entire draft process, Mark Barron. The hard-hitting safety recorded 10 tackles and 2 passes-defensed in week 2.
Many people consider New York to be one of the worst rushing teams in the league, but they actually managed a decent day against the Tampa Bay front that includes multiple former first-round draft picks. After starter Ahmad Bradshaw limped off with an injured neck, rookie Andre Brown managed to put together a nice game of 13 carries for 71 yards and the game winning touchdown. Hopefully Demarco Murray can pickup where Brown left off and rattle off some big gains to loosen up this defense.
Overall, the Bucs are a hungry team with a young coach (Greg Schiano) looking to prove himself (for evidence look to the last play of last weeks game). At 1-1, it will be a vastly important game for both teams. Nobody wants to fall below .500 this early in the season. If Dallas can control the line of scrimmage and Romo can hit a couple of plays over the top, look for the offense to roll early and often. If Romo is not on the same page with his WRs like we saw in Seattle, watch out. We could be in for another long day. 
Be sure to check out other great articles at Sports Media 101.
Original Story:
http://www.60maxpowero.com/patriots/c...
THE BACKYARD
BEST OF MAXIM
RELATED ARTICLES
The year was 2008. The Cowboys had finished the previous season at 13-3 but lost the Giants in the playoffs. Nevertheless, many had the Cowboys pegged as a Super Bowl contender. The team needed a receiver, though, given that Terry Glenn had played his final game. The other receivers were a 29-year-old Patrick Crayton and a 35-year-old Terrell Owens. Miles Austin wouldn't break...
IRVING, Texas-- For many rookies, their first season in the NFL is all about getting adjusted to the rigors of day-to-day life in the league, whether it's work days that often start before 7 AM and end about 10 hours later, the fact that football is now a job or other aspects of life as a rookie, year one is all one big acclimation process for rookies. However, for second-year...
IRVING Jason Garrett said Wednesday that Felix Jones will continue to return kickoffs for the Cowboys. Despite Jones fumbling the opening kickoff last Sunday in Seattle and showcasing little ability to make defenders miss, the Cowboys coach defended his primary kick returner on Wednesday. "Felix has been such a good player for us," Garrett said. "He's coming...
The Dallas Cowboys floundered in Week 2 against the Seattle Seahawks leaving many fantasy owners disgruntled and even a bit confused. Dez Bryant and Jason Witten had shaky hands, the ground game was ineffective and Tony Romo wasn't in sync all night long. Don't worry, fantasy owners should expect a huge turnaround in Week 3 when Dallas takes on the Tampa Bay Buccaneers...
With Felix Jones struggling to hold on to the football during the Cowboys' loss on Sunday, head coach Jason Garrett made it clear that taking care of the football is very important. "Line 1 in returning the football in the NFL for me is ball security," Garrett said. Garrett admits they're always looking for other guys to step up and return kicks. "Well, we're always looking...
This guy is really upset, I mean REALLY upset, at the Cowboys. After their 27-7 loss to the Seattle Seahawks last week, this guy felt the need to express his anger at the Cowboys via YouTube. I knew I was going to like this video by the 0:12 mark. A few updates from the Cowboys you guys need to be made aware of: The Cowboys took a big **** on their logo above this guy's couch,...
IRVING People in both the Seattle and Dallas organizations have been informed that the vicious and illegal crackback block administered to Cowboys linebacker Sean Lee by Seahawks receiver Golden Tate will result in a 21,000 fine to Tate, sources say. In reviewing the play from Sunday's 27-7 Seahawks win, Cowboys owner Jerry Jones said to the media, "I'm sure they will...
The heroics didn't need embellishing. When starting center Phil Costa suffered a back injury in the second quarter of the regular-season opener against the New York Giants, the Dallas Cowboys were forced into using a replacement whose arrival was so fresh he hadn't even snapped a dozen times to quarterback Tony Romo in practice. Despite those difficult circumstances, Ryan...
Dallas Cowboys linebacker Sean Lee is ready to move on from the flattening block he took from Seattle receiver Golden Tate, who has apparently been fined by the NFL.
A parking lot brawl broke out between fans of the Dallas Cowboys and Seattle Seahawks, after the Seahawks walloped the Cowboys 27-7 on Sunday. Here's video (via The Big Lead) of the fight between a bunch of drunken idiots:   Get the latest Thigh updates by following us on Facebook & Twitter. a2a_linkname=document.title;a2a_linkurl=location.href;
Cowboys News

Delivered to your inbox

You'll also receive Yardbarker's daily Top 10, featuring the best sports stories from around the web. Customize your newsletter to get articles on your favorite sports and teams. And the best part? It's free!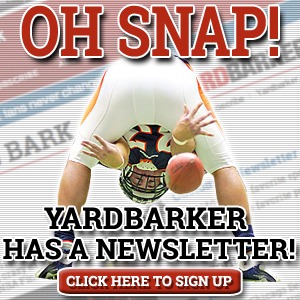 Latest Rumors
Best of Yardbarker

Today's Best Stuff

For Bloggers

Join the Yardbarker Network for more promotion, traffic, and money.

Company Info

Help

What is Yardbarker?

Yardbarker is the largest network of sports blogs and pro athlete blogs on the web. This site is the hub of the Yardbarker Network, where our editors and algorithms curate the best sports content from our network and beyond.