Found July 16, 2012 on isportsweb.com:
Earlier today, Dallas Cowboys WR Dez Bryant turned himself in today to DeSoto, TX police and was arrested for a Class-A misdemeanor of family violence, for an alleged assault on a female family member. He was released on bail, but this somewhat minor incident could have even more dramatic undertones for the team.
Dez Bryant in trouble again
First, let's state the obvious. This will generate attention from Roger Goodell and the NFL as the arrest violates the personal conduct policy. It would be well within the NFL's right to suspend Bryant for these actions. Being that the charge itself brings apenalty of up to a year in jail, the NFL may wait and see what happens before suspending him, if they even decide to suspend him. But just like the Vick arrest, he may require reinstatement if suspended.
Now, without trying to be too trite – because he is 23, and let's face it, we all did stupid stuff at that age still – we need to realize the bigger picture here. The local media here in Dallas is trying to downplay this immensely. Just this evening on my way home from work, various radio personalities were saying that it may not have been an actual assault, and on the local TV affiliates, they were saying the NFL may not even step in to discipline Bryant. Regardless of what stance anyone takes, or what actually happened, there is a right for Cowboys fans to be alarmed.
I say this because this hasn't been Dez's first rodeo. In March 2011, he got a criminal trespass warning. He has also been sued over loans and jewelry and gotten into altercations at nightclubs. He also got thrown out of a mall for wearing his pants too low. None of these as of yet have led to an arrest. However, it is clear with the arrest that Bryant is escalating his off the field incidents. The offenses keep growing, and while he may still be an immature 23, he should know better. As the incidents keep happening, they will continue to escalate, until he does commit a more serious offense.
Because of this growing pattern of more mischevous behavior, there could come a point, if it hasn't happened already, where the Cowboys will get tired of having him on the team. It is well known that Garrett doesn't want distractions. And rightfully so. This team is under enough pressure to perform and win that they need all the focus they can muster towards this season.
So let's fast forward and think about the best case scenario. That would be that Dez Bryant stays a Cowboy and the NFL does not discipline him. From a personnel standpoint, that would be great for the Cowboys. But now let's think of the worst case scenario. Bryant could go away for as much a s a year, depending ont he severity of the charge. That would most likely come with an automatic suspension and a need for reinstatement to the NFL. If the NFL tacks on a suspension before he even sees jail time, then the Cowboys could potentially be looking at up to 2 years without one of their primary receivers. This could be a death knell for a team already short on receiver talent. It would leave the teamwith only Austin and Witten, and searching for another player to take Dez's place.
Granted, this is all still developing, but this situation could be ruinous for both Bryant and the Cowboys if he doesn't grow up soon. It will be interesting to see how the team responds to this and to how, or even if, the NFL handles this. My message to Dez from a football perspective is straighten up, grow up, and get your act together as you are only hurting yourself and your team. From a societal perspective, Dez, you need to grow up because you are not only hurting yourself, but your family, and community with your actions.
Original Story:
http://feedproxy.google.com/~r/isport...
THE BACKYARD
BEST OF MAXIM
RELATED ARTICLES
UGLY SITUATION
The audio of the 911 call Dez Bryant's mother made after the alleged altercation between she and her son that led to his arrest has been made public.
Another day, another arrest in the NFL offseason. This time it's troublemaker Dez Bryant getting cuffed. The Cowboys receiver was arrested on misdemeanor family violence charges in DeSoto, Texas on Monday, according to WFAA. When contacted by WFAA reporter Rebecca Lopez, Bryant did not talk about the incident and only provided this earth-shattering quote: "I'm good, I'm...
I remember arguing with my Texans brethren back in 2010 about why the team should not even consider drafting Dez Bryant out of Oklahoma State. First of all, I knew it wouldn't happen due to the team having a no nonsense policy on guys with red flags on character issues. But, still, they argued that his talent made him worth the risk. But after the events of the last 24 hours, Bryant...
By simply following Dez Bryant on Twitter it appears obvious he's in fantastic shape. He's listed at 6-2, 220 pounds and tweeted last month that his body fat was recorded at 3.1 percent. Although he appeared to be in outstanding shape last season, Bryant said last month that he wasn't at his best. A deep thigh bruise in the season opener prevented him from ever playing...
Cowboys receiver Dez Bryant is in trouble again, according to a report from WFAA in Dallas-Fort Worth. Photo Credit: Ronald Martinez/Getty Images According to WFAA, Bryant was arrested on Monday on charges that are not immediately clear, but a tweet by Mike Doocy of KDFW in Dallas says the arrest is a misdemeanor domestic violence charge. BREAKING-FOX 4 News reporting that Cowboys...
Dallas Cowboys wide receiver Dez Bryant's mother has told authorities that she doesn't want to pursue a case against her son after an argument allegedly turned violent. A Dallas County district attorney's spokeswoman says the case DeSoto police filed against Bryant includes an affidavit of non-prosecution from the complainant. The affidavit means the complainant doesn...
Cowboys' wide receiver Dez Bryant was arrested today on misdemeanor domestic violence charges. This is a major red mark on an offseason that was so far going so well for Bryant, as he got himself into the best shape of his career and earned praise from several prominent people, including Owner/GM Jerry Jones, who praised the former 1st round pick's maturity. Contrary to popular...
Reports out of Texas Monday morning was that Dallas Cowboys wide receiver Dez Bryant had been arrested in DeSoto, Texas and charged with domestic violence. KDFW reports that Bryant assaulted a female family member and he later turned himself in. The assaulted female was not hospitalized. Bryant told WFAA, "I'm good. I'm good." downplaying the incident. Just a...
From Blue Pulaski in our DC Bureau… Did Dez Bryant lose 22 pounds and shrink an inch over the offseason or are the Cowboys what we thought they were - dirty, stinking, rotten, cheating liars? According to ESPN.com's player profile, Bryant is listed at 6'2", 220 pounds.  TMZ says his arrest report for showing his momma the power of the punch has him listed at 6'1", 198 pounds.
Details continue to emerge surrounding the recent arrest of Cowboys receiver Dez Bryant.  A warrant issued Saturday evening led to Bryant voluntarily turning himself in to DeSoto Police on misdemeanor charges of domestic assault.  Newest reports indicate Angela Bryant, the third-year receiver's mother, was the victim of a violent attack leading to the arrest.  The incident...
It's Mug Shot Season. No, Wabbit Season!10) Peer pressure in the Cowboys organization can sure make a man do strange things9) Wanted to raise the bar from ordinary domestic abuse8) Needs to truly test the ability of Jerruh Jones and fantasy honks to look the other way7) Let's face it, he was always going to jail for something, so it might as well be something relatively original6...
The commencement of training camp remains 10 days away, but two off-the-field incidents have already served as catalyst for upheaval in the 2012 FOXSports.com Fantasy Football rankings. Seahawks running back Marshawn Lynch was arrested in the Oakland area over the weekend on suspicion of driving under the influence. Also running afoul of the law was Cowboys wide receiver Dez Bryant...
Cowboys News

Delivered to your inbox

You'll also receive Yardbarker's daily Top 10, featuring the best sports stories from around the web. Customize your newsletter to get articles on your favorite sports and teams. And the best part? It's free!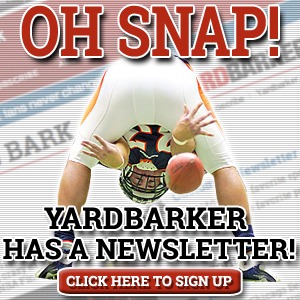 Latest Rumors
Best of Yardbarker

Today's Best Stuff

For Bloggers

Join the Yardbarker Network for more promotion, traffic, and money.

Company Info

Help

What is Yardbarker?

Yardbarker is the largest network of sports blogs and pro athlete blogs on the web. This site is the hub of the Yardbarker Network, where our editors and algorithms curate the best sports content from our network and beyond.